A $1.5 Million Gift Toward Excellence in Engineering Education
More in this issue
The Talal and Maha Shair Engineering Floor is a place for teaching, research and collaboration
LAU's School of Engineering is a powerhouse for much of the region's workforce in petroleum, construction, computer and software technology, mechatronics, aerospace, and more. As the school continues to produce top engineers, many experts are taking note and contributing to the endeavor.
Talal Shair is the latest. In fact, the longtime friend and supporter of the university, and Dar Al-Handasah Chairman and CEO, recently made a $1.5 million donation to the School of Engineering.
"We felt the need to be part of LAU's exciting venture of evolving positively both academically and physically," said Shair.
Specifically, Shair wanted to contribute to the university's new, six-floor Engineering Laboratories and Research Center on the Byblos campus. "LAU embarked on the challenge of building an impressive engineering lab center, and with our eye toward contributing to excellence in engineering education at the university, it made sense for us," said Shair of what inspired his major gift.
In honor of Shair's generous contribution, the sixth floor of the Engineering Laboratories and Research Center will be named after him and his wife. The Talal and Maha Shair Engineering Floor features academic labs, dean's offices and a beautifully landscaped outdoor space, all currently open to students, faculty and visitors.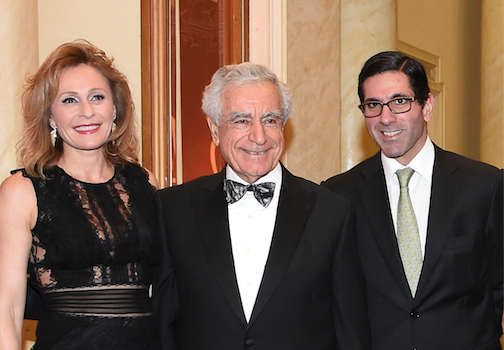 Emphasizing the university's appreciation of the Shair family, LAU President Joseph G. Jabbra said, "We have been building new facilities for our students, including a major one on our Byblos campus, and Mr. Talal Shair and Mrs. Maha Shair decided to contribute a significant gift toward that, and we are so grateful."
With innovation and research at the forefront of LAU's strategic plans, the Engineering Laboratories and Research Center is a dynamic base for teaching and collaborative research, featuring high-end facilities conveniently surrounded by the university's engineering departments. The 10,000-square-meter space boasts an array of specialized workrooms, including a soil geotechnical lab, internal combustion engines lab, and electronic circuits lab, among dozens of others.
"This gift is crucial to our goals at LAU and to a facility that is giving our next generation of youth the opportunity to gain the unique, hands-on experience they need to become entrepreneurs, inventors and innovators," said Nassib N. Nasr, assistant vice president for development at LAU.
The multidisciplinary engineering hub also promotes collaboration between students through its unique design of social spaces. The goal is to encourage interactions and generate opportunities to explore new initiatives that will change how the world works.
The Shair family has been a longtime friend and supporter of LAU, with its commitment spanning an incredible 31 years, beginning with the generosity of the late Kamal Shair, co-founder of Dar Al-Handasah.
"There is the philanthropic side to our contribution, which is so important in making an impact both directly to the institution and its ability to fund research and scholarships," said Shair. "And hopefully it will inspire others to follow suit and do the same," he added.