Campus Notes
More in this issue
An education for all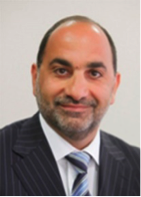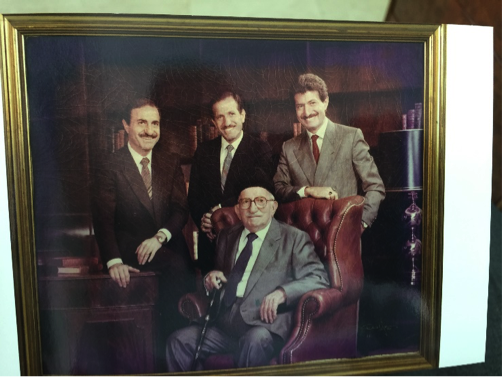 The El Khalil Foundation, a non-profit NGO established by the El Khalil family, has gifted LAU with $100,000 toward an annual scholarship grant. The major gift, made official in the fall, aims to help financially disadvantaged yet academically deserving students from the Hasbaya District in the south of Lebanon. Already the El Khalil Foundation Annual Scholarship Grant is making a major impact on youth from that district, with 19 LAU students benefiting from the donation so far. "Our gift marks our commitment to support students in need to receive the most important tools that will help them become self-sufficient and that will enable them to contribute to the society they live in," said foundation board member Imad El-Khalil. "The El Khalil Foundation strongly believes in the power of education and that this should be made available to all regardless of their means."
"Gifts toward LAU's various annual scholarship funds provide the university with the resources needed to maintain its promise of making a university education a reality for thousands of economically disadvantaged students who deserve a spot at our institution," said Assistant Vice President for Development Nassib N. Nasr.
A gender perspective on inclusion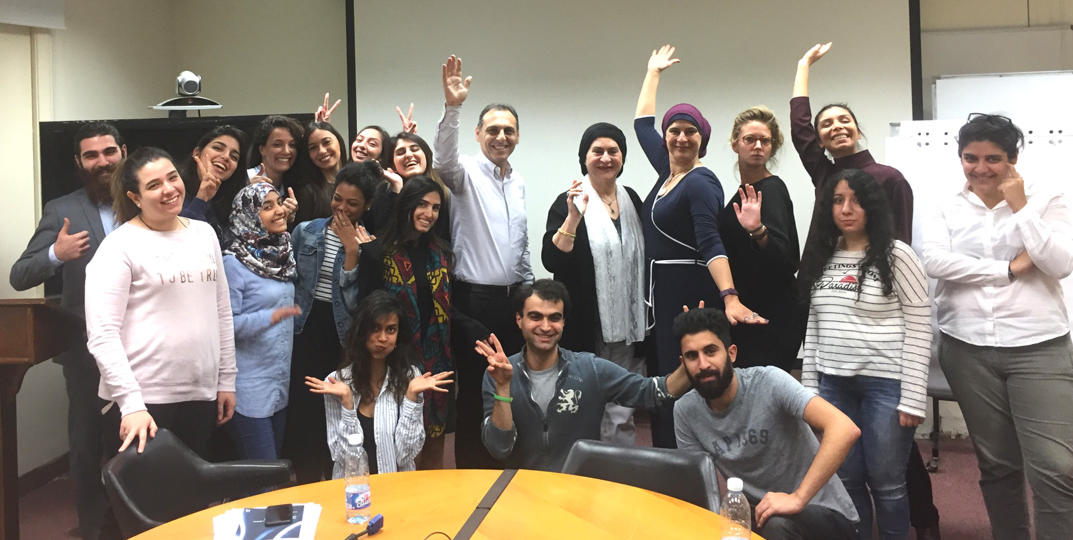 Achieving self-knowledge and respecting others brings women power. That's one of the messages US activist and author Manal Omar conveyed to her audience during her graduate seminar "Middle Eastern Topics on Pluralism and the Inclusive State," held on LAU's Beirut campus on November 10. Sponsored by the Institute for Social Justice and Conflict Resolution, the talk aimed to bring students "a gender perspective on inclusion," said Imad Salamey, associate professor of Political Science and International Affairs and associate chair at the Department of Social Sciences. "It's like breaking that barrier," Omar told the attendees, which included women from Yemen, Syria, Bahrain and Lebanon. "When you are not afraid to be strong but to also recognize that there is a lot of strength in the feminine."
Our youngest learners
Educators from 80 Lebanese schools made their way to Irwin Hall on LAU's Beirut campus to attend a seminar hosted by the Department of Education on "Kindergarten Classroom Teaching Tips." Organized by All Prints Distributors and Publishers, the workshop, which was held on November 11, focused on education in early childhood, an often overlooked but incredibly important period in children's brain development. "LAU is committed to actively raising the quality of education for children in particular," Chair of the Department of Education Iman Osta told the attendees. "Our mission is to provide step-by-step assistance to any event that contributes to this mission and vision." LAU has been a pioneer in the field, with a number of degrees in early childhood education and the first and only nursery school in the region affiliated with an academic institution.
Research and education in the Arab world
As part of the Department of Communication Arts' #ReinventCommunication campaign, the Multimedia Journalism program organized a workshop with Al-Fanar Media focused on the coverage of research and education in the Arab world. The event, which took place on the Beirut campus on November 14, drew journalists and researchers from Lebanon, Egypt, Iraq, Tunisia and Syria, in addition to a number of LAU students and staff. Al-Fanar Editor David Wheeler said there is interest among Arab reporters for specialized journalism, but that there is a lack of experience in this domain. "I think that many journalists are tired of endlessly writing about politics, and they do understand that education and research are long-term solutions for the problems of Arab countries."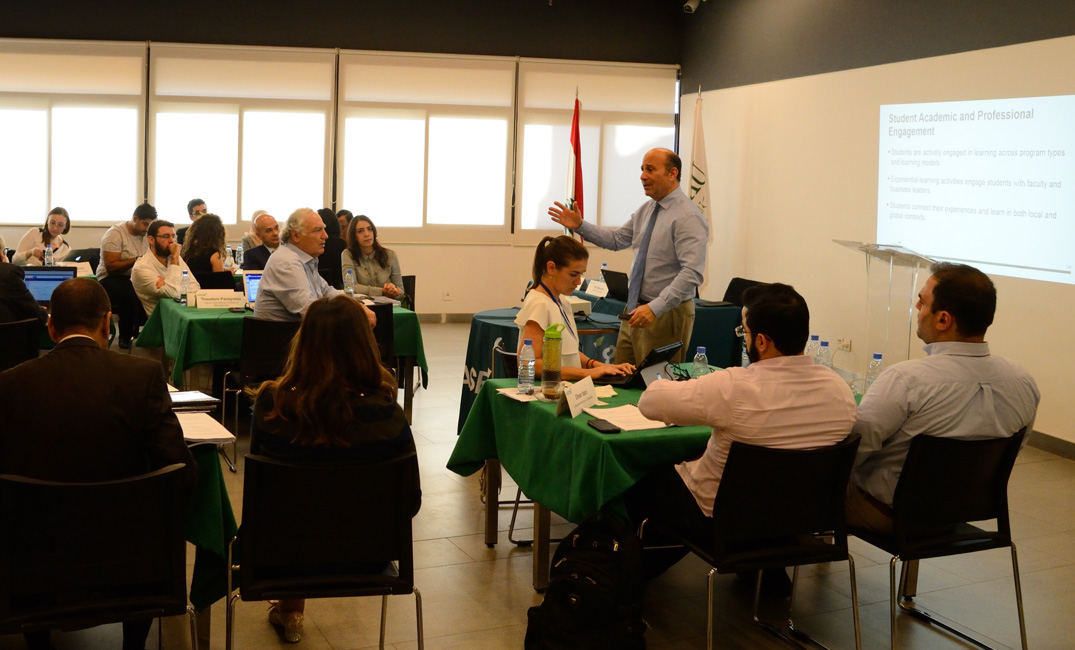 For the first time ever, the Association to Advance Collegiate Schools of Business (AACSB) chose Lebanon as the site of their MENA Advisory Board meetings and seminars in mid-November. These were held across both LAU campuses and delivered in coordination with the Adnan Kassar School of Business (AKSOB), which received accreditation in April of last year. AKSOB Interim Dean Said Ladki said that he and others at the school were "delighted to talk about its accreditation journey and showcase the learning resources and facilities available on both campuses." The fact that AACSB held its MENA Advisory Board meetings and seminars at LAU, said Provost George K. Najjar, "speaks to the pivotal role of LAU as a leading regional center of business education. This is the first time a series of events on this scale takes place in Lebanon, with participants coming from nearly a dozen countries."
A celebration of literature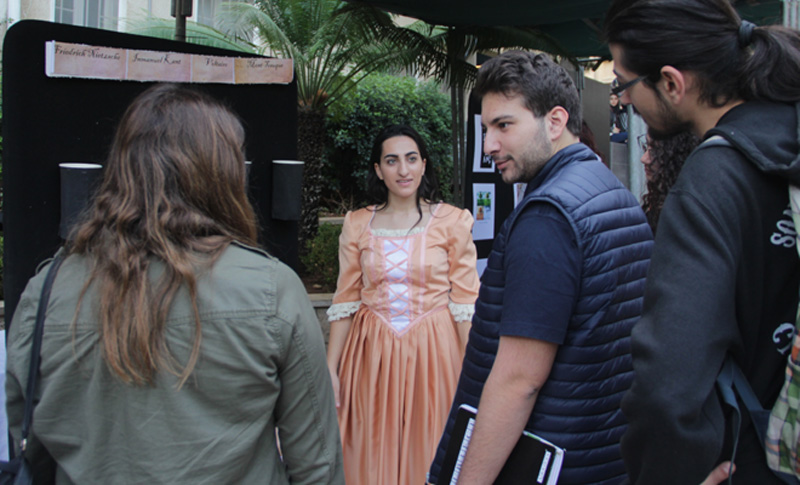 Students buzzed around the Upper Gate of the Beirut campus during the Literature Day event, an afternoon of fun and games hosted by the Department of English in collaboration with the Page Turners Book Club on November 17. Organizers had four game booths set up, each representing a different cultural era or literary movement: Islamic-era literature, Greek mythology, the Renaissance and Enlightenment, and last but not least, Harry Potter. The organizers, many of whom were dressed in costumes donated by the campus theater, used Literature Day to inform people about the English Department's program, which includes an emphasis on literature, language and creative writing. Associate Professor of Cultural Studies, English and Comparative Literature Kristiaan Aercke, who was dressed as a 17th-century gentleman, was enthused by students' energy and involvement in the games. "We think this is important because it makes students aware that literature is not boring, that literature is alive," he said. The department plans to hold a similar Literature Day event on campus every year.
Tell your tale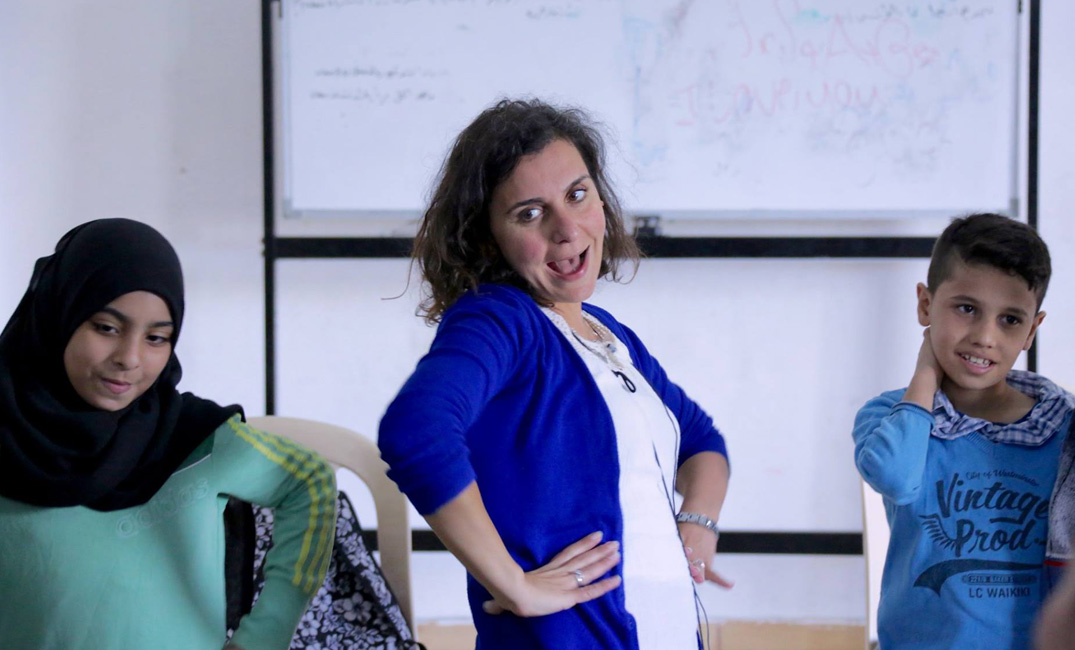 Why do we tell stories? To make sense of the world and our place in it. With that, IMAGINE Workshop and Concert Series (IWCS) kicked off its second residency, "Tell Your Tale," with Alia Alzougbi, a BAFTA-nominated storyteller. The events, which took place from November 20 to 24 and were held on both the Beirut and Byblos campuses, included a storytelling workshop and two performances by Alzougbi. The program concluded with a trip to the Shatila refugee camp outside Beirut, where kids between 9 and 13 had the chance to play, sing and tell stories of their own. "This is the first time I work with a university in the Arab world in this manner," said Alzougbi. "For me, this is the beginning of a new venture. [It is like] bringing the Arab world back to the Arab world."
Food for thought
LAU students, faculty and visiting scholars gathered on Beirut campus November 21 for an introduction to a recently conducted study into the physical and mental health needs of transgender women in Lebanon. The talk was hosted by the Institute for Women's Studies in the Arab World (IWSAW) as part of their monthly Food4Thought series, which aims to encourage youths to consider and debate diverse issues related to gender. This desire to promote an inclusive environment and mentality among the student population of LAU is what drives the series, said IWSAW Director Lina Abirafeh, adding, "It's a platform to showcase ordinary women who have done extraordinary things."
A course in simulation
Twenty-two people were honored at a diploma ceremony for graduates of LAU's Clinical Simulation Center (LAU-CSC) program on November 25 at the Chagoury Health Sciences Center on the Byblos campus. The honorees were medical specialists from LAU and other Lebanese universities, as well as professionals from across the region who had completed the course as part of their professional development and advancement. The Clinical Simulation Program was established in 2009 to teach doctors, nurses and pharmacists new medical techniques using interaction with standardized patients and simulation exercises, such as practice on mannequins and other training devices, with the aim of promoting safe and effective patient care and advancing science.
Strength in diversity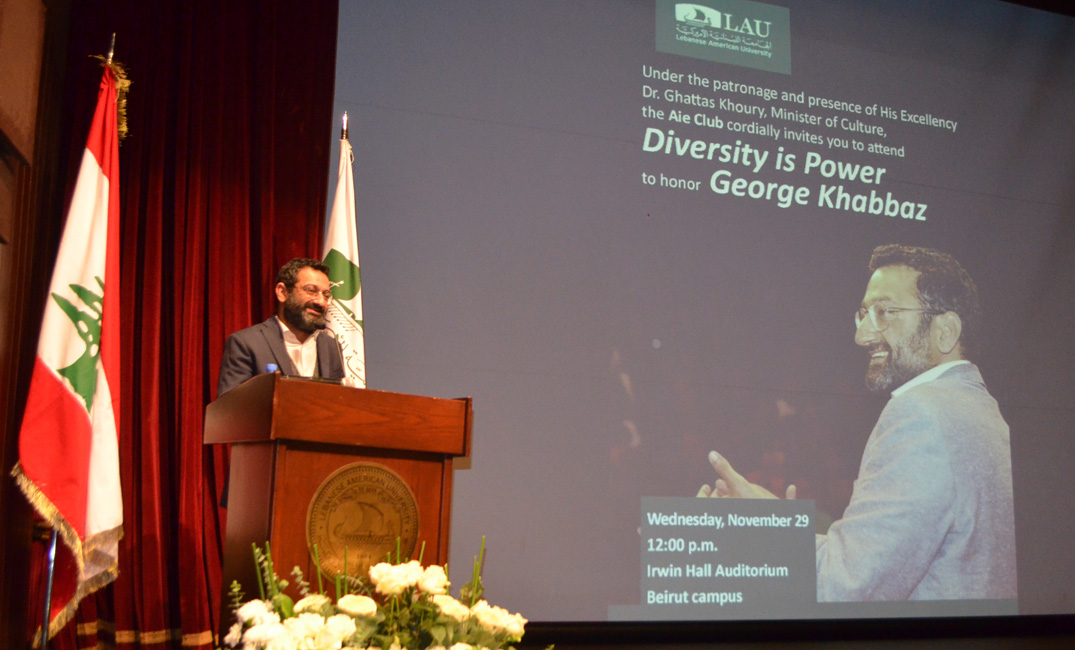 One of Lebanon's strengths is its diversity. That was the message celebrated at the Diversity is Power reception hosted on November 29 by the Aie Club in honor of prolific Lebanese artist George Khabbaz. "We all know diversity is a necessity in any workplace. It creates a platform for knowledge accumulation and collection," said Majd El Fakih, president of the LAU chapter of Aie Club, in front of a full-house audience at the Irwin Auditorium on Beirut campus. Khabbaz – an actor, director, playwright, musician and producer – read one of his most famous poems to the rapt audience before giving the stage to the other honored guest, Minister of Culture and surgeon Dr. Ghattas Khoury. At the root of the strength and resilience of the Lebanese nation is "our commitment to family and home," said Khouri, adding that despite Lebanon not having the budget to compete with the national cultural institutions in the Gulf nations, "I am not down, because we have the likes of George Khabbaz to enrich our country."
King for a day
In late November, 450 less-fortunate children from across Lebanon descended on LAU's Byblos campus for a day of games, dancing, food and gifts. The event, LAU Orphan Fair, was put together by Campus Activities Associate Manager Alan Kairouz and his team, with Rebecca Saab as the main organizer. Events of this size require a lot of help, and this year it was provided by over 150 volunteers representing 30 university clubs, as well as community-service students and alumni. The orphans were delighted, and many wanted to stay after the event ended. One little boy seemed sad to be leaving at the end of the day, but said with a smile, "I hope to be back here next year." For their part, the student volunteers felt they gained as much as they gave. Karen Malhame of the American Society of Civil Engineers – LAU student chapter said after the event, "At the end of the day, we found out that we went home richer. Without knowing, the kids brought joy and gratefulness into our lives."
Election preparation
As Lebanon gears up for its first parliamentary elections since 2009, the Department of Social Sciences at the Lebanese American University organized a conference on the "Effectiveness of Electoral Laws in Securing Fair Representation: Countries in Transition," in collaboration with the Arab Network for Democratic Elections (ANDE). The conference, which took place December 7 and 8 on LAU's Byblos campus, brought together Lebanese, Arab and European diplomats in addition to experts and academics from Jordan, Palestine, Kuwait, Yemen, Sudan, Algeria, Iraq, Egypt, Tunisia and Morocco. Chair of the Department of Social Sciences and Associate Professor Marwan Rowayheb noted that the timing of the conference was important because Lebanon is still in "the process of drafting and implementing the electoral law." At the same time, the Arab world is "going through a transition, and one of the basic cornerstones for democratization is to draft an electoral law that provides fair and free elections."
Elevating media education and journalism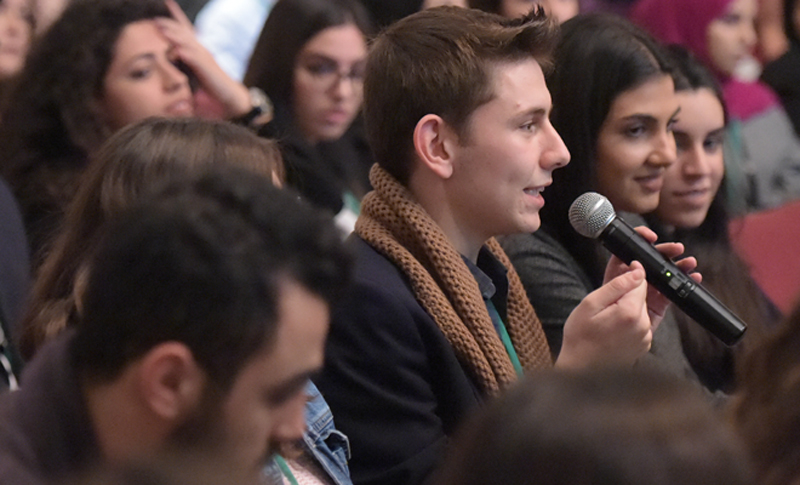 One of LAU's biggest conferences of the year took place on December 8 and 9, when over 400 attendees, who together represented 20 universities and dozens of media institutions and civil-society organizations, descended on the Beirut campus for the first academic conference of the Association of Media Educators in Lebanon (MedLeb). Over 40 speakers – among them educators, journalists and politicians – presented on media education, research and production. The conference was held under the patronage of Lebanese Information Minister Melhem Riachy and was co-sponsored by Deutsche Welle Akademie and the European Union. The Department of Communication Arts, which hosted the event, formed the MedLeb association after the information minister called for Lebanese universities to propose ideas for raising the quality of media education and journalism in the country.
A holiday gift to the poor
Every year the Nursing Club, based at the Alice Ramez Chagoury School of Nursing on Byblos campus, collects non-perishable food to donate to needy families in the area at Christmas time. This year, club members and their faculty leaders collected around 150 kilos of food – much higher than their previous hauls – and donated it to the organization Bonheur du Ciel, a local charity founded by Father Majdi Al Alawi. The charity operates a restaurant in Byblos that serves free, hot meals to the poor. A few days before Christmas, members of the Nursing Club helped hand out the meals and delivered their donation of non-perishables to the charity's pantry. This helped ensure a merry – and full – Christmas for those in need.
A forum for student expression
LAU's Department of Communication Arts held its bi-annual Student Film Screening December 19 on Beirut campus, an event that has over the past decade become a forum for students to express their ideas through short films, documentaries, and critical video productions. This year the screening included productions from seven courses, among which Media and Society, Advanced Cinematography, and Introduction to Audiovisual Media. The topics of the films included mental illness, sexual harassment, freedom of the press, and stereotypes of Syrian refugees in Lebanese and Arab media. In total, 30 films were shown at the event, all representing a recent growth in the quality of productions released by LAU students. "There was an increase in the number of award-winning productions and in the diversity of productions," department Chairperson Jad Melki said.
Young athletes shine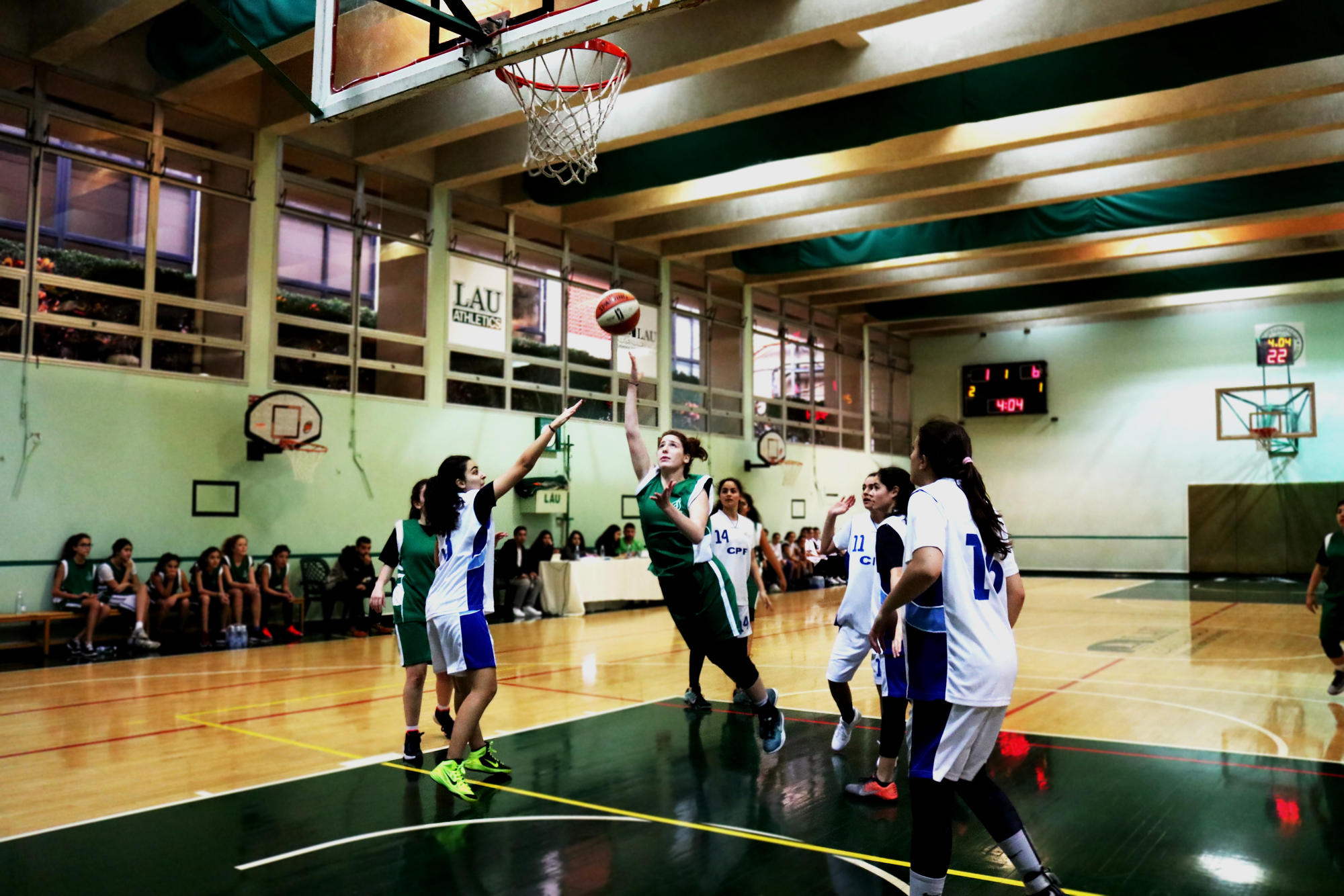 Lebanon's top high-school athletes converged at LAU in mid-January for two weeks of sports matches. It was all part of the LAU High Schools Invitational Sports Tournament, jointly organized by the Beirut and Byblos athletics departments. It was university's 19th year of hosting 52 high schools from across Lebanon in competitions for girls' and boys' basketball, volleyball, mini football, swimming, tennis and table tennis. The games gave young athletes a chance to play competitively, and in some cases get a shot at sports scholarships to the university.
Speak your mind
Even though many are terrified of public speaking, 12 young people from eight Lebanese universities, including LAU, were brave enough to participate in the 18th annual National Public Speaking competition hosted by the Department of English in collaboration with the Lebanon branch of the English-Speaking Union (ESU). The theme of the event, which took place January 14 on Beirut campus, was "The Only Way to Predict the Future is to Invent It." "This is a very good platform for students to be exposed to voicing their opinion without being judged for the stand they take," said organizer and Assistant Professor of Oral Communication and English Nabelah Haraty.
By design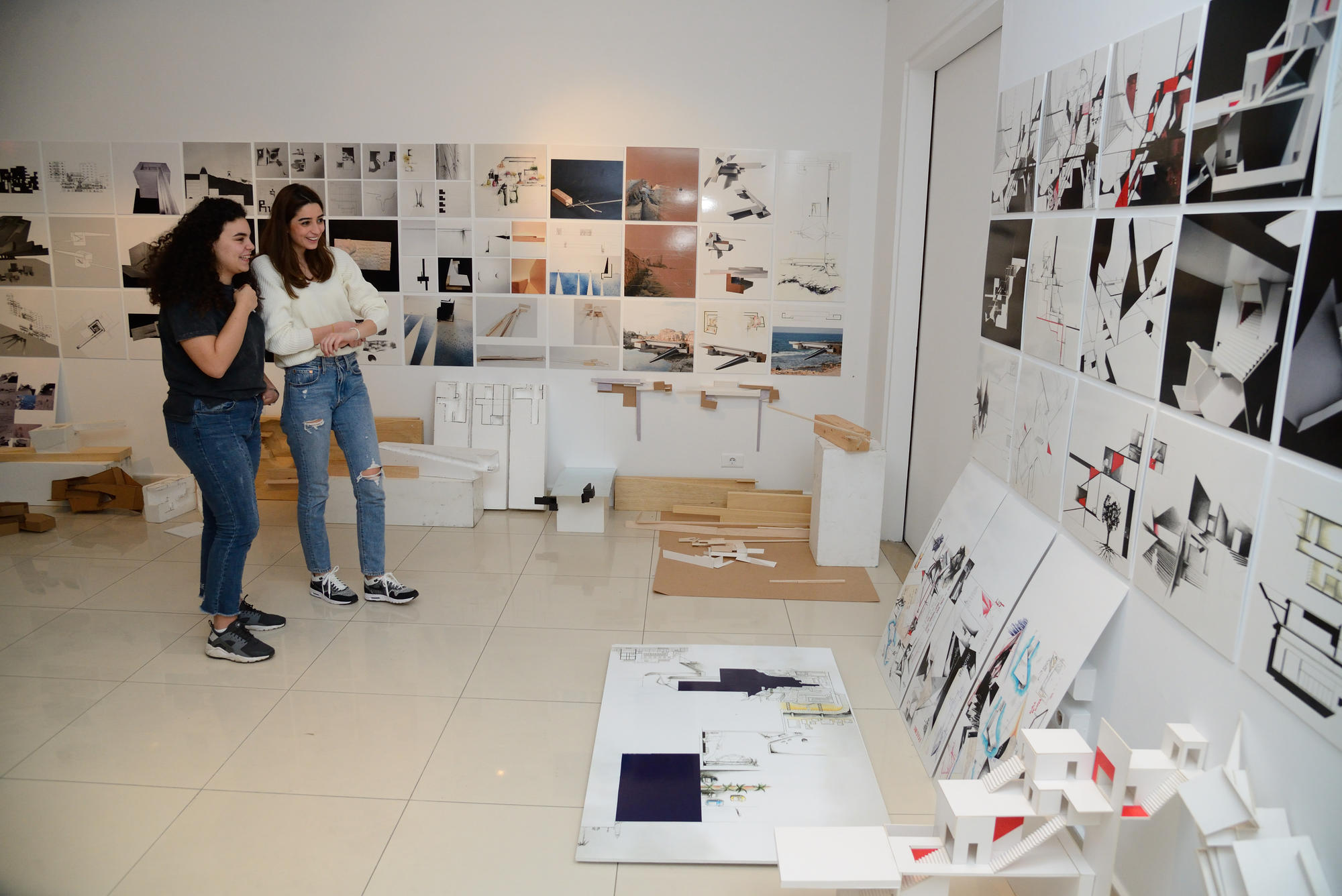 Students showed off their work to classmates, faculty, staff and visitors at the Design III Studiowork Exhibition. The event showcased work by School of Architecture and Design students, produced in six different sections that took place on both campuses. The exhibition took place in the Safadi Fine Arts Building on the Beirut campus from January 22 to 26.
Mind your manners
When it comes to doing business, form matters as much as function. January 25, LAU's Alumni Relations Office hosted etiquette expert Balsam Al Khalil to speak to attendees about the importance of following protocol in business. Al Khalil is chief representative officer for Bank of Beirut in the UAE and the Gulf. She has degrees in law and business protocol and has studied fashion styling and image consultancy. At the event she covered professional behavior and appearance, decoding different communication styles, mastering dining etiquette, and more. Al Khalil's expertise helped attendees understand just how important appearance and manners are in the world of business.
Mission ACCOMPLISHED
More than two dozen representatives of NGOs from across Lebanon gathered at the LAU Executive Center @ Solidere for the concluding ceremony of the "ACCOMPLISHED" Leadership Certification Program. The event, which took place on January 30, marked participants' achievement as the first cohort of the Outreach and Leadership Academy (OLA) to be held at LAU Solidere. At the ceremony, President of the Hariri Foundation for Sustainable Development MP Bahia Hariri congratulated the graduates, saying that she hoped "they would use the skills they have learned to move Lebanese NGOs toward higher levels of professionalism."
The gift of sight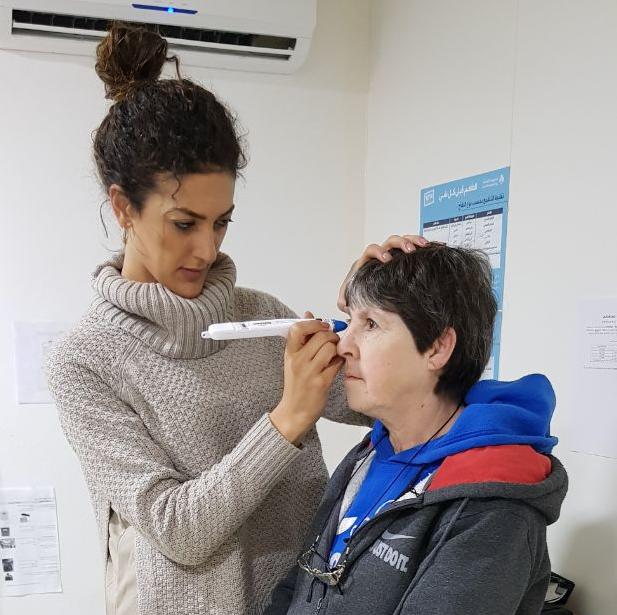 Doctors from the LAU Medical Center-Rizk Hospital's Department of Ophthalmology traveled to villages across Lebanon to do free eye screenings as part of a campaign to raise awareness about health conditions affecting vision. In collaboration with the Arz Foundation, a team led by Dr. Ama Sadaka held its first screening on February 3 in the village of Anet. The team screened 60 patients, all over the age of 50. "It is our responsibility to serve our community and to be role models to our residents-in-training and our medical students," said Sadaka. "Medical-screening campaigns are extremely important to educate people about preventive medicine and early detection of diseases, as well to as expose our students to community service."
Music for peace
The chant of children from Ketermaya and Shatila refugee camps reverberated through the Gulbenkian Theater on LAU's Beirut campus, marking the first event of the IMAGINE Workshop and Concerts Series (IWCS) in its third residency, Salaam. The young chorus opened for a concert by international group Apple Hill String Quartet and renowned Syrian clarinet player and composer Kinan Azmeh on February 15.
In this IWCS residency, music serves as a tool for peace, not only to reach out to the community, but more importantly to showcase the singing talents of the children from the two camps.