Postcard from New York: A Season to Remember
More in this issue
The LAU New York Headquarters and Academic Center (LAU NY) curated a new cultural event series titled Thursdays at LAU NY for the fall 2018 semester. The public events are offered free of charge to the New York City community and beyond, and are intentionally wide in their scope in order to represent the variety of focuses and interests that the Lebanese American University serves with its mission in North America.
Opening the series was a collaboration with el-Yafta – a literary circle/band of poets founded in Beirut in 2011– titled An Ode to New York City: Poetry and Prose from Beirut to Brooklyn. The evening featured two LAU alumni: Class of 2012's Mohamad J. Hodeib (el Walad), 2016 graduate Assem Bazzi, as well as AUB alumna Tina Fish. The trio filled the room with free-flowing poetry in both Arabic and English about journeys, identity, and belonging. Director of Alumni and Special Projects at LAU NY Ed Shiner remarked that the center ultimately serves as a bridge connecting New York with Lebanon and the broader region through these cultural offerings. "We want our alumni to feel that the academic center is their 'home away from home,'" he said, "therefore we are always trying to highlight them and their achievements."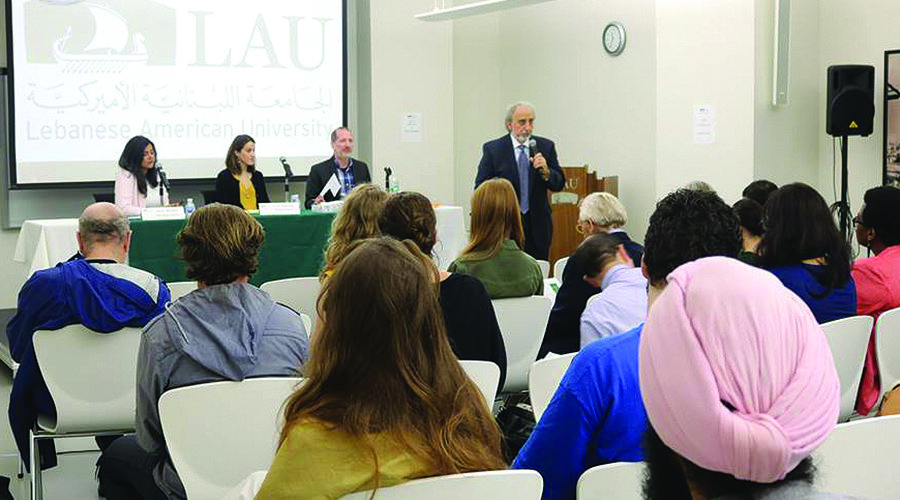 Psychiatrist, philosopher, revolutionary and author Frantz Fanon is an instrumental figure in post-colonial theory and Middle East studies. On the occasion of the publication of the English-language translation of Fanon's previously uncollected and untranslated writings in Alienation and Freedom, LAU NY hosted a panel discussion with professors Anthony Alessandrini, Bhakti Shringarpure and Muriam Haleh Davis about the significance of Fanon's work today, with a particular focus on how his writings might speak – or not – to contemporary politics in the MENA region. Fanon helps people understand, Dr. Alessandrini said, that the goal is to create a critical consciousness, "freed from colonialism and forewarned against any attempt at mystification or glorification." Understanding Fanon also means understanding today's struggles as they relate to the historical forces that condition them. Dr. Alessandrini added that "this is especially important if we are to acknowledge that just as history has not yet ended, neither have the legacy and practices of colonialism."
Dabkeh, an Arabic folk dance native to the Levant that is widely performed at parties, weddings, and other celebratory occasions is something that most Lebanese have been familiar with since childhood. LAU NY and Circle World Arts co-presented a dabkeh dance workshop with artists Hadi and Mohamad Eldebek to introduce New Yorkers to this traditional communal dance. To Hadi Eldebek, a native Lebanese, the dance represents home, community and celebration. He was very happy to share the art of dabkeh with the participants, explaining that "the dance is simple in essence, but dancers can ornament and express more with their moves, and make it quite intricate, especially if they are at the lead of the line. It is very rare to dance dabkeh and not be consumed by the tremendous joy that it brings to people."
Lastly, guests at LAU NY were treated to a very special performance of the 1776 Syrian classical musical composition, Isqi Al-'Itash (Quench the Thirsty), with New York-based Arab ensemble Takht Al-Nagham. The ensemble performs Arabic chamber music and is committed to playing a classical Syrian repertoire with traditional acoustic instruments.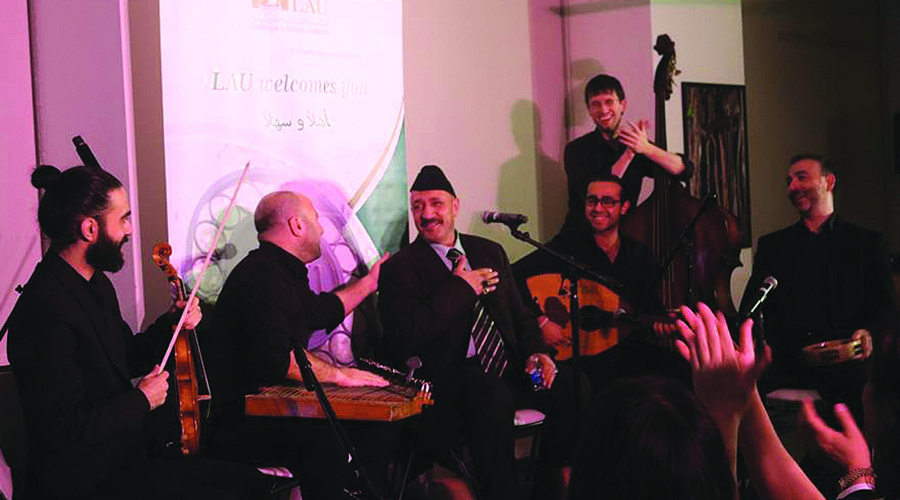 In order to familiarize audiences in the US with the original structure of Arab musical traditions, Takht al-Nagham presented the sets (called wasla in Arabic) in the same manner that they were originally performed centuries ago: without reading from sheet music and relying heavily on improvisation. "In tracing a chronology of Aleppan music, we aim to share a rich tradition with a US audience who know Syria only as a site of a violent and destructive conflict," said Takht Al- Nagham founder Samer Ali. "We want our music, as it so often does, to soothe and brighten, to help heal and reconcile."
As the fall season witnessed an influx of public events, LAU NY looks forward to strengthening and expanding the connection in the new year between LAU and its community in the US, showcasing the very best of the university beyond its borders.