Campus Notes
More in this issue
From Dead to Red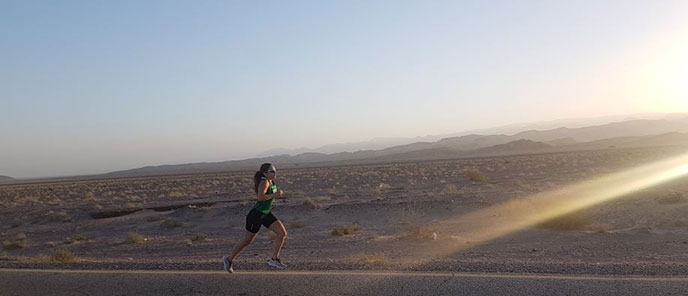 Between March 7 and 10, 2018, the LAU Track and Field Varsity Team headed to Jordan to compete in one of the world's toughest desert challenges: The Dead to Red Road Race. The two-day race stretched over 242 kilometers, starting below sea level at the Dead Sea (Amman) and ending at the Red Sea (Aqaba) on the border of Saudi Arabia. Led by Coach Mohamad Mawas, the team of 10 student runners and one alumnus scored second place in the semi-marathon relay.
Recognition for a Lifetime of Achievement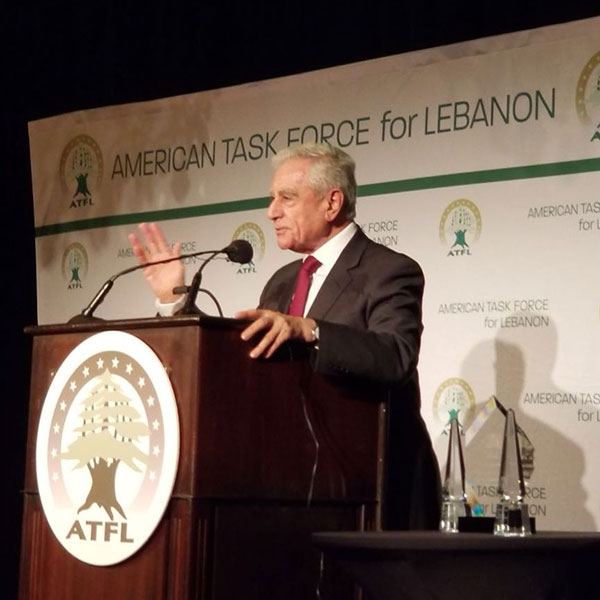 LAU President Joseph G. Jabbra gave an impassioned speech after receiving the Ray R. Irani Lifetime Achievement Award from the American Task Force for Lebanon (ATFL) in Washington, DC, in April. He thanked the ATFL and dedicated the award to the memory of his parents, who, he said, "gave me one piece of advice: Serve people, no matter who you are and what you become in the future."
In his address to the audience, Jabbra noted how LAU "grew out of a true love story" between a preacher and his wife, who went on to create the first school for women in the Ottoman Empire, which eventually became LAU. "Now LAU is a thriving institution — a powerhouse in higher education, not only in Lebanon, not only in the Middle East, but beyond."
Audience members — who included delegates from USAID, American Schools and Hospitals Abroad, US-Middle East Partnership Initiative and more — were uplifted by Jabbra's invocation of the importance of education in pushing Lebanon and the region forward.
"Our passionate commitment to higher education, to the democratic value it proclaims, to the rule of law that it advocates, to the pursuit of truth that it supports, and to the commitment to human dignity that is so essential to any thriving society — this is something that we feel very strongly about. And as a result of that, we have become agents of change in the entire region," he proclaimed to cheers from the audience.
In closing, Jabbra told the crowd, "The best gift in life is to give without expecting anything in return."
Editing Women into History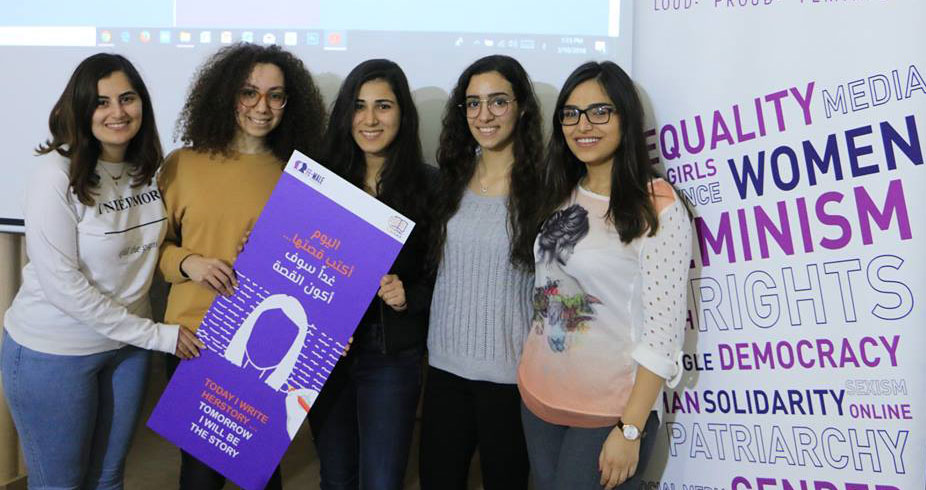 On March 10, LAU translation students participated in an Edit-a-Thon by translating Wikipedia articles from English into Arabic. In so doing, they helped increase the content related to women and gender equality on Wikipedia Arabic, narrowing the gender knowledge gap and raising awareness on women who have made a difference. The event was organized by Fe-Male as part of the global project Her Story, supported by UN Women, the Wikipedia community, and the UN Secretary General's Envoy on Youth.
Take a Flower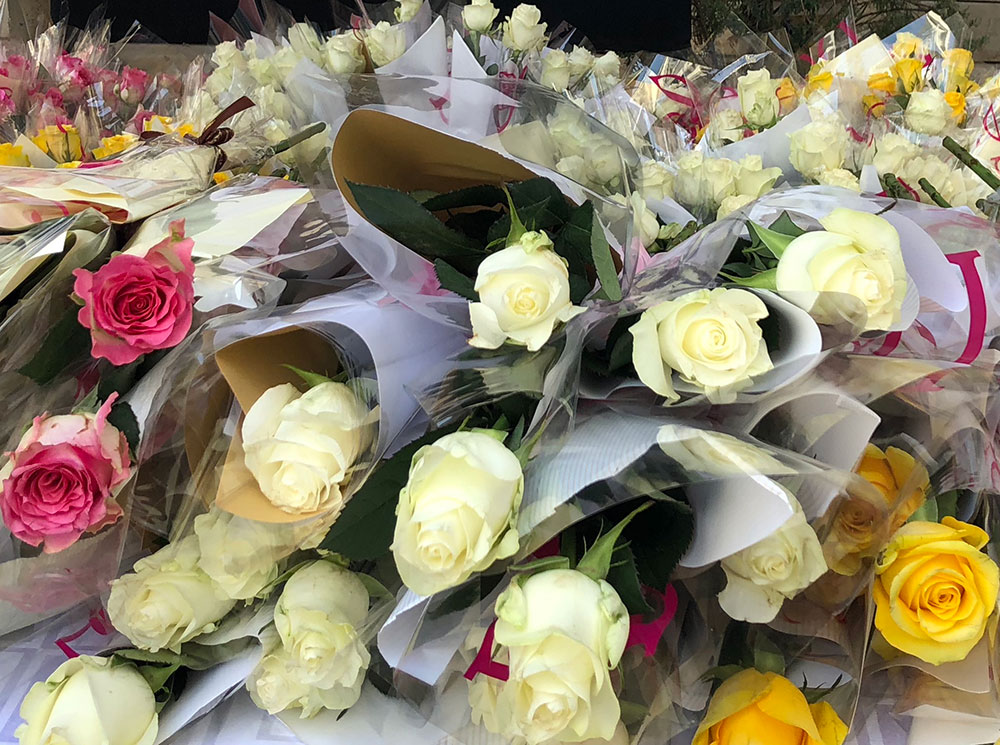 On March 21, Mother's Day, LAU handed out flowers on its campuses for students, faculty and staff alike to give to mothers they know and love. The HR Department also sent small potted plants to women on campus as part of LAU's month-long celebration of International Women's Day. The plants featured a quote by Kahlil Gibran: "Women open the windows of my eyes and the doors of my spirit."
Connecting Students with Employers
Excited students buzzed around the lower Beirut campus on March 12 and 13 at the annual Career and Internship Fair. A large tent near the tennis court hosted dozens of booths from companies eager to attract Lebanon's next generation of talent. Students spoke with representatives of both local and international organizations about what they could offer each other. A large number of students walked away with new opportunities and connections.
Lunch and Learn
From mid-March through mid-April, the English Department hosted a series of six lunchtime lectures on different topics in literature, linguistics and related areas. The purpose of the lecture series was "to provide an informal forum for various speakers — including faculty members, guests and alumni — to present to the LAU community an idea, topic or project that they have been working on," said Rula Diab, chair of the English Department.
Lights Off
Between 8:30 and 9:30 the night of March 24, LAU's Beirut and Byblos campuses turned off their lights and closed down non-essential equipment. It was the university's way of marking Earth Hour, when people across the globe shut down their electric devices for one hour to mark their commitment to protecting the environment. "Earth Hour is just a moment, but this is meant to influence human lives and act responsibly toward Mother Nature, the source of life," said Roger Haddad, director of the Physical Plant in Beirut. "In this sense, LAU's participation in Earth Hour reflects LAU's commitment to educate the whole person and assure a better tomorrow."
Fair Days
The LAU Arts & Sciences Fair drew hundreds of high school students to both campuses on April 12, 13 and 27, coinciding with the 20th anniversary of the event on the Byblos campus and the fifth anniversary on Beirut's campus. Students were invited to take part in academic and intellectual competitions, with scholarships awarded as prizes. The final ceremony took place in Byblos' Selina Korban Auditorium to celebrate the winners.
YOU@LAU Career Exploration Day
Prospective students were given a look at what it takes to be an LAU-er on April 14 and 21 on the Beirut and Byblos campuses, respectively. High schoolers from across Lebanon were invited to explore the university's majors, services and career opportunities. Students attended speeches, took tours of the facilities, and spoke to current students and faculty about LAU. You@LAU has been successfully spreading the word on the advantages of an LAU education since 2009.
Welcome to Casino El-Ons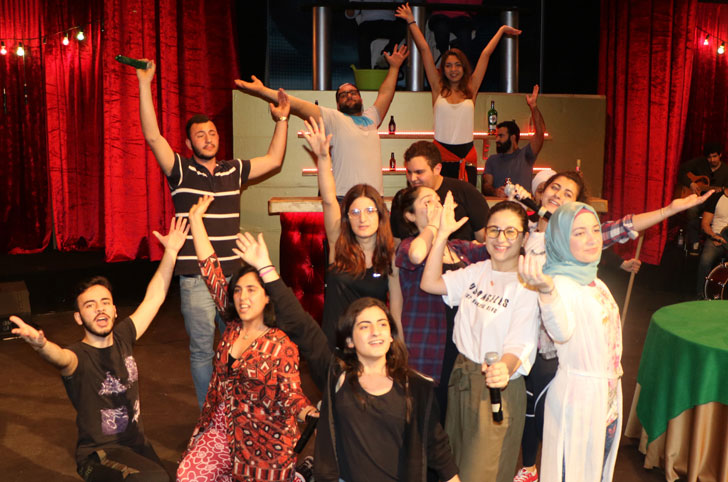 Casino el-Ons, a large and eclectic musical play directed by Assistant Professor of Music Amr Selim and LAU alumnus Awad Awad, burst onto the theater scene April 10. The satirical show — which boasted a 39-member cast that included musicians, actors, singers and dancers — was a collaborative work tackling a number of themes relevant to today's times, such as corruption, the dissemination of information, and the influence of social media. The play featured dialogue spoken mostly in the Egyptian dialect and a score made up of reworked songs and originals by Selim and other cast and crewmembers.
Artificial Intelligence vs. the Human Mind
Audience members at the AI Rivals Human Music Composers event on Byblos campus were given a chance to hear songs and guess whether they were composed by humans or an Artificial Intelligence system designed by Ralph Abboud, an LAU computer engineering alumnus (BE '17) and current graduate student in computer science at Oxford University, along with LAU Assistant Professor of Engineering Joe Tekli. In some cases, the AI pieces were so moving, the audience thought they were human-written songs.
While many people are wary of the increasing sophistication of AI, Tekli stresses that it allows for "a better understanding of the very nature of the human mind and psyche, unraveling the mysteries of human intelligence."
Celebrating Heritage
LAU's International Heritage Day was held on April 11 on Beirut campus. The event, which has become a highly anticipated LAU tradition, was organized by student clubs so that members could celebrate their heritage and learn about others'. Of the 78 different nationalities on campus, six were spotlighted at the event, which also featured traditional costumes, music, dances and cultural activities.
Students from the Indian, Palestinian, Armenian, Japanese, Syrian, Saudi and Lebanese clubs worked together for months to make sure their booths represented their heritage and the sides of their country they hold the most dear.
"Heritage Day is one of the major events that we have been holding for more than 10 years now, to introduce students to a variety of cultures and to promote diversity," said Raed Mohsen, dean of students on Beirut campus.
BMW MOU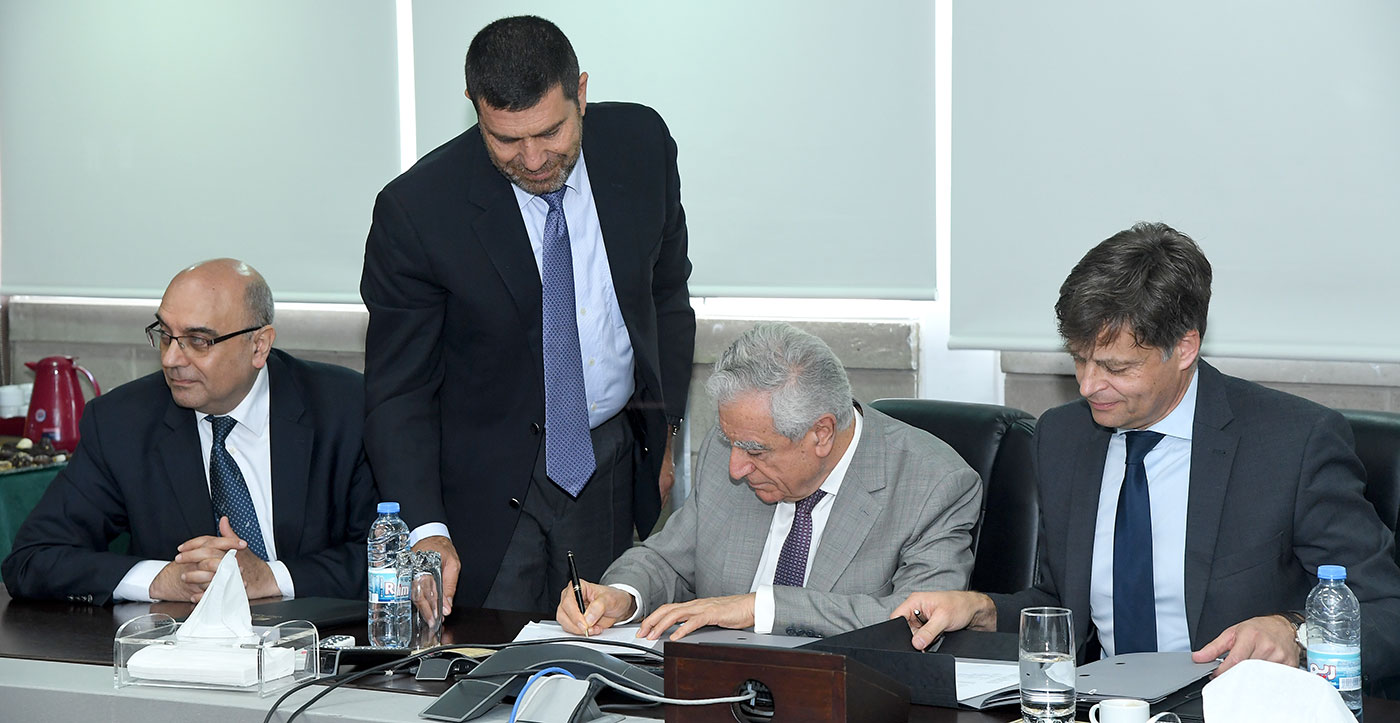 The Bavarian Motor Works (BMW) Group sent representatives to LAU on April 17 to sign a Memorandum of Understanding (MOU) that will offer undergraduate and graduate students at the School of Engineering internships at the company's seat in Munich, Germany. The five-year agreement allows students to conduct six-to-12-month internships in all branches of engineering.
The BMW representatives toured the new Engineering Lab and Research Center on the Byblos campus, viewing the extensive, state-of-the-art equipment the School of Engineering uses for both faculty research and student instruction.
What makes LAU students a good fit for the company's internships, BMW IT Manager Markus Boenisch said during the tour, is that "they are very well educated, and they are very well equipped to work in a diverse, innovative company like BMW."
Andalus in Beirut
In mid-April, the School of Architecture and Design (SArD) hosted an exhibition of photographs from the Andalusian Legacy Foundation (Legado Andalusi) at the Sheikh Zayed Gallery on Beirut campus. The photographs featured stunning images of sites and monuments in the Spanish region of al-Andalus, which was under Moorish influence for centuries.
The exhibition was part of a continuous cultural and academic collaboration between Legado Andalusi and SArD's Institute of Islamic Art and Architecture.
First-Prize Cooking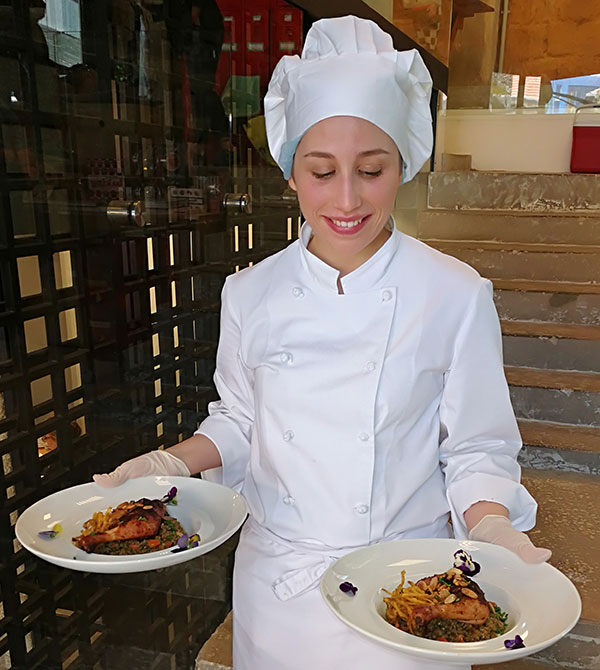 AKSOB hospitality management student Lina Abadi won first prize in an inter-university competition held by l'Académie Libanaise de la Gastronomie. The competition took place Saturday April 14 at the Kitchen Lab in Achrafieh. Abadi took home an 800 USD prize and won an internship at an eatery owned by famed restauranteur Alain Ducasse.
The Future of Hospitality

The future of hospitality is in Asia, said Kaye Chon, professor and dean at the School of Hotel and Tourism Management at Hong Kong Polytechnic University. He was speaking to students and faculty at Adnan Kassar School of Business about the East Asian perspective on hospitality and tourism, and how it is shaping the industry.
In addition to his lecture, Chon reviewed AKSOB's BS in Hospitality and Tourism Management program, the only such program in the country accredited by the Association to Advance Collegiate Schools of Business.
Also in attendance were distinguished outside guests, including resort, restaurant and hotel managers, as well as Chair of the American University of Science and Technology's Hospitality Department Wael Zaraket.
Bike to Work (and School)
LAU's Cycling Club decided to combine their passion for bicycling with the need to reduce traffic congestion around the university. On April 25, they participated in Bike to Work Day, an annual activity organized by Chain Effect, a pro-cycling group.
LAU is Lebanon's top university taking part in Bike to Work Day, with 106 registered participants, including faculty, staff and students. Jana el-Hajj, second-year civil engineering student and president of the Cycling Club, said, "Cyclists came from Sadd el-Bouchrieh, some came from Hazmieh, and I cycled form Baabda. I am definitely doing this again next year."
An Outstanding Delegation
LAU's Model Arab League delegation won the Outstanding Delegation Award at the National High School Conference organized by the National Council on US-Arab Relations at Georgetown University in Washington, DC. The delegation was made up of six high school students from five different schools in Lebanon, headed by this year's secretary general, Sandrine Frem.
In addition, each of the six students won the Outstanding Delegate Award.
The event took place on April 21 and 22. This is the third consecutive year the LAU team has won Outstanding Delegation.
Ask DAAD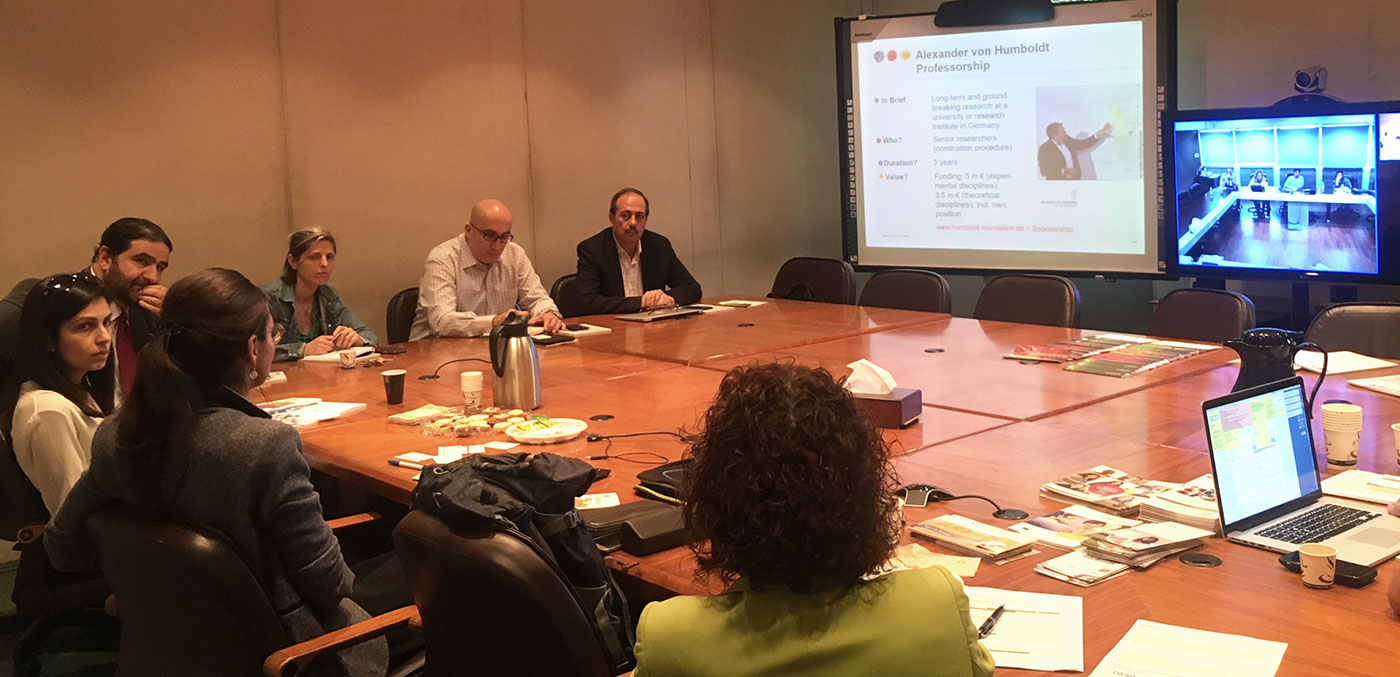 How do norms around research differ by country? On April 19, the Graduate Studies and Research Office organized a workshop to introduce LAU faculty to the "German research landscape." The workshop was delivered with the help of DAAD — the German Academic Exchange Service. DAAD Director Bahar Sayyas spoke about the specificities of German research infrastructure within different types of institutions. She noted that research opportunities funded by German institutions do not impose eligibility constraints on nationality, and explained different types of funding opportunities.
Faculty from both Byblos and Beirut attended. Journalism and Media Studies Professor Jad Melki briefed the audience on his experience with research funded by various German foundations and state institutions. Associate Chair of the Department of Computer Science and Mathematics Rony Touma noted the professionalism of German scholars during his speech.
The relationship between LAU and DAAD goes back to October 2017, when Vice President for Student Development and Enrollment Management Elise Salem represented the university as part of an "information delegation" in Germany and invited Sayyas to LAU. Having a DAAD office in Beirut with a dynamic director is a major resource for LAU researchers, she said.
Being a Good Sport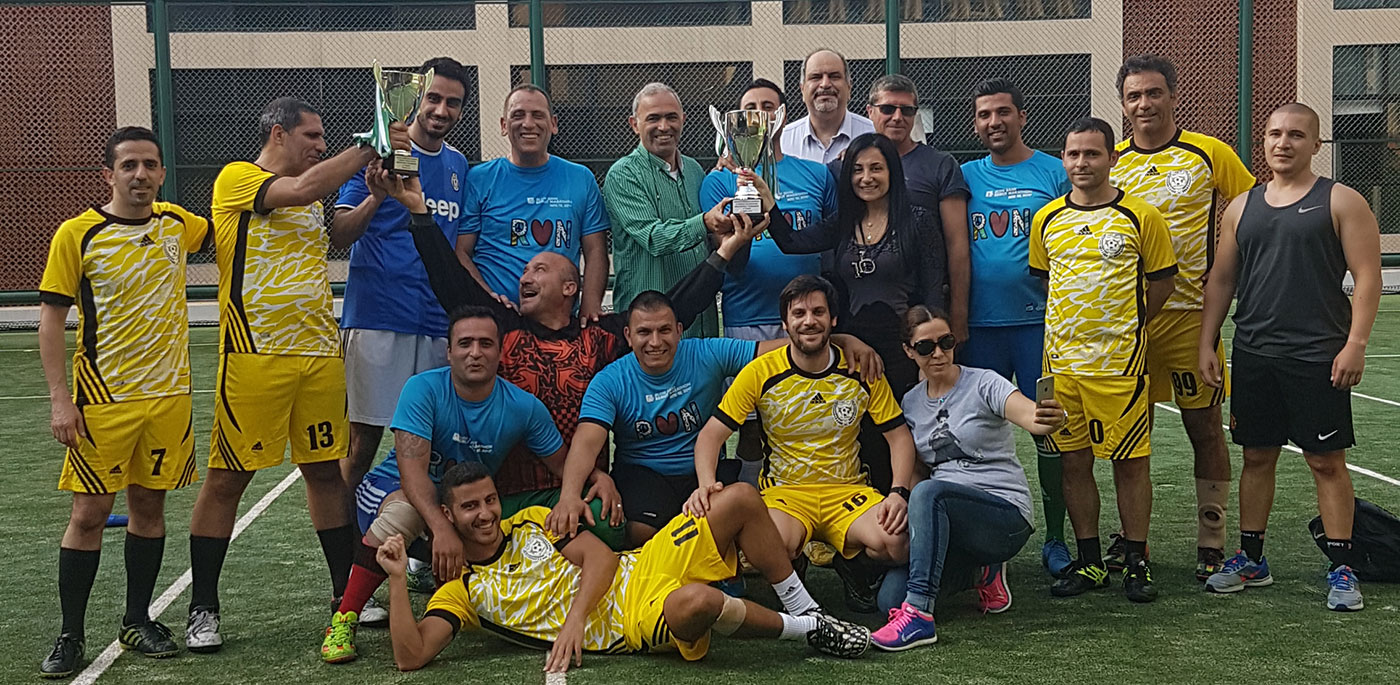 For the fifth year in a row, teams of representatives from LAU departments competed in informal basketball and football tournaments for bragging rights on campus. Participating teams came from the Business Office, IT, Protection, the Supply Office, and Auxiliary Services. Three-time champions the Protection team won the final football game on May 14, beating IT two to one.
Director of Protection Ahmad Hassouna trained the players on the winning team. "We have won against IT three years in a row. Everybody was waiting to see us lose, but it didn't happen," he joked.
In the basketball tournament, the Business Office came back against expectations after losing a couple of matches in the round-robin phase and defeated the Business School 11 to five in the title game.
Best Buddies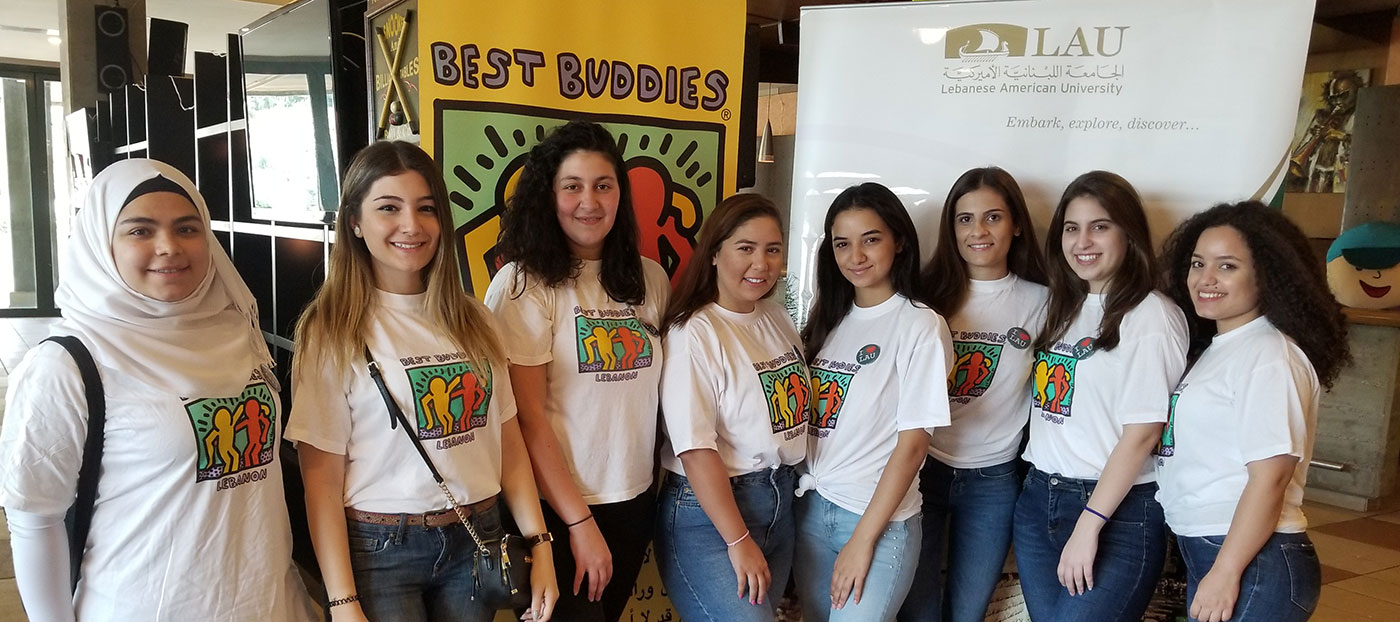 On Saturday, May 19, nine LAU students gathered at the Jeita Country Club for a party with people who have intellectual and developmental disabilities (IDD). The party was thrown by international non-profit Best Buddies, whose Friendship Program gives those with IDD a chance to interact and socialize, building their self-esteem and creating an environment of inclusion.
Best Buddies Lebanon President and Executive Director Pascale Khalil said, "We chose LAU students to be part of the event for the awareness, understanding, respect and love they showed for disabled people." For LAU student volunteer Sarah Hallaj, "Joining Best Buddies was about reaching out to children with disabilities and offering them the human bond that all people deserve. The goal is to show those kids that they are part of our society, that they matter, and that they have someone who cares about them."
LAU Hosts Registrars from Across Lebanon
Earlier in 2018, registrar heads and staff from different universities in Lebanon joined efforts to form a first-of-its-kind professional entity, the Forum of Registrars in Lebanon, which will meet twice a year to share best practices, discuss common challenges, and learn from its regional and international counterparts.
LAU hosted the organization's second meeting in May on Byblos campus. It was attended by more than 20 university registrars and staff from the American University of Beirut, Antonine University, Beirut Arab University, Haigazian University, Holy Spirit University of Kaslik, Islamic University in Lebanon, Lebanese University, Middle East University, Notre Dame University, Sagesse University, Saint Joseph University, Université de la Sainte Famille Batroun, University of Balamand, and LAU.
"As the forum is still in the process of establishing itself as a formal professional entity, the attendees discussed the draft bylaws of the forum and some key challenges facing all universities," explained Annie Lajinian-Magarian, LAU's university registrar, who is hopeful that the forum will provide a platform of partnership with other universities. "We are excited to have formed this community of learning and aim to raise the bar for academic excellence," she added.
An Embrace of Continuing Medical Education
The Lebanese Society of Obstetrics and Gynecology, in collaboration with Collège National des Gynécologues Obstétriciens Français, held a day of training hosted by the Department of Obstetrics and Gynecology at the LAU Gilbert and Rose-Marie Chagoury School of Medicine and the LAU Medical Center-Rizk
Hospital on May 26. The occasion drew OBGYNs, students and resident doctors, who learned about the latest advances from leaders in the field. Attendees were also granted Continuing Medical Education credits for the event. LAU is a leader in continuing education, ensuring that its students, faculty and staff are able to learn of new advances and keep up to date with innovations in their disciplines.
Walking for Peace
The Palestinian Cultural Club invited Swedish-Algerian activist Benjamin Ladraa to talk about his trip from Sweden to Palestine on foot. Having left Sweden in August 2017, he journeyed south through Europe, taking his first means of transport – in the form of a boat – from Silifke in Turkey to Tripoli in North Lebanon, only because safety concerns prevented him from crossing Syria. He then continued his journey to the southern tip of the Lebanese-Israeli border to make a symbolic statement before leaving Lebanon.
A Bit of Italy on Campus
A representative from the Italian Embassy in Lebanon sat in on an early-July class where LAU students were enjoying an opportunity to learn Italian from a native instructor. Offered during the summer and fall 2018 semesters, Beginning Italian and Italian II courses are a contribution from the Italian Embassy and Italian Cultural Institute, which have funded an instructor to teach full time for two semesters. "Our goal is to expand the number of Lebanese university students developing an interest in the Italian language, with funding coming from a special plan called Vivere all'Italiana, which is the brainchild of the Italian Ministry of Foreign Affairs and international co-operation," explained Edoardo Crisafulli, director of the Italian Cultural Institute and continuous supporter of LAU. So far, there has been strong interest among LAU students for the summer-semester courses, which are offered on both campuses, with 25 students in the Beirut class and 17 in the Byblos one.
Loving Solutions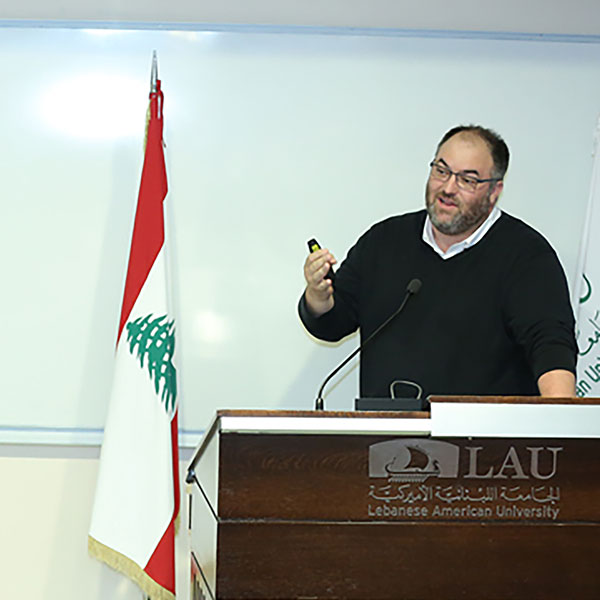 On June 25, the Adnan Kassar School of Business (AKSOB) inaugurated the Nabil Bustros and Family Distinguished Lecture Series, following a generous personal donation to LAU, by hosting Stephen Gillett, CEO and co-founder of Alphabet's Chronicle. The inaugural workshop drew more than 150 students, alumni, faculty, and leaders of the LAU and business community ­– including Nabil Bustros – for the dynamic discussion and reception that followed. Gillett told those in the audience not to be too caught up with the solutions that they create but instead to "fall in love with the problems" and focus on how to fix them.
GRADUATIONS
Honors Program Graduation
In early April, LAU's Honors Program — the only one of its kind in the Middle East — celebrated its first two cohorts of graduating students from the classes of 2017 and 2018 at a ceremony held on Byblos campus and attended by the Advisor to the Minister of Education and Higher Education Jinane Chaaban, LAU President Joseph G. Jabbra, Provost George K. Najjar, and deans of schools, faculty and proud parents.
University Scholarship Program Class of 2018 Celebrated
The Outreach and Civic Engagement Unit held a celebration recognizing members of the United Scholarship Program's Class of 2018 on May 21. Graduates were honored in the presence of their parents, members of the LAU community, representatives from USAID and the US Embassy, as well as partners from the American University of Beirut.
MEPI-TL Scholars Graduate
Students, faculty members, LAU officials, and the US ambassador to Lebanon convened on May 31 to celebrate graduates of the LAU-Middle East Partnership Initiative-Tomorrow's Leaders (MEPI-TL) program. With pride and excitement, the young leaders received certificates and rings and recalled some unforgettable memories from their journeys. Highlighting the diversity of the TL community, with students coming from 10 different Arab countries, MEPI-TL Program Director Dina Abdul Rahman told the graduates, "I commend you all for learning the big lesson of acceptance, tolerance and communication. This is the biggest strength of any leader, and leaders you are!"
ARCSON Recognition and Pinning Ceremony
The Alice Ramez Chagoury School of Nursing (ARCSON) held its annual Recognition and Pinning Ceremony May 29 on Byblos campus, where the school is located. Keynote speaker Naeema Al-Gasseer of the World Health Organization joined ARCSON's dean, faculty and generous award sponsors at the ceremony. "The School of Nursing has a very unique spirit," said President Jabbra. "A spirit to serve each other, to serve society, and to do whatever we can to help our young people in the nursing profession."
School of Medicine's Annual Hooding Ceremony
Lebanon's newest doctors were celebrated at the Gilbert and Rose-Marie Chagoury School of Medicine's annual Hooding Ceremony on Byblos campus the evening of June 2. Keynote speaker Reverend Malek Boutanios told the crowd, "Every person resembles his pain, and this pain can turn into darkness and isolation, but doctors are the ones who can break the isolation and darkness they face."
Medical White Coat Ceremony
A week after the Gilbert and Rose-Marie Chagoury School of Medicine's annual Hooding Ceremony, new doctors received their white coats at the LAU Medical Center-Rizk Hospital in Beirut. Dean of the School of Medicine Dr. Michel Mawad reminded the graduates of the universal meaning attached to the white coat. "The white coat is the symbol of science, and also of cleanliness… All lives are of equal worth. Your conscience and your heart must be as clean as this white coat."
SOP Hooding Ceremony
New graduates of the School of Pharmacy were honored at the SOP's Hooding Ceremony July 19 at Byblos campus's Selina Korban Auditorium.