The Revolution of Body Confidence
More in this issue
I hope that this event will help people see their bodies as sources of strength and support, rather than insecurity.
"Fat" is not a bad word. This seemingly simple assertion is actually a radical notion in our image-obsessed world.
With millions of people across the world struggling with eating disorders, members of the LAU family have decided to change some minds about body image.
Assistant Professor Of Nursing Rita Doumit and Associate Professor of Nutrition Nadine Zeeni have studied the impact of eating disorders on Lebanese students. They found that anorexia, bulimia and binge-eating disorder are among the most severe mental-health struggles in adolescents and young adults in Lebanon. Furthermore, these disorders usually coexist with depression, substance abuse and anxiety.
Doumit says that spreading awareness is crucial, as "early detection through college-based screening can help adolescents get treatment early and prevent worsening psychological harm."
So, with the help of the Nutrition, Nursing and Psychology clubs, as well as the Middle Eastern Eating Disorders Association (MEEDA), Doumit and Zeeni hosted Love Your Imperfections, an awareness-raising event on Byblos campus.
"Through the event, we want to inform students how to be resilient and healthy in today's challenging world," said Zeeni. "We would like them to be able to challenge social pressure, stereotypes and media messages about dieting, body weight and shape. We want to encourage students to stop appearance-based talk and body shaming and replace it with the celebration of body confidence."
The messaging used for the event included "Don't value your body over your being," "Happiness isn't size specific," "Fat is not an emotion," and, "Loving yourself is the greatest revolution."
For Stephanie Farah, the messaging hit home. "I feel that it is impossible to be shielded from the unrealistic beauty standards portrayed by media and advertisements nowadays," said Farah, second-year psychology student and president of the Psychology Club. "I hear many beautiful and strong women and men complain about their bodies. This is not the message that children should grow up with. I hope that this event will help people see their bodies as sources of strength and support, rather than insecurity."
The day started with MEEDA's Huguette Abou Khalil, a clinical nutritionist and eating disorder specialist, leading a workshop on the dangers of disordered eating and extreme dieting. "Eating disorders are very common all over the world," Abou Khalil told the audience. "In fact, I'd say our whole society has an eating disorder." She discussed the importance of embracing positive messages about bodies and avoiding discussing people's weight or eating habits. "You never know who is already struggling with an eating disorder," she cautioned, "and who may just need a trigger to develop one."
After the talk, attendees gathered near the campus fountain for a lively Zumba session led by Zumba instructor and third-year nutrition major Marwa Sobh. Then, students of all different body types and sizes strutted down a runway wearing body-positivity slogans on their clothes. At the end of the event, participants released balloons they had painted with their messages about body image.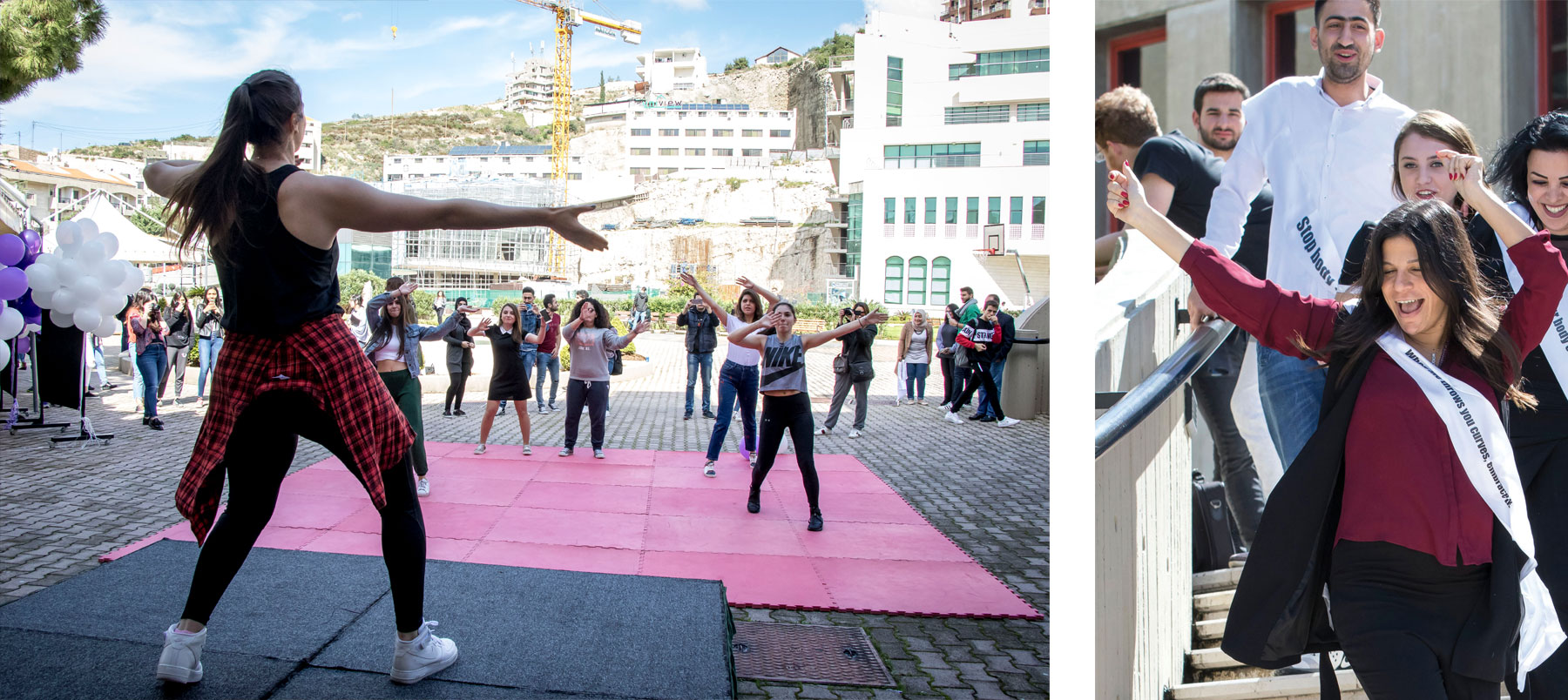 The involvement of students in organizing Love Your Imperfections was a key strength of the event, as they are of the age group most vulnerable to disordered eating and poor body image.
Farah Bou Said, third-year nursing student and president of the Nursing Club, said the event could make immeasurable impact on those suffering in silence. "I believe that Love Your Imperfections will serve as a rescue for LAU students, faculty and staff by raising awareness about eating disorders," she said. "Just be yourself and love your perfect imperfections because that is what makes you different, unique and beautiful."
Lara Assadourian, a fifth-year nutrition major who is also president of the Nutrition Club, says she hoped Love Your Imperfections would help young people "raise their confidence and show them the importance of loving not only one's own body, but embracing our imperfections as well."
At the end of the event which attracted students from LAU, as well as Saint Joseph University and Lebanese University Doumit felt positive. "I hope that young men and women who identify as having problems with body image and eating disorders will be encouraged to seek help," she said.