Welcome Additions to the School of Engineering
More in this issue
It is truly an exciting time to be a student at LAU's School of Engineering.
As the practice of engineering evolves with changing technologies, there is a growing need for students to "hit the ground running" in their careers upon graduation. LAU's School of Engineering (SOE) is making that possible with new, state-of-the-art laboratory equipment and facilities that are, in many cases, the first of their kind in Lebanon.
Completed in 2007, the over 9,000m2 Engineering Laboratories and Research Center houses more than 30 lab and workshop spaces designed to expose students to the practical applications of the theory they receive in the classroom. The facilities employ top-notch technology, including supercomputers and high-performance computational resources with a capacity of about 18 teraFLOPS.
Former Dean of the SOE and current Provost George Nasr says the new facilities offer unique experiences for students and faculty. "Today's industry climate requires that students be able to contribute in their field upon starting their careers, and LAU's SOE is offering students that opportunity. In addition, the new laboratories provide our faculty with cutting-edge resources to pursue their own research and explore new frontiers in engineering."
Johnny Estephan, a master's student in civil and environmental engineering, agrees. "Conducting experiments in the lab has helped me develop scientific reasoning abilities and critical thinking skills to judge the results and formulate conclusions," he said. "There is no doubt that these facilities, with their state-of-the-art laboratories and high-end testing equipment, give credibility to the research I conduct and pave the way for more advanced research projects in the future."
One of the newest labs in the center is the Drilling Simulation Lab. The growing possibility of local oil extraction has led to increased student interest in the Petroleum Engineering program, and the new lab facilities offer students a virtual experience that is unique to LAU. With a full-rig floor drilling and a well-control simulator, the facility is designed to instruct students in advanced equipment operation techniques. The lab is also outfitted with a giant high-resolution wall screen that provides real-life graphics to mimic the environment of a drill site, allowing students to gain invaluable real-life experience before they even graduate.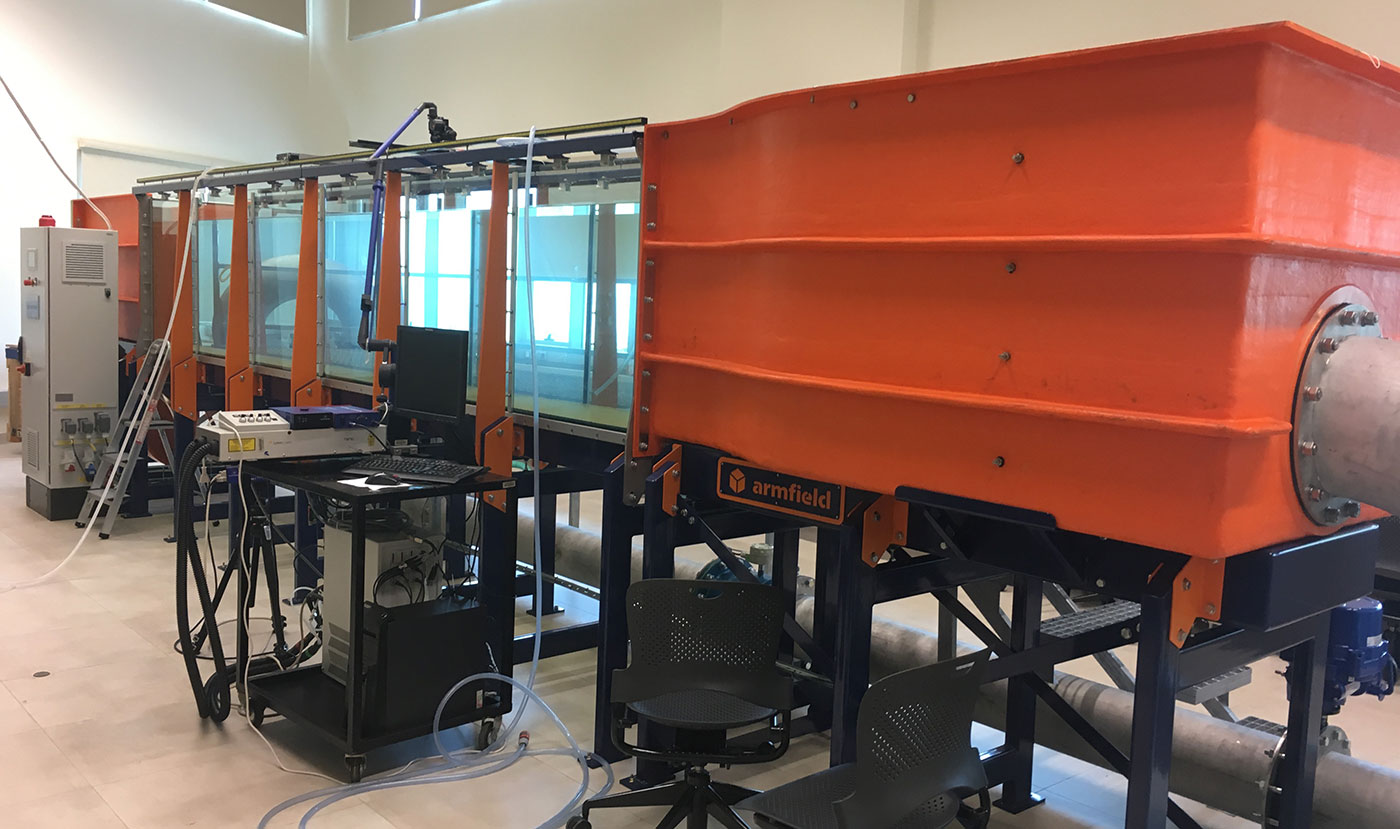 A second petroleum engineering facility is the Reservoir Simulation Lab, which hosts a Core Flooding System — an advanced, computer-controlled environment that simulates oil reservoir conditions and can help determine the permeability of rock samples as well as their interactions in various fluids. The equipment is used for both undergraduate classes and research purposes.
Salim Jamal-Eddine, one of the lab supervisors, is proud of its benefits to students: "With LAU's petroleum engineering labs, students gain more than theory — they gain practice. So when they go to the field, they have already had the actual experience on an exact replica of an oil drill."
Another jewel in SOE's crown is the Experimental Fluid Dynamics Lab, featuring the impressive Hydraulic Water Channel — one of the largest of its kind in Lebanon. This lab is designed as a teaching and research tool to aid students in their understanding of how particles move in air and water.
The channel, fabricated and installed by engineers from the United Kingdom, is constructed with toughened glass flanks and a glass-bottom panel, allowing students to observe from three sides. Using a 3D stereoscopic Particle Image Velocimetry system, the channel allows students to watch the movement of particles and gain a deeper understanding of the hydraulic and aerodynamic flow structures. This equipment allows undergraduate and graduate students to experiment in research areas related to low-speed flows including submarines, airplanes and vehicles.
On the electrical engineering side of the building is the newly installed Smart Grid Lab. Via a connection to a SCADA computer system, students are able to measure power data, analyze it, and manipulate the system's decision-making component in order to observe the effects on the power system as a whole. With renewable energy such a hot-button topic these days, students are able to use the Smart Grid to understand the challenges of integrating alternative energy sources and work toward efficient power solutions.
Aside from the newest labs, the Driving Simulation Lab, installed in January, is aiding faculty and students in groundbreaking research geared toward improving the traffic situation plaguing Lebanon's roads. This summer, the SOE will also inaugurate the High-Bay Structures Lab, which will feature testing capabilities of full-scale structural elements of buildings, bridges and other critical infrastructure. Undergraduate and graduate students will be able to use high-capacity hydraulic actuators to witness firsthand the response and behavior of critical infrastructure facilities under real-life environmental and man-made loads, such as wind events, earthquakes and vehicular traffic.
These lab facilities are serving to provide students a well-rounded education that "connects the dots" between classroom learning and that which can only be achieved in the field.
For Chair of the Department of Industrial and Mechanical Engineering Michel Khoury, the labs are just part of the school's mission. "At LAU, we are committed to staying at the forefront of engineering technologies, and our lab facilities are achieving that goal. It is truly an exciting time to be a student at LAU's School of Engineering."