The Truth in Numbers: LAU Ranks Among the Top Universities Worldwide
More in this issue
LAU ranks ahead of other regional universities in terms of employer-student connections and career placement of students.
Data powerhouse Times Higher Education (THE) revealed its latest rankings of top universities worldwide for 2019, and LAU is on the list. Placed in the 601-800 bracket out of over 1,258 universities, LAU is among the elite higher education institutions in the world, and one of only two universities in Lebanon to be ranked, thanks to a host of factors such as teaching quality.
This is the first time LAU has made it on THE's World University Rankings. Its appearance comes following an extended push by LAU's senior leadership, its seven schools, its office of Graduate Studies and Research, its Department of Institutional Research & Assessment, and its Student Development and Enrollment Management to advance the university's position as an international educational powerhouse in line with the pillars of the Third Strategic Plan: Intellectual Capital and Knowledge Management, Pedagogical Innovation and Integrated Delivery, and LAU without Borders.
A closer look at LAU's THE results reveals exceptional performance in the area of teaching, where LAU leads the local higher education scene in Lebanon. Another criterion that boosted LAU in the rankings was its citation impact. The fact that LAU faculty are well-published is not new, but the quality and relevance of their scholarship is noteworthy.
LAU President Joseph G. Jabbra praised the increased quantity and quality of the faculty's scholarship in an address to the community. "Compared to five years ago, our research output has improved by 60 percent," he said, adding that LAU's faculty published around 400 articles in refereed journals over the past two years, 70 peer- reviewed conference papers, and six refereed books published by renowned academic publishers. In addition, 21 applications for research projects were granted by the National Council for Scientific Research, one research project was granted by Partnerships for Enhanced Engagement in Research and another by the National Institutes of Health, a primary agency of the United States government responsible for biomedical and public health research.
"Our faculty's citations are on par with the faculty of the top universities worldwide," agreed Dr. Samer Saab, Interim Dean of Graduate Studies and Research. "But the bigger story is the quality of the LAU research – publications in prestigious journals, the grants, and partnerships, are some of the metrics that indicate that LAU faculty are doing research that matters while driven by student centeredness."
The type of data presented in THE's report is not isolated. The 2019 Graduate Employability Rankings survey released this year by QS, another renowned organization that collects and analyzes data on the world's top universities, has also ranked LAU among the leading academic institutions worldwide, coming in at the 301-500 bracket. In addition, QS places LAU as the number-two university in Lebanon and number 16 in the Arab World.
For students, these rankings quantify the benefits of studying at LAU. Those seeking summer internships or full-time employment post-graduation are a step ahead of their peers from other regional universities as a result of the support they receive before graduation to prepare them for the job market, which is especially important in tough economic periods like the one Lebanon is facing now.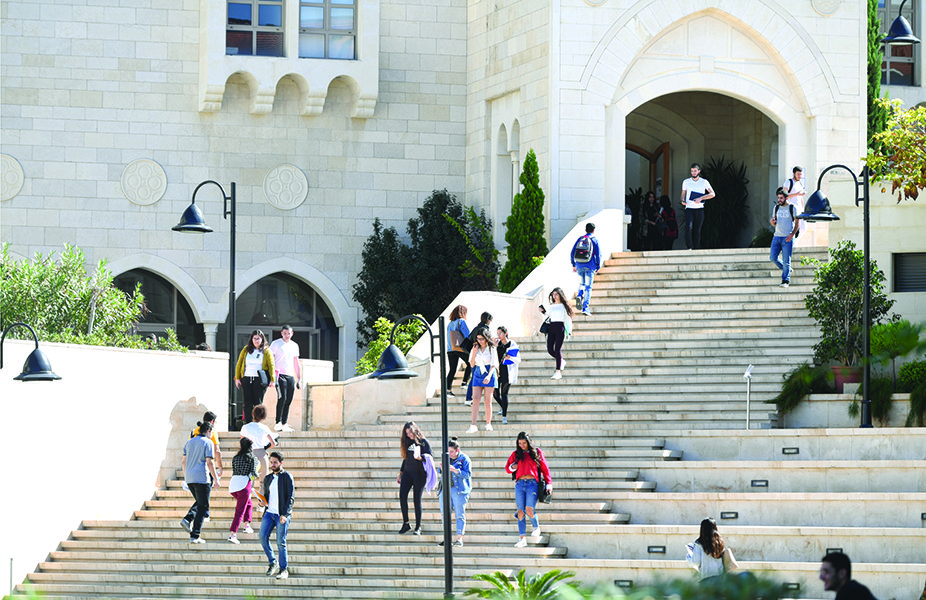 In the category of employer-student connections, for example, QS ranks LAU at 89, ahead of other world-renowned institutions such as Carnegie Mellon (96), Harvard (97), Yale (98), and the American University of Beirut (110).
"LAU devotes a lot of effort to fostering longstanding relationships with local companies," said Byblos campus' Lead Career Guidance Officer Hassan Baalbaki. "We are open to the way they want to recruit, and we provide personalized services to cater to their needs."
The university has also signed a number of memoranda of agreement – 26 in the past two years – with employers. These agreements not only formalize employers' relationships with LAU, but also cement their commitment to hire from the pool of elite LAU students.
And, of course, there is the high quality of LAU's teaching and curricula standards, notes Assistant to the President for Institutional Research and Assessment Diane Nauffal. "As part of our institutional effectiveness efforts, we systematically review our academic programs to enhance their quality and ensure their relevance to the job market involving our stakeholders in the process," she said.
For prospective university students trying to choose where to pursue their degrees, so many indicators can be overwhelming. But for most students, the most important metric is employability. A recent internal survey indicated that a full 82 percent of LAU graduates secure full-time employment within 12 months of graduation. For students interested in internships, LAU has promoted and placed upward of 1,300 students, including about 130 in internships abroad.
In an ever-changing academic climate and competitive job market, LAU stands among the world's top universities. Through its commitment to excellence in education, top-notch research faculty, and successful placement of its graduates in employment opportunities around the world, the expectation is that LAU will continue to rise in the rankings year after year.