Festival Next Celebrates Lebanon's Greats
More in this issue
Nidal Al Achkar honoring ceremony opens the Communication Arts annual festival.
Bedecked in her signature abaya, the grande dame of Lebanese theater Nidal Al Achkar breezed into a packed Irwin auditorium, greeting familiar faces and embracing friends as she made her way to the front row for the opening ceremony of the 2019 Nidal Al Achkar Festival Next.
The evening inaugurated the Communication Arts Department's annual festival – an evolution of LAU's Theater Festival launched in 1998 – replete with workshops, screenings and concerts.
Introduced by Chairperson Jad Melki as "an innovator and a pioneer, whose life reflects the spirit of LAU's motto: to strive, to seek, to find and not to yield," the actress/director – a graduate of the Royal Academy of Dramatic Arts in London ­– steered the theater movement in both Lebanon and the wider Arab world.



She founded the Beirut Theater Workshop in 1966, a period some call Lebanon's Golden Age. By the mid-1980s, she had established the Arab Actors Theater Company in Amman, Jordan, following the outbreak of the civil war in Lebanon. She also founded Al Madina Theater in 1994, which was redeveloped into the Al Madina Theater Association for Art and Culture in 2005.
"A cultural provocateur," said LAU President Joseph G. Jabbra, Al Achkar "shook up and provoked Lebanese society. She tried and succeeded in bringing down Lebanese theater from its level of elitism and made it accessible to everyone."
The scale of her contribution to the stage was manifested by the presence of Minister of Culture Mohammed Daoud Daoud, MP Rola Tabsh, foreign ambassadors and dignitaries, Board of Trustees Chairman Peter Tanous, and a host of deans and faculty members in the audience.
The tradition of paying tribute to important Lebanese cultural figures was initiated years ago by the Public Relations and Media Office. Since then, a number of impactful figures, including poets and artists, have been honored.
The collaboration with Festival Next started in 2018 with the honoring ceremony of Lebanese ballet dancer Georgette Gebara, and continued this year with Al Achkar.
"The significance of this initiative is to introduce these prominent cultural figures to the students. There are many among the young generation who do not know who these people are and are not familiar with their work," said Nada Torbey, the head of the PR and Media Unit of the Strategic Communications Department.
"Second, we are inviting to LAU all the eminent personalities from the cultural scene to attend the event, giving them the opportunity to witness first-hand the talent, skillsets and capabilities of LAU's students," she added.
In a fitting tribute to Al Achkar, a 20-minute film written and directed by LAU Assistant Professor of Film Sabine El Chamaa in collaboration with Associate Professor of Theater Lina Abyad and Al Achkar herself was screened, followed by a short play written and directed by Festival Next coordinator and LAU alumnus Awad Awad (BA '16) and Assistant Professor of Music Amr Selim.
The performers, who included students from LAU and other universities, in addition to professionals such as Lebanese actress Bernadette Hodeib, re-enacted scenes from Al Achkar's personal anecdotes, before ushering her onto the stage and showering her with rose petals.
"I have never once thought about living in another land," Al Ackhar told the crowd. "I hope never to leave this world before I drink from the Litani River, travel by train to Arab capitals, see free admission at hospitals and schools, and a library for all, and for streets to be named after Arab poets and literary figures."
The 2019 Nidal Al Achkar Festival Next turned out as impressive as its eponym.
Highlights included a captivating homage to the Rahbani Brothers in a concert led by Senior Music Instructor Joseph Khalife and a rerun of The Rite of Spring, a 1913 ballet by Russian Composer Igor Stravinsky, under the artistic direction of Assistant Professor of Music Seba Ali.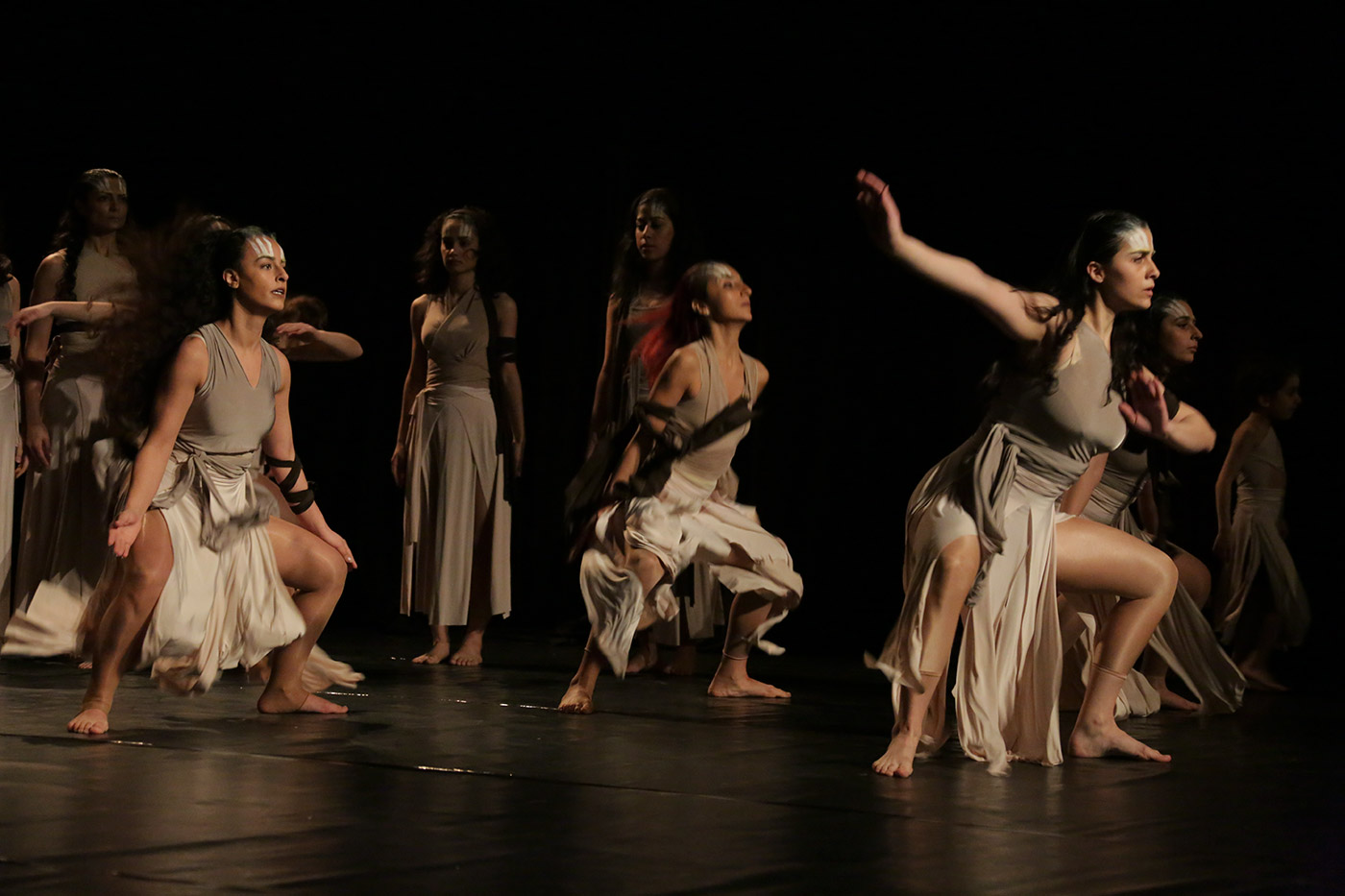 An intense and frantic 50-Hour Film Competition challenged eight teams to write, edit and produce a film in a little more than two days. LAU alumna Christy Samaha (BA '17) and USEK alumna Malak Abdo won the Best Picture Award for their film Beit El Menjel. Samaha and Abdo will have the chance to produce another film over the summer using the department's equipment.
As the festival is also an occasion for the department to honor one of its own, this year's Communication Arts Alumni Award went to alumna Maya Mikdashi (BA '00).
On receiving the award, the assistant professor at the Department of Women and Gender Studies and lecturer in Middle East studies at Rutgers University, remarked that universities were "laboratories of intellectual, political, social and emotional experimentation. We learn life and professional skills here, and those are often the same thing."
Thanks to the dozens of students, alumni and faculty who worked on it, Festival Next has become a staple of the department's motto to reinvent communication, as it moves forward in promoting interdisciplinary education.
And reinvent, it certainly did.