A Lifetime at LAU
More in this issue
Two of the university's longest-serving staff reflect on their enriching years of service
There's something about working at LAU. That's why so many of our faculty and staff stay on for years. Some employees have even served the LAU community for generations. Among those, two are retiring this year.
Brigitte Baroudy has seen all of the university's iterations. She started as a student at LAU when it was known as the Beirut College for Women and graduated the same year it was renamed Beirut University College, in 1973. A Computer Mathematics major, Baroudy began her career at a private company but was recruited by the university's IT Department in 1978.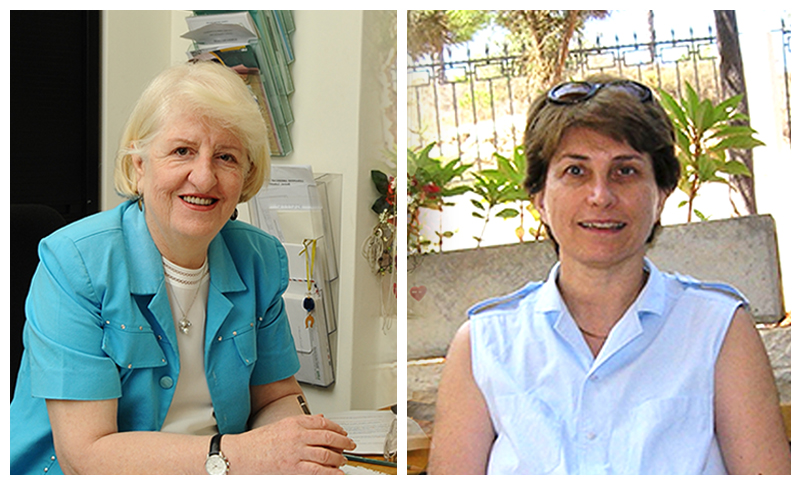 As technology advanced rapidly, Baroudy kept up, taking advantage of development opportunities offered by LAU and making sure the department kept pace with changes in the field. She worked her way up, and by the time she retired this year, she was director of IT Security.
Asked why she stayed with the university for all those years, she said, "I never felt the urge to move on to another educational institution or company, because at LAU I experienced continuous growth and satisfaction – not to mention the stability LAU offered us during the long years of war."
Indeed, the university stayed strong during Lebanon's civil war, from 1975 to 1990. Still, like all institutions, it was badly affected by the conflict, and when the war ended, Baroudy was one of the employees who helped LAU not only to rebuild but to expand into a world-class university.
Throughout her service, Baroudy and the university grew together. "I have always admired the continuous growth and innovation at LAU," she said. "Preparing the leaders of the future has always contributed to my positive attitude and outlook, year after year."
Also retiring this year is Nadia Daoud, a steady presence at the university for almost 30 years. Daoud graduated from Beirut College for Women in 1972 and spent the next two decades first as a grade-school teacher and later as an English instructor at the Continuing Education Program at Beirut University College. As the civil war wound down, Daoud's friend and former teaching colleague Leila Saleeby invited her to join the staff at the Alumni Relations Office.
Daoud reminisces about how different the campus was when she first started in 1990. "There were only around 100 or 150 students then. The campus was full of people from villages who were displaced by the war." Together with Saleeby, she worked to reactivate the Alumni Relations Office from the bottom up. They pieced together as much as they could find on alumni from decades of the university's past. "We worked a lot. It was a very nice job. You get to know people and learn how the university changed their lives," Daoud said.
A few years later, Daoud got the chance to build up another major department when she was asked to join the newly opened Admissions Office. There, she and her colleagues focused on administrative work as well as publicity and recruitment. "We built relations with schools all over Lebanon," she said. "You form relationships with students, faculty, parents, government offices. It gave me training in dealing with people, and that's what secured my success."
Both Baroudy and Daoud witnessed the transformation of the university – in name, size, status and influence. Aside from their careers, LAU gave them experiences and friendships to last a lifetime.
"I will miss the team and relationships I formed because we worked so well with one another. I was motivated by their energy and loyalty," said Baroudy. "I received a lot of precious guidance from my mentors, and I had the chance to help develop the next generation, which is a great gift."
"LAU offered me great opportunities to grow and get to know people," said Daoud. "Everything I gained at LAU was to my benefit."