Helping People Live Their Best Lives
More in this issue
The School of Nursing teaches students how to engage with the wider community
Nursing is more than just clinical care. It's about helping patients improve their lives by imparting important knowledge about health and lending a helping hand to those in need.
Professors and students from the Alice Ramez Chagoury School of Nursing (ARCSON) take this duty very seriously, regularly conducting intensive community service and outreach as part of their training. This helps patients and members of the broader public learn how to live their best and most comfortable lives.
Through a series of intensive courses, the school's professors have been involving their students in diverse efforts to support the community outside the university, in line with LAU's commitment to civic engagement. "Our school has a strong philosophy on preparing students to be engaged in community health," said ARCSON Dean Anahid Kulwicki. "Through strong partnerships with community organizations, our students and faculty address a range of important topics that address the needs of the community in their own setting."
Caring for the disadvantaged is integrated into ARCSON's clinical intensive course Promotion of Healthy Lifestyles. The course takes place in the months of September and October and is led by Clinical Instructor Mira Abi Saad-Youssef and Assistant Professor Rita Doumit. In her portion of the course's clinical aspect, Doumit and her students pay repeated visits to up to eight families in need. Visits include providing health assessments of the family members, giving psychological support when needed, and teaching the beneficiaries about health and safety topics. Doumit and her students also secure medical supplies and food items with the help of their partners Serop Ohanian and Raquelle Ketchejian, respectively the director and senior social worker at the Howard Karagheusian Commemorative Corporation.
For example, in one visit, the team worked with a family of Syrian refugees living under precarious financial conditions. They obtained milk and diapers for the family's newborn and school supplies for the older daughter. In addition, they cased the family's apartment and found a number of safety hazards. Curtain rods were fixed to prevent them from falling and exposed outlets were covered to make the house safer for the children.
"The services provided by our nursing students to the families not only improved their quality of life but also brought hope, joy and comfort. Many family members shed tears of joy during our visits and showed gratitude for all the help and compassion offered by our students. It was painful to say goodbye during our last visit," said Doumit.
For her portion of the course, Abi Saad-Youssef teaches students how to spread awareness on health to the wider public. Students learn how to host public-health events, including one that takes place every year on the last day of the course. During the event, held in the city of Byblos, students lead awareness sessions on hypertension, diabetes, cancer, healthy lifestyle and more, in addition to providing free screenings, such as glucose testing, to attendees.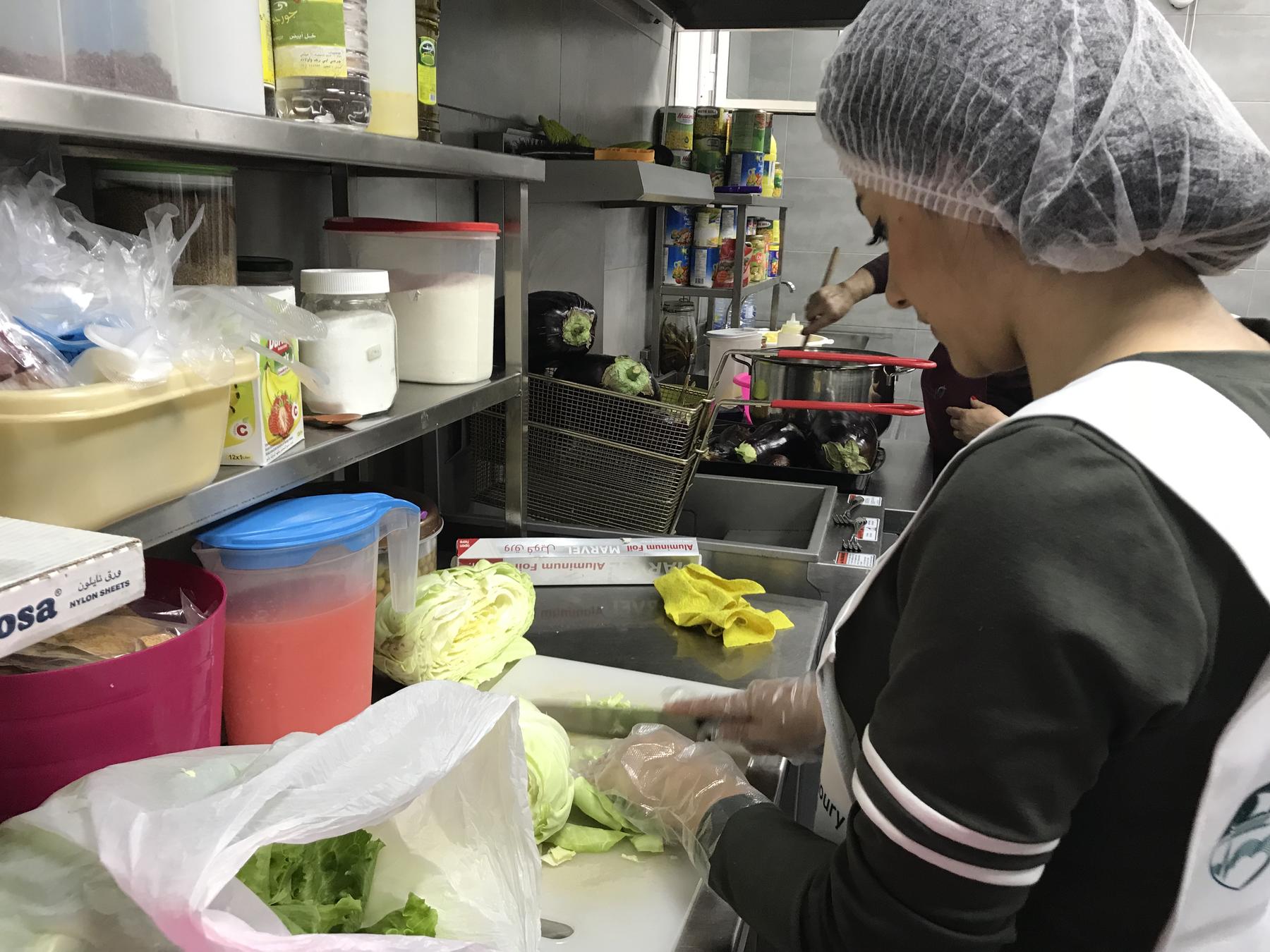 The event is popular with locals, as there are typically low levels of awareness in the general population about both preventing and dealing with common diseases. Abi Saad- Youssef recalled an attendee who discovered he had severe hypertension after undergoing a free blood pressure screening at the event. The students worked with him on a plan to address his condition.
One of the benefits of the course is that the students "are practicing the role of the nurse in a community setting," said Abi Saad-Youssef. "They learn how to talk to patients, spread information and answer sometimes-difficult questions."
In Aley, Clinical Instructor Zeina El-Jordi's students organized mental-health awareness sessions for local high-school students as part of her Mental Health Clinical Intensive course. El-Jordi's students spoke to attendees about anxiety, depression and substance abuse, topics not always discussed openly in Lebanon but that affect a large percentage of any population. "Our students were very creative in their education sessions," said El-Jordi. "They prepared educational games, brochures and posters, and educated more than 400 young people on how to spot signs of mental illness and cope with the disease."
"We nurses don't worry about the health of just one person at a time but entire communities at a time," she added.
Nursing students also take part in extra-curricular initiatives. For example, members of the Nursing Club began collecting donations for the One Kilo Campaign during the fall 2017 semester. Taking part in the campaign is an annual tradition for the Nursing Club, and this year the target was to collect 150 kilograms of nonperishable food for the needy, including pantry staples such as rice, lentils and canned foods. Members of the club provided donations and sought contributions from other nursing students and faculty and staff. They surpassed their goal, collecting 176 kilos.
The donations would go to the organization Bonheur du Ciel, run by Father Majdi Allawi, which provides food to poor families in the area. Just a few days before Christmas, 12 nursing students along with a number of ARCSON faculty and staff members visited Bonheur du Ciel's Byblos center. They delivered the donated food and helped prepare a large, healthy meal for disadvantaged people who depend on the center.
Among those who enjoyed the meal were poor parents with young children, low-income workers, and refugees. Farah Bou Said, president of the Nursing Club, said after the event, "My heart was filled with happiness to take part. Some people have houses but not homes, and they miss the feeling of having warm family gatherings. They come not only for the food, but also for the people and the sense of community."
"I believe that life is about giving, not taking," Bou Said added. "I have always believed that, and it is a major part of my career path as a nurse."