Education Starts Early
More in this issue
LAU's Early Childhood Center is the only such facility in the region affiliated with an academic institution.
Researchers have known for decades that the earlier a child's planned education starts, the better they do throughout their years of schooling, and later in life too.
That is why LAU makes sure its youngest learners get the best start.
LAU's Early Childhood Center (ECC), which is nestled in the middle of LAU's Beirut campus, is the only such facility in the region affiliated with an academic institution. In addition to being run by certified instructors and child-care experts, the center invites LAU students from different disciplines to observe the ECC children as they learn and play, to track innovative teaching methods, and to explore what it means to be a young learner.
The ECC has come a long way since the 1950s, when it was first established as an on-campus nursery, mostly used by faculty and staff at Beirut Women's College (as LAU was then known). After a brief hiatus in the early 2000s, it reopened in 2014 as a fully equipped research-based center for children aged one-and-a-half to three-and-a-half.
According to Acting Chair of the Department of Education Iman Osta, education undergraduates are placed in the ECC to conduct their practicum from the spring of their junior year to the spring of their senior year. Students observe the interaction between the ECC children and their teachers and document their behavior under the supervision of their professor. "Then they start gradually taking responsibilities and interacting with the children, acting as assistant teachers," Osta said.
Senior education major Razan Helou has been working as assistant teacher at the ECC for the past two years, an experience, she says, that has helped her develop as an educator through a hands-on approach.
"Through many observations, I learned how important it is to expect anything from children and to be ready to adapt on the spot," said Helou, who is specializing in early-childhood education. During her time at the ECC, Helou has been assigned to the Little Scientists and Explorers sections, where she has facilitated learning through themed activities and helped the children develop a sense of independence and curiosity. "It is a real child-centered environment. We observe what the children are interested in and how they behave, and we build on that."
To ensure it provides the most well rounded education for its little learners, the ECC encourages LAU students from other disciplines to become involved in its work. Assistant Professor of Education Garene Kaloustian and Assistant Professor of Architecture Roula el-Khoury invited students from both disciplines to combine their skills to reimagine, redesign and develop plans for the ECC playground "in order to make it more responsive to children's needs, development and safety," Osta said.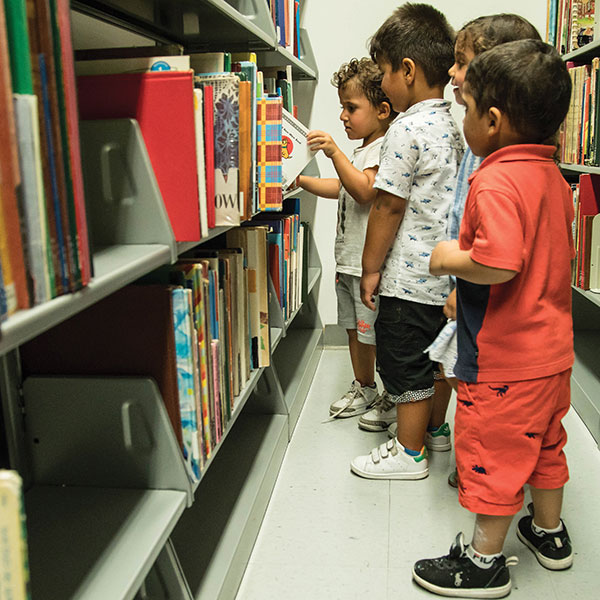 "We also welcome engineering and medical students for internships," said ECC Supervisor Maya el-Hoss, as well as those majoring in fine arts, English and Arabic, who examine children's drawings and help develop children's books.
All of this attention and care has ensured strong developmental and educational growth for the ECC children. "Not a single child has been rejected by an elementary school, including high-caliber schools," Osta said. And thanks to their early advantage, they go on to steadily achieve well throughout their educational paths.