Lebanese and Proud
More in this issue
We didn't have a group of guest artists who came with a ready program. This was something that was 100 percent original.
LAU's IMAGINE Workshop and Concert Series (IWCS) concluded its second season with a bang. Its multidisciplinary finale, called Lebanese and Proud, included an all-day food and crafts market, and an evening of music, theater and dance.
IWCS is a platform that aims to connect the LAU community with the outside world through collaborations and outreach activities. Each IMAGINE season contains four residencies, organized with a socially relevant theme in mind. The first, Reflections, sought to promote gender equality and human rights, while the second, Tell Your Tale, celebrated Arab culture through the art of storytelling. The third residency, Salaam, was a about music as a tool for peace.
Lebanese and Proud, the last residency of the season, included workshops on both Beirut and Byblos campuses, and outreach visits to two local refugee camps. "This residency celebrates the cultural richness and diversity in Lebanon," said IWCS Artistic Director and Adjunct Professor of Music Seba Ali.
"Our projects are original," she added. "We create them depending on the people we work with and the kind of discipline we are focusing on."
What distinguished Lebanese and Proud from other IWCS residencies is that it relied heavily on collaboration with younger people – 50 high schoolers – and that all the performances were created from scratch.
The final evening opened with a short experimental play based on real stories from the Lebanese civil war, which lasted from 1975 to 1990. As part of a school project, students from Beirut's Wellspring Learning Community interviewed their relatives about their experiences in the war. The director, LAU theater major Rahaf Jammal, worked with three students on developing those narratives into a play.
"The play aimed to raise awareness and to emphasize the privilege of having a safe and culturally diverse country that was built on the hardship that their parents and grandparents had to endure," Ali said.
The play was followed by a musical performance from a choir made up of LAU and Wellspring students. The conductor, Music Instructor Lara Moulaeb, worked with the singers for the entire previous semester on the song Shu Hal Iyyam (What Days).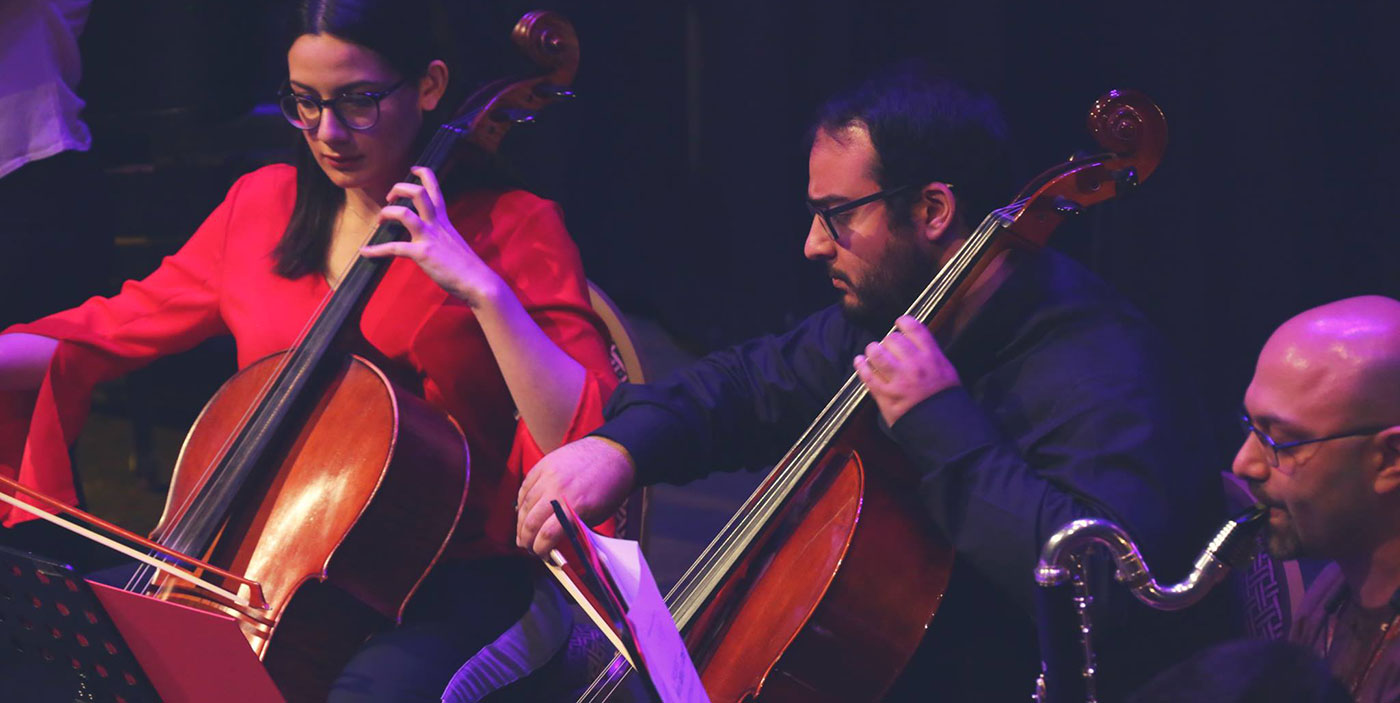 Next was a concert by an ensemble performing Lebanese folk tunes from the 1920s and 40s, a genre known as mkhammass. The tracks, reminiscent of Lebanon's Golden Age, were reworked and rearranged by violinist and IWCS resident Layal Chaker as part of her doctoral research.
"I play classical music, so it was interesting for me to go through the journey of rediscovering music from our heritage and rearranging it in my technique," she said.
Chaker worked with an ensemble of student and faculty musicians from LAU and the National Conservatory. Over five intensive workshops, they developed improvisation and folk-tune techniques.
The musicians, she said, had to go through the same process of reconnecting with "this part of their culture." The ensemble included musicians who played purely oriental instruments, such as oud and buzuq, and others who played Western instruments such as the violin and the piano.
"We are a post-war generation; we do not know that part of our history, but we can know it now through music," Chaker said.
The evening concluded with performances by members of the Al Sarab Alternative Dance School and Al Sarab Dance Company. The routines aimed to send a message of pride in heritage, equality and diversity.
As outreach has always been a main pillar of IWCS's program, Ali organized two events at Lebanon's Shatila and Ketermaya refugee camps in the spring. In the first, at Shatila camp, Assistant Professor of Dance Nadra Assaf and Instructor of Dance Jimmy Bechara worked with children on expressing themselves through their bodies. In Ketermaya, Chaker played the violin while children conveyed their ideas in drawings based on what they heard.
"The outreach program was amazing," Chaker said. "The common thing is always the enthusiasm and the gratitude expressed by the kids. They are just so happy you are there and they are so engaged. It is very empowering to them to have access to arts and culture," she added.
IWCS will resume in October 2018 with its third season.