Staying Connected
More in this issue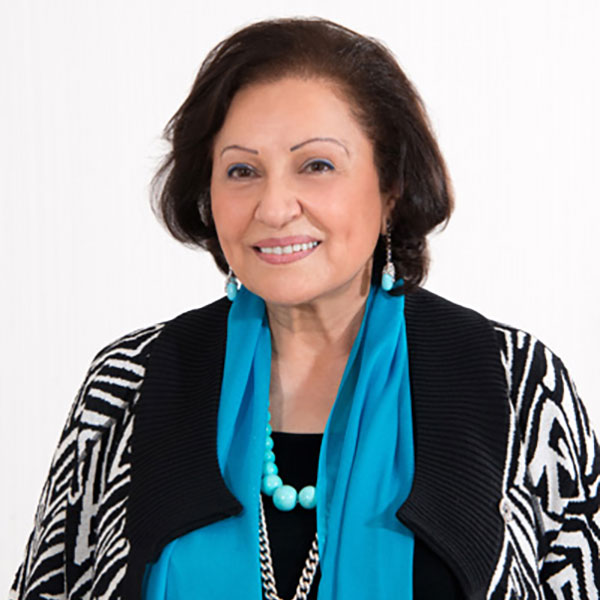 Ghada Hijjawi-Qaddumi has done a lot since graduating from LAU with a BA in fine arts in 1976. After receiving an MA in Arabic literature from the American University of Beirut and a PhD in the history of Islamic art and architecture from Harvard, she held a number of prominent positions, including being a researcher at the Kuwaiti Department of Antiquities and the Kuwait National Museum; director of publications at the National Council for Culture, Arts and Letters (NCCAL) in Kuwait; and the founder and director of the Department of Research and Cultural Studies at NCCAL. Hijjawi-Qaddumi is currently president of the World Crafts Council-Asia Pacific Region (WCC-APR). She is the proud mother of two sons and grandmother of four, two of whom are LAU graduates. In addition, she has three great-grandchildren, the youngest of whom is almost a year old.
Now a resident of Doha, Qatar, Ghassan Kreidie graduated with a BS in 1984. He was head of information security for Group Qatar National Bank for 25 years and is currently partner and director of technology and information security at InteSol Lebanon.
Samia Abouzeid Khoury lives in Plainsboro, New Jersey and works as a financial sales consultant. She graduated from LAU with a BA in interior design in 1984. Three of her four kids have graduated from college, and the youngest is starting next year.
Sawsan Mujahed Darwaza received her BA in communication arts in 1985. She has had an extensive career, as president and co-founder of Ma3mal 612 Think Factory, president of the Jordan Center of ITI-International Theater Institute, theater and film director at Mir'at Media Production Company, and CEO and owner of Pioneers Production Company. She is currently the festival director and co-founder of Karama Human. She lives in Amman, Jordan. Following in her footsteps, Darwaza's oldest daughter graduated from LAU with a BA in communication arts. Her youngest graduated from AUB this spring.
Nabil Iskandarani is a general manager at Naser Mohamed Al-Sayer Communication Co. and lives in Kuwait with his wife and three daughters. He graduated from LAU with a BS in business management in 1985.
Dima Dabbous graduated with a BA in communication arts in 1987 and went on to receive an MA in media studies in Canada and a PhD in media law in the UK. She is now assistant dean of the College of Arts & Sciences at Phoenicia University and a gender specialist with USAID. She is a former director of the Institute for Women's Studies in the Arab World at LAU (2005 – 2013) and was a visiting researcher at Stanford University in California in 2014.
Now a resident of Qatar, Mohamad Ahmad Jarrah works as a director of finance. He graduated from LAU with a BS in business management in 1992. He has a young daughter named Layan.
English Language Teacher and Instructor Toufic Hasan Shoucair graduated with a BA and TD in teaching English as a foreign language in 1992. He has been teaching since graduation and has experience in education management. He also has a certificate in the Teaching Knowledge Test from University of Cambridge. He lives in Beirut and is the father of an LAU biology major.
Lina Abdel Rahman Fakhoury graduated from LAU with a BA in communication arts and journalism in 1994. She lives in Beirut, where she works as director of information and promotion at the Investment Development Authority of Lebanon. Her 18-year-old son is studying mechanical engineering at AUB, and her 16-year-old daughter is looking forward to studying communication arts at LAU.
After finishing her BS in business marketing in 1994, Diana Khalil attended Newport University in Wales, where she received a master's degree with distinction. She is currently the operations and country sales manager for a Turkish industrial company in Lebanon. She lives in Badaro with her three children, Rayan (13 years), Adam (11 years) and Kaya (5 years).
Maher Hammoud earned his MBA in 1997 before attending the London Business School. He holds a master's in finance. He now lives in Riyadh, where he is vice president and head of Private Equity and Corporate Development at Olayan Financing Company. He was previously managing director at Shuaa Capital and a senior associate at Booz & Co. He is married with three children.
After spending a decade in Qatar, Loucia Yousef, who graduated from LAU with a BA in 1999, made a major life change: She went vegan and moved herself and her family to the Dvin area of Armenia to open the country's first plant-based vegan kitchen run by her organization Elle & Vie, opening this September.
Sandra Abrass received her BA communication arts in 2000. She is a filmmaker, editor and producer who lives in Beirut and is currently pursuing a master's degree in filmmaking at l'École Supérieure d'Audiovisuel in Toulouse, France.
Dohat Aramoun resident Nancy Jundi graduated from LAU with a BS in hospitality management in 2000 and now works as the head of customer service at Bankmed. She is married with three kids.
Ihab Omeich earned his MBA in 2001 and now works as a purchasing manager for Sodexo, an international catering company with an office in Kuwait. With Sodexo, he recently conducted a two-week training session in Amman, Jordan as part of the Healthy Kitchen project, which helps schools supported by the World Food Programme improve their fresh food supply chain.
After receiving her BS in business marketing in 2002, Zeina Baaklini worked as a marketing director at Unilever Dubai and then as a marketing manager for Emaar Properties. She is now the owner and general manager of Live Organic s.a.l., a distributor of organic and healthy products for the Middle East. She also owns the two largest specialty organic stores in Lebanon, in New Naccache and Achrafieh.
Rabee Cheikh Mohammed Shams received his BS in management in 2003 and his MBA from LAU as well. He has worked in management, operations and insurance and lives in Lebanon with his wife and two kids.
Mahmoud Natout graduated from LAU with a BA in psychology in 2004. He attended the University of Oxford for his master's and PhD. He has worked as a visiting assistant professor in education at LAU, and as a consultant, researcher and trainer. He is now the co-founder of L3b Consultancy and Training.
Now living in Qatar, Samer Tay Bou Dargham graduated with a BS in computer science in 2006. He then moved to the Netherlands to attend Maastricht University for a degree in general and strategic management. He also received an executive MBA in business management from HEC Paris. He now works at Alfardan Premier Motors as the general manager.
Celine Mohamad Atwi received her BS in graphic design in 2007 before heading off to Grenoble Graduate School of Business in France, where she earned an MS in fashion, design and luxury management. Now a resident of Houston, Texas, Atwi is an entrepreneur and co-founder of the site theprettyandsimple.com for the Middle East and Gulf regions. She previously taught graphic design and visual communication at the Lebanese University, Hadath campus. She is married and has a young daughter.
Wissam Abil Mouna earned his BS in business economics in 2009 and his MBA in 2011. He received a diploma from the Digital Marketing Institute in Ireland. Now living in Dubai, he is a digital marketing manager and conducts business development and market research. He has been married since 2015.
Makram Rasamny is a business development manager at Rymco and lives in Beirut. He graduated from LAU in 2009 with a degree in business management.
Elie Hanna Massoud received his BS in computer science in 2010. He was the lead application developer at CCC for eight years before founding Lebtron s.a.r.l. He lives in Jdeideh and is getting married this year.
After receiving his BArch from LAU in 2011, Tarek Ibrahim went back to obtain his MA in Islamic art and architecture, graduating in 2017. He currently works at Paseo Architecture in Lebanon's Chouf region.
Majd Touza lives in New York, where he works as a project engineer. After receiving his BE from LAU in civil engineering in 2011, he moved to New York City to attend Cooper Union School of Engineering for his master's degree. He is getting married this year.
Ghada Merhi Bleik graduated in 2013 with an MA in education. While working on her master's at LAU, she had a son, and defended her thesis while eight months pregnant with her daughter, who is now almost five. She says her MA helped her get a job at City International School, where she currently works. Bleik is now working on another MA in educational psychology with a focus on school guidance and counseling, and should be graduating next year.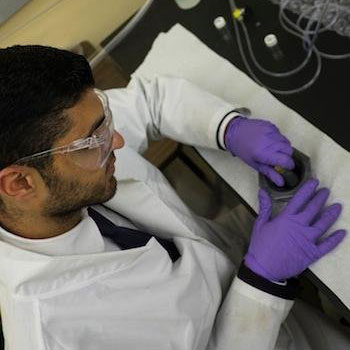 Mohamad Kabbani graduated from LAU with a BS in chemistry in 2012 before pursuing his PhD at Rice University in Texas and postdoctoral fellowships at University of California, Berkeley. He was part of a team of researchers in the US that found a simple and economical way to turn functionalized graphene into pellets of graphite for use in a number of industrial products and applications. Kabbani coauthored the team's research paper, published in the journal Carbon, together with his father Ahmad Kabbani, a professor of chemistry at LAU's School of Arts and Sciences. The younger Kabbani now works for Shell Corporation in Texas.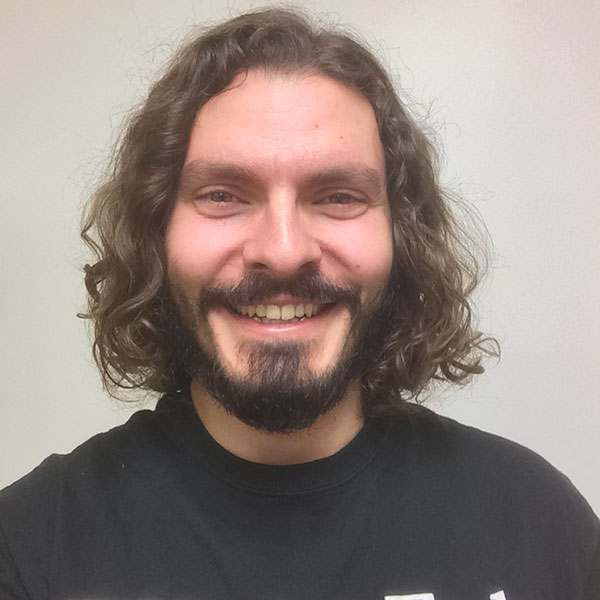 Rabih Halim Younes obtained his MSE in computer engineering in 2013. He completed his PhD at Virginia Tech in the US and now lives in Durham, North Carolina, where he is assistant professor in the Department of Electrical and Computer Engineering at Duke University. He was recently married.
Serge Kajaer Koujanian is a resident physician, PGY2 in general pathology at McMaster University in Ontario, Canada. He gradated from LAU's Gilbert and Rose-Marie Chagoury School of Medicine in 2014.
Hanaa Hussein moved to Sweden after finishing her BS in nutrition in 2014. She studied international health at Uppsala University and is now a health officer at a Swedish governmental institute. She is also studying for her master's in food technology at Lund University. She is married and has a baby daughter.
Now living in Hadath, Lebanon, Mohamad Hasan Sweidan is the owner of a trading company that sells shaving supplies to wholesalers. After graduating from LAU with a BS in business in 2014, he received an executive MBA from Lebanese Canadian University. He is now married and the father of a baby girl.
Jack Kassab received his EMBA in 2014 and went on to receive his doctorate in business administration from Balamand University. He is now co-owner and manager of three companies: Société Kassab s.a.r.l., which sells stationary and office supplies; Trade Plus, which makes toys, gifts and decorations; and Wizard Solutions, a software provider. One of his daughters graduated from LAU in 2017 with a bachelor's in business marketing, and another is currently in her first year studying pharmacy. A third daughter graduated this year from Lebanese Academy of Fine Arts as an architect. Kassab lives in Jal el Dib.
Upon graduating with an EMBA in 2015, Hiba Farhat took a job at Blom Bank, s.a.l., where she focuses on customer service.
After Nizar Akram Mezher received his bachelor's in interior architecture from LAU in 2015, he moved to Milan, Italy to study at Nuova Accademia di Belle Arti, where he is working toward his MA in interior design and is in line to graduate cum laude.
Mohamad Ali El-Yafi graduated with a BS in business in 2015. He then headed to Barcelona, where he currently lives, to work toward his master's in sports management and legal skills with Futbol Club Barcelona at Insituto Superior de Derecho y Economia. He is now head of the International Department at the Catalan Tennis Federation.
Psychology major Nada Abdel Jalil Arabi moved to Dubai after graduating with a BA in 2016. She now works as the general manager at KidCare Pediatric Clinic, Dubai Health Care City.
Mohamad Elmordaa received his BE in computer engineering in 2016 and is currently looking for work in his field.
Biology major Hussam Ayman Fatayri got his BS in biology in 2016. He now lives in Lancashire, UK, where he received his MSc in criminal investigation. He is currently looking for work in the UK and abroad.
After obtaining his BS in business in 2016, Anthony Elie Simon moved to Paris to work toward his MSc in financial markets and investments at Skema Business School. He recently joined Wavestone Luxembourg for an end-ofstudy internship in asset management. He passed the Chartered Financial Analyst Level 1 exam and will soon sit for the Financial Risk Manager Level 1 exam.
Robert Abed received his MD in general medicine from the Gilbert and Rose-Marie Chagoury School of Medicine in 2017. He moved on to Columbia University, where he received his master's in public health. He now works in New York City at Mount Sinai St. Luke's Hospital as an internal medicine resident. He is engaged to be married.
Fawzi Nabil Aidi has spent almost his entire education at LAU, having obtained his BS in 2013, his MBA in 2017, and a diploma from the Continuing Education Program in HR the same year. After working as an accountant at Beirut Insurance Consultants, he moved to Dubai to work at Dubai Studio City. He has just begun a position as production coordinator at Nemer Saade s.a.l. back in Beirut.
Zobida Tadj graduated with a BA in psychology in 2017. She now lives in Algeria, where she is a grants officer at World Learning Algeria. She works on the Youth Employment Project helping young job seekers get free softskills training, career advising and technical training in various fields.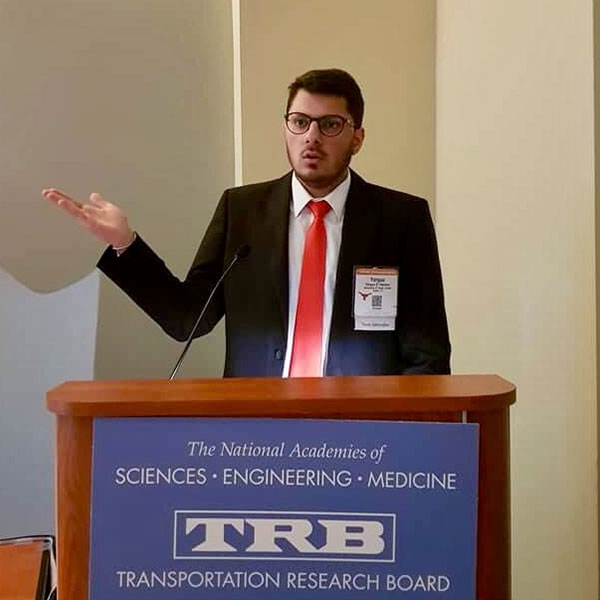 After receiving his BE in civil engineering in 2017, Yorguo El Hachem moved to Austin, Texas, where he is currently pursuing a master's in civil engineering-transportation engineering. He is working as a graduate research assistant until his expected graduation in spring 2019. He presented a Lectern Session during the Transportation Research Board's 97th Annual Meeting on behalf of the research team at University of Texas-Austin on the "Evaluation of Using Line Laser Scanner to Improve the Measurement of ALD in Chip Seal Design."