Bringing Gender Equality to the Forefront in Lebanon
More in this issue
Throughout the semester, AiW has held a number of events to bring members of the LAU family and the wider community together to explore gender equality.
Every year, women and their allies around the world make great strides in advancing the cause of gender equality. And every year, it becomes clearer just how far these activists have come – and how far they still have to go.
According to the UN, one in three women across the globe has experienced physical or sexual violence. In Lebanon, an estimated one out of four women has been subject to some form of sexual assault, according to a study conducted in 2017 by women's rights group ABAAD.
LAU has been at the forefront of gender equality since its founding as the first school for girls in the Ottoman Empire in 1835. More recently, the university appointed a new Title IX coordinator, responsible for ensuring there is no discrimination on the basis of gender at any level in LAU, in line with the US Justice Department's regulations for federally funded educational institutions.
In addition, the university's Arab Institute for Women (AiW) has been empowering women with research, education, development programs and outreach since 1973.
Throughout the fall 2018 semester, AiW has held a number of events aimed at bringing members of the LAU family and the wider community together to explore gender equality. One such session was Breaking Down Barriers, a panel discussion in November that featured Member of Parliament Paula Yacoubian activist Joumana Haddad, and Director of the Arab Institute for Human Rights Joumana Merhi.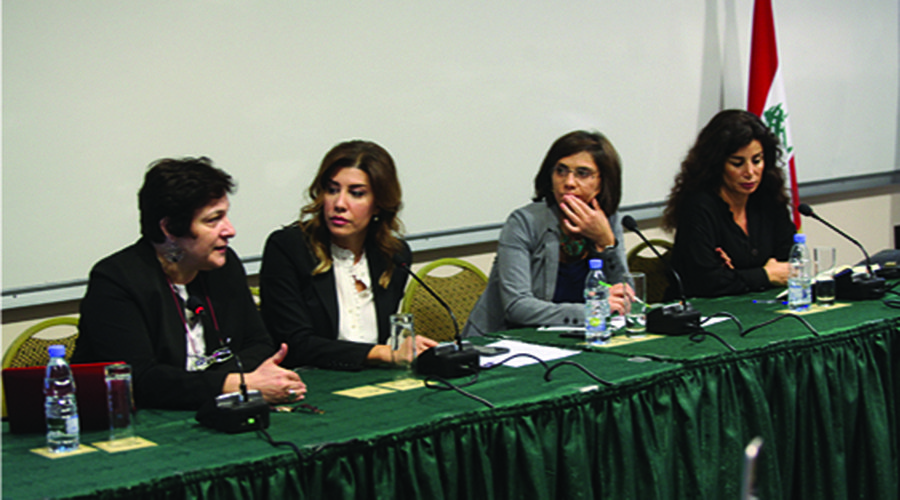 AiW was also active in this year's Miss Lebanon competition, training the young contestants in topics that many would not necessarily associate with the pageant world, such as gender equality, redefining beauty standards and more.
Most recently, in early December, the institute hosted a discussion on Fighting Gender-Based Discrimination with Arts. The roundtable was part of the international 16 Days of Activism Against Gender-Based Violence, during which activists around the world mobilize efforts to shed light on the issue.
The event also served as a platform to announce the winners of AiW's third-annual arts competition. Contestants were asked to speak up against violence by submitting pieces in the medium of their choosing.
"The competition is a way to bring creativity into activism," said AiW Director Lina Abirafeh, who has spent over 20 years working on gender-based violence prevention and response in countries around the world. "Art as activism has a farther reach and lasts beyond 16 days," she added.
Dr. Abirafeh is also a champion of the global movement SheDecides, which calls for the right of every woman and girl to assume control over their bodies and their lives. She was recently named one of the Top 100 Most Influential People in Gender Policy by the global public policy network Apolitical.
This year, the competition attracted around 200 submissions by both children and adults. "Our aim is to raise awareness and increase momentum toward preventing violence against women and girls," said Mehrinaz Elawady, director of the ESCWA Centre for Women, which collaborated with AiW on the contest.
The roundtable discussion was moderated by researcher and writer Reem Maghribi, who is the managing director of NGO Sharq and former staff member at LAU's Strategic Communications Office. Speakers from different artistic disciplines underscored the role of arts in activism and advocacy against gender discrimination.
Musicians and activists Michelle and Noel Keserwany discussed how they use their skills in advertising, animation, illustration, and songwriting to express opinions on sociopolitical issues.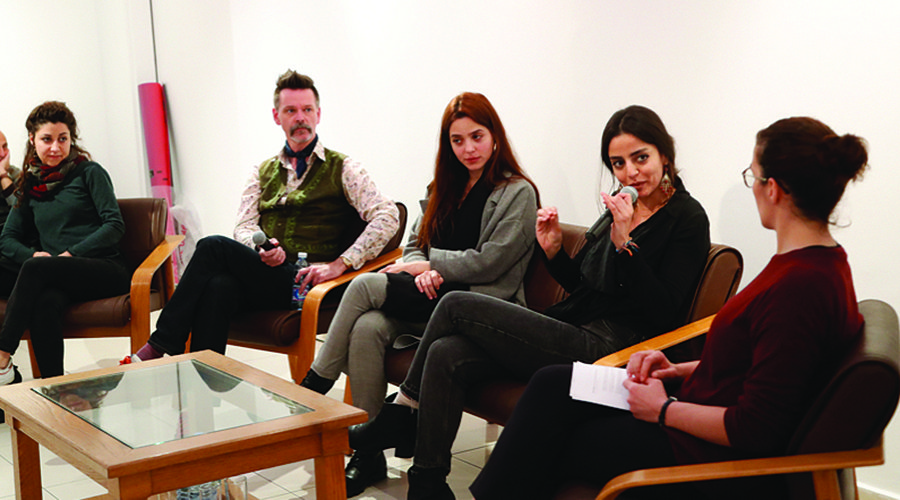 "We team up with experts to spread certain messages because we believe in the importance of expression and activism," said Noel, who with Michelle has collaborated with AiW to produce a song on gender equality called In My Hand.
For her part, Michelle believes that advocating for gender equality has a greater impact when done through actions, not words. "Instead of saying women can do this and that, women should go out and do it," she said.
As for actress Natasha Choufani – who has performed in shows on domestic violence, including a play by LAU Associate Professor of Communication Arts Lina Abyad called Hayda Mesh Film Masri (This Is Not an Egyptian Movie) – she described the cycle of abuse that underlies the dangerous effects of the patriarchal system on women's lives.
Choufani believes that advocating against discrimination should involve both men and women. "We need men with us," she said. "It's their fight as much as it is ours."
Another guest speaker, Coordinator of the Fashion Design Program at LAU and Assistant Professor Jason Steel, described fashion as a reflection of societal issues and a medium for activism.
He encouraged his students to design clothing that sends messages against gender-based violence. "I wanted to make sure the students have the opportunity to speak for those who don't have a voice," he said.
Reinforcing the message, fashion students present at the event wore some of their original creations, with more of their lines displayed on the walls along with the shortlisted submissions.
At the end of the event, the winners of the arts competition were announced. For the children's category, 14-year-old Inass Amer from Syria won first place, while activist Ali Awada won first place among adult contestants for his rap song Haqqik (Your Right).
Awada, who works at the Lebanese Organization for Studies and Training in Baalbeck, said he has always wanted to write a song on women's rights. "Winning this competition is the first step that would allow me to speak up more on issues related to women," he said.
Concluding the event, Maghribi summed up for the crowd what AiW and LAU have made their mission from the beginning: "We've seen today that poetry, music, fashion, photography, and film are all avenues for expressing our experiences and distaste for gender discrimination."