Campus Notes
More in this issue
Honoring a Mother's Memory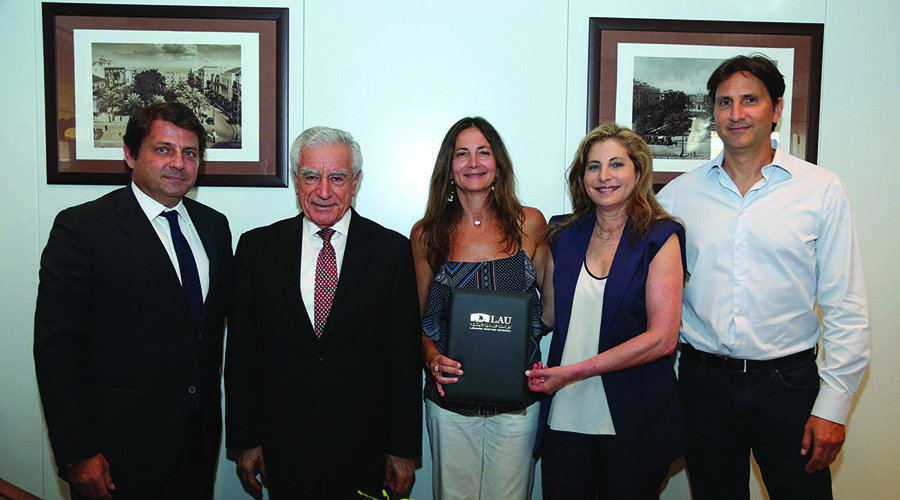 The children of a Class of 1959 graduate have honored their mother in a big way. Rania, Fadi, Rim and Rani – children of late alumna Lamia Sabbah Ali-Ahmed – have established a scholarship in her memory with a generous donation to LAU.
The Lamia Sabbah Ali-Ahmed Designated Scholarship has given one student the opportunity to follow the legacy of the late alumna, who graduated with a degree in psychology from Beirut College for Women (BCW), which is now LAU. The recipient must be a female student from Nabatieh facing financial hardship and who is enrolled in the university's psychology BA program. The scholarship will fund the selected student from fall 2018 until her graduation. "Thank you for giving us the opportunity to share our beloved mother's legacy from the very place that she held so dear," said Rani Aliahmad of his mother, who passed away earlier this year. "It warms our heart to know that her spirit will live on in this institution and accompany like-minded students through their own journey," added Aliahmad, who is a partner at California-based VenVest Capital.
Beauty Gets a Boost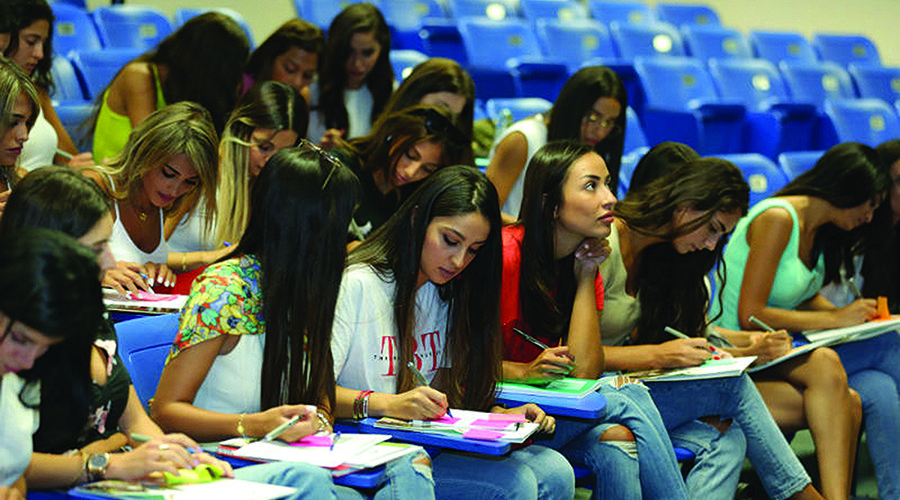 For the first time in the history of the annual Miss Lebanon contest, participants received training in topics that many would not necessarily associate with the pageant world, such as gender equality, redefining beauty standards, negotiation, conflict resolution, public speaking, effective communication, and more.
The training took place on both LAU's campuses in August and early September and was carried out in cooperation with the university's Arab Institute for Women. Thirty Miss Lebanon hopefuls took part.
The eventual winner of the pageant was Maya Reaidy, a student at LAU's School of Pharmacy, who thanked the university for the training she received ahead of the pageant, which she said would help her throughout her future career.
High-Tech Training
A new high-tech simulator was installed at the Comprehensive Stroke Center located at the LAU Medical Center-Rizk Hospital in late August, allowing physicians to receive pre-clinical training in a simulated clinical environment.
"We are very proud to be the pioneers, not only in treating patients but in training the younger generations of physicians to minimize errors," said Dr. Michel Mawad, dean of the Gilbert and Rose-Marie Chagoury School of Medicine.
The machine, called a replicator, is the first of its kind to be used anywhere in the Middle East, Europe or Africa.
Nadine Hans, senior director of medical affairs at Medtronic, the company that built the replicator, said, "LAU is the very first center in which Medtronic has installed this simulation because we both share the ultimate goal of improving clinical outcomes through training," adding that the progress LAU has made in stroke treatment has positioned it as the region's center of expertise in the field.
Excellence in Research and Teaching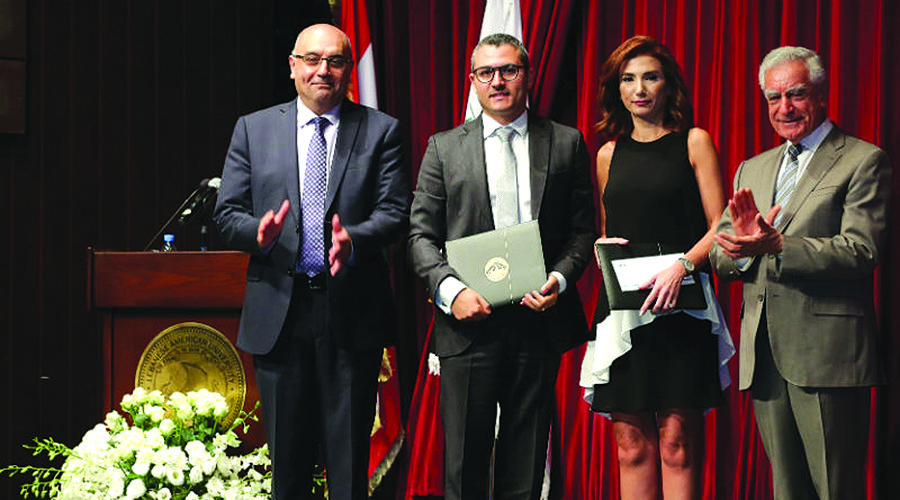 LAU President Joseph G. Jabbra and Provost George E. Nasr presented awards to two outstanding faculty members in September after the first University Faculty Meeting of the academic year.
The Faculty Research Excellence Award went to Dr. Rony Khnayzer, who has over 1,000 citations, was the co-author of 25 peer-reviewed articles, has appeared in a number of top-tier international journals, and who is an active member of the American Chemical Society. "As educators and researchers, we are all fortunate to have the opportunity to make a difference in our society," said Dr. Khnayzer as he accepted the award.
Next to be honored was Associate Professor of Biology Sandra Rizk, who won the Faculty Teaching Excellence Award. Dr. Rizk is the founding director of the Honors and Freshman program – the first honors program established in the Middle East. "I would like to thank my students for always inspiring me to move forward," she said, adding, "Teaching is an art; when used skillfully, it blossoms in the hearts of learners."
History in the Making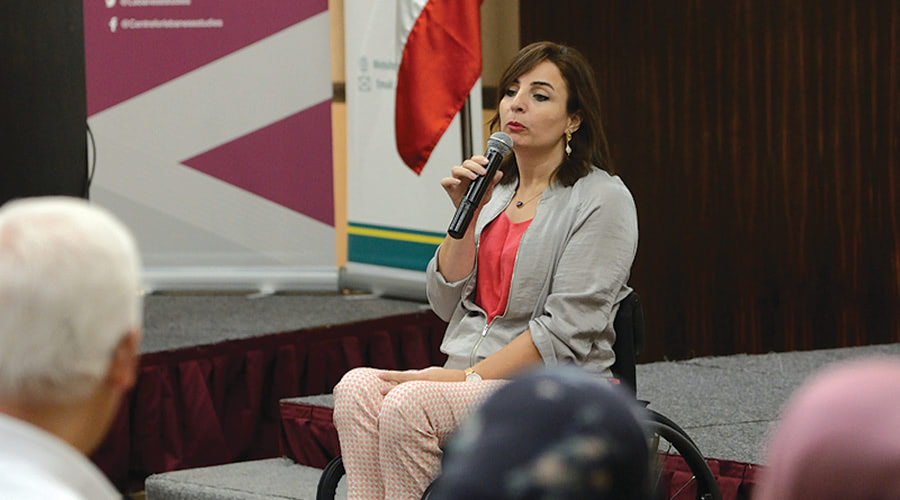 The Centre for Lebanese Studies (CLS) at LAU and the Lebanese Association for History (LAH) are on a mission to transform how students in Lebanon learn history.
According to CLS Director Maha Shuayb, the teaching of history in Lebanon has been "hijacked by politicians," and the textbooks used by students across the country have not been updated since the 1960s.
CLS and LAH, who have collaborated since 2013 on a number of projects, took the first step toward much-needed change. On September 5, they celebrated the closing of the capacity-building project, How Do We Make Our Students Young Historians?
The initiative, explained Dr. Shuayb, "puts the agency back in the history teachers' hands and sets it on a development track, so that they can lead, experiment and engage their students in critical thinking and open debate."
15 Years of Giving
To celebrate the Alwaleed Bin Talal Humanitarian Foundation's generous contributions to LAU over the past 15 years, the university hosted the foundation's vice president, Leila El Solh Hamadé, at a ceremony on September 27. Students, faculty, staff, and a number of university leaders gathered at Irwin Auditorium to celebrate Hamadé's spirit of giving.
"We are keen on cooperating with LAU for the future of the Lebanese youth," explained Hamadé in her address, reaffirming her foundation's commitment to the university and its students.
President Jabbra took the stage, telling Hamadé, "Through the gifts that you have made to Lebanon, you are a role model, showing everybody that you are a true Lebanese, embracing all the regions, denominations, and socioeconomic strata of Lebanon."
Following the celebration were a reception and dinner hosted by Dr. Jabbra, who said he remains deeply touched by Hamadé's "indefatigable commitment to Lebanon."
A Leader in Cancer Research
The International Society of Nurses in Cancer Care recognized Associate Professor and Assistant Dean of the Alice Ramez Chagoury School of Nursing (ARCSON) Myrna Doumit with the Past President's Award, showcasing how ARCSON is advancing the profession of nursing in Lebanon and beyond. Dr. Doumit received the award at the society's 2018 International Conference on Cancer Nursing in Auckland, New Zealand on September 26.
Dr. Doumit was given the award this year for her work on breast cancer, specifically the Courage to Fight Breast Cancer initiative at LAU. "I know that breast cancer is something that can be detected early," Dr. Doumit said, "and with early detection we have better prognosis."
Praise for Morine
LAU Senior TV & Film Instructor Tony Farjallah won Best Director for his movie Morine – which was also nominated for the Best Feature Film category – at the 2018 Marbella International Film Festival in Spain.
Morine, the first historical movie set in Lebanon, has also won Best Foreign Feature at the Christian Family Film Festival, and Best Spiritual Feature at the 2018 Great Lakes International Film Festival.
"These awards mean recognition. We are happy when our work is recognized worldwide. We are competing with big production houses," Farjallah said in an interview.
How Safe Is the Food We're Eating?
Lebanon may be the breadbasket of the Middle East, but the safety of our crops and food products is being called into question because of pollution and poor national monitoring programs and policies.
This was a major topic at the second-annual Lebanese Association for Food Scientists and Technologists conference on Beirut campus hosted by LAU's Nutrition Program. The two-day conference, which took place in late September, was attended by representatives of public- and private-sector organizations as well as academic and non-profit institutions.
Luckily, LAU's Nutrition Program acts as "a niche for food science and food safety research in the country," said Associate Chair of the Natural Sciences Department Hussein Hassan. Among its ongoing projects, the Nutrition Program is helping the Batloun Municipality in the Chouf to reduce waste and upgrade their food-safety practices at a food-manufacturing plant in the town.
LAU is a "pioneer in the field of nutrition and food science research," added Dr. Hassan, "and we are always available to help food industries."
Are Robots Coming for Our Jobs?
On October 9, the Beta Gamma Sigma honor society of the Adnan Kassar School of Business hosted a talk by alumnus Ali Rebaie (BS '11) on the future of artificial intelligence and its potential impact on jobs, society and culture. Rebaie spoke of the many future applications of AI and how aspiring students can get in the business while still at university. Though there are perennial concerns about robots taking over people's jobs, Assistant Professor of Information Technology Abbas Tarhini, who organized the lecture, told the crowd, "Robots are only a tool that helps us live in a better way. The main difference between humans and robots is that we can dream, and dreaming is what takes us to where robots can't go."
LAU Gets Down to Fitness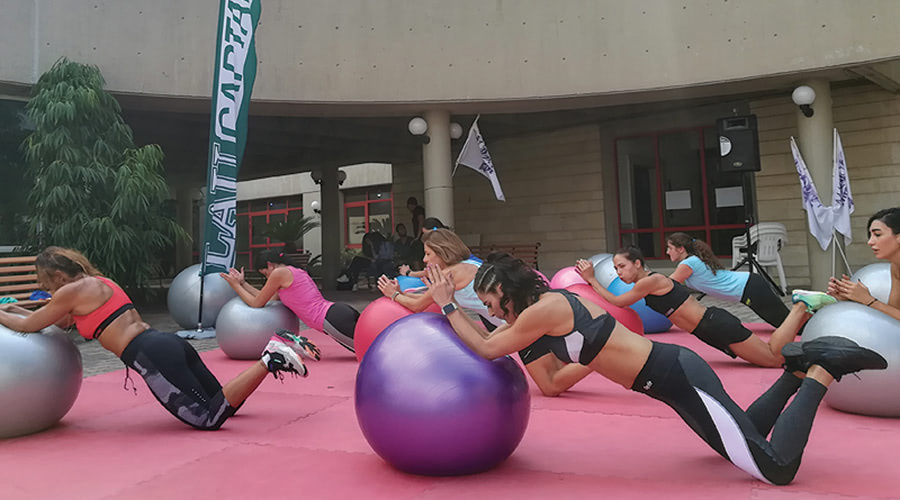 The fountain area on the Byblos campus was busier than usual as the Athletics Department hosted the second annual LAU Fit Fair on Wednesday, October 10. Students took part in group fitness classes, learned about healthy lifestyles, and got to sample free goodies from local gyms and other businesses who had set up stands on campus. "We believe that our role in athletics is not bound to the gym and courts," said Athletics Coordinator on Byblos campus Karen Chammas.
"We have always encouraged the LAU community to lead a healthy lifestyle and engage in sports and other healthy habits."
Foundation Supporting Students from Douma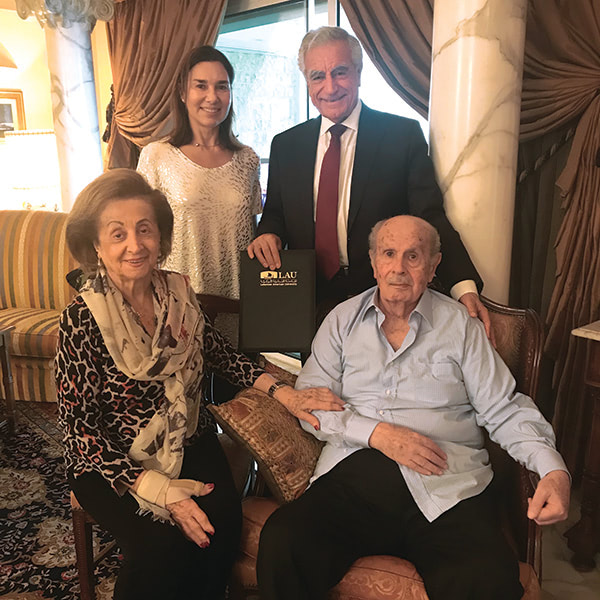 Students from Douma now have access to more scholarship support thanks to the Hanna and Nina Ayoub Foundation's recent contribution of $10,000 to establish five scholarships designated for students from the north-Lebanon village. A gift signing ceremony took place at Hanna and Nina Ayoub's residence in Yarze in fall 2018 and was attended by President Jabbra and Director of Development Lana Abou Teen, who facilitated the donation to the university. Hanna and Nina, along with their niece, ZeenaLee Ayoub, proudly took part in the signing ceremony, which was followed by a discussion about LAU's achievements and the foundation's aim to potentially support even more students from Douma.
While it is the first time the foundation has contributed to LAU, Ayoub has a long history of giving to the institution through personal donations as well as gifts from his company, Al Hamra Kuwait Company, dating back to 1986 and totaling more than $285,000. These donations have been earmarked toward a construction fund to name a 210-square meter space on the Byblos campus, which is expected to be officially inaugurated in 2019. In addition to his giving to LAU, Ayoub served as a board member of the university.
AI at BMW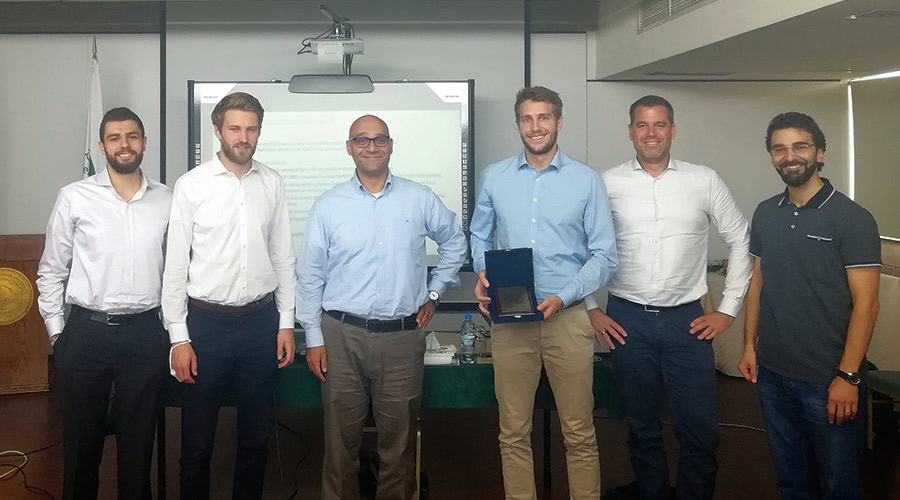 On October 17, the conference hall at Byblos campus' Science Building was packed with LAU students, faculty and staff who were eager to learn about how artificial intelligence (AI) serves the Logistics Robotics team at BMW.
Hosted by the School of Engineering (SOE), and in collaboration with the AI club, four speakers came from Germany to present on their latest work in logistics planning and to highlight their increasing reliance on AI.
Much to the excitement of computer engineering students, SOE Interim Assistant Dean Joe Tekli announced that BMW is looking to fill summer internship positions with LAU students.
After all, noted BMW Computer Vision team member Norman Mueller, "We are always looking for new, innovative ways to teach robots how to see the world like we see it."
From Grassroots to Governments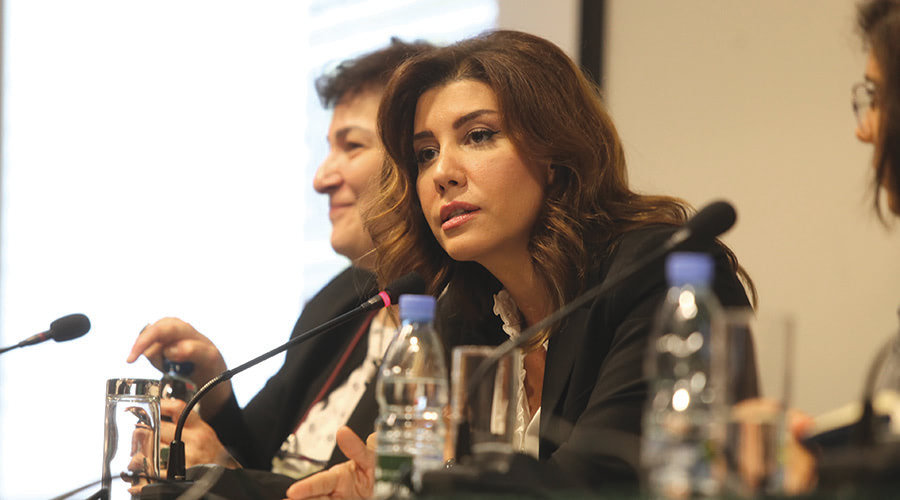 Why are there only six women in Lebanon's parliament, out of 128 seats? This question – along with many others – was addressed during Breaking Down Barriers, a panel discussion that brought together Minister of Parliament Paula Yacoubian, activist Joumana Haddad, and Director of the Arab Institute for Human Rights Joumana Merhi. The event – hosted by the Arab Institute for Women in partnership with LAU Human Rights Club on November 2 – was part of a larger lecture series, Equality for Everyone-Gender Reform from Grassroots to Governments, funded by the Middle East Partnership Initiative.
LAU Runs Beirut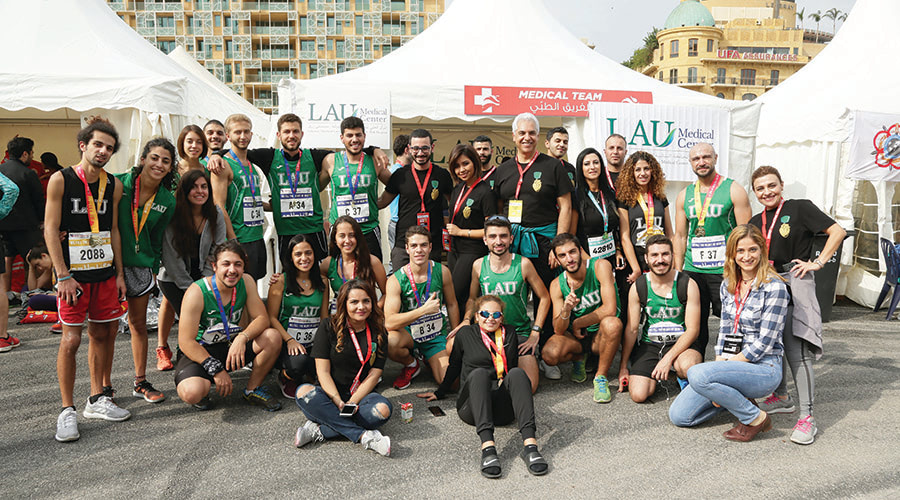 LAU has been participating in the annual Beirut Marathon since its launch more than a decade ago. Since then, LAUers have taken home medals every year. This year, a team of 30 Varsity Track and Field members ran. Cheering them on were over 70 volunteers made up of students, faculty, staff, friends and supporters. By the end of the day, LAU had gathered plenty of prizes: The Varsity Track and Field Team won first place in the 42k university relay and 8k fitness group race, and scored top three in the women's 42k relay race. Student runner Tamara Zein also took first place in the 21k race for her age group.
"This is just the start," said Track and Field Coach Mohamad Mawas. "This team will do wonders. In the next three or four years they will be the best in the region. Just wait and see."
How to Save a Life
A group of students from LAU's health sciences schools gathered in the Beirut neighborhood of Ain Mraisseh on November 3 to educate the public on hands-only Cardiopulmonary Resuscitation (CPR).
Over 100 people gathered to watch demonstrations on how to respond if they witness a person go into cardiac arrest. "This activity aims to raise awareness of the importance of this simple, yet lifesaving two-step approach to help save a life," said Maha Habre, Clinical Assistant Professor at the Alice Ramez Chagoury School of Nursing and the Interprofessional Education Program Coordinator.
"If bystanders know how to perform CPR, they can keep someone alive while help is on its way." According to the American Heart Association, performing hands-only CPR increases the survival rate of cardiac arrest victims by two to three times, especially if performed immediately. The students had conducted a previous such session in April at ABC Achrafieh mall.
Letting Mentors Shine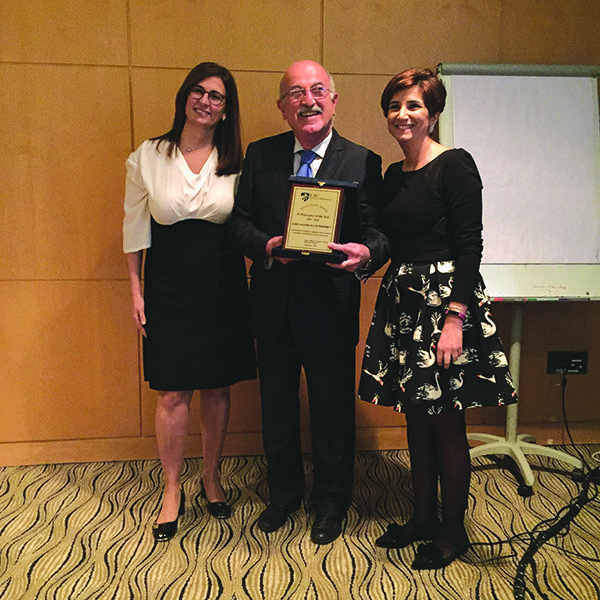 Pharmacy faculty and practitioners gathered at Le Royal Hotel November 7 for the annual Preceptor Appreciation Event in celebration of those who mentor students at the School of Pharmacy (SOP).
The event also served as the launch of the Accreditation Council for Pharmacy Education (ACPE) Continuing Pharmacy Education Program, which fulfills the SOP's Preceptor Development Plan designed to meet ACPE standards.
"It is an honor to take in LAU SOP students," said Ramzi Azzam, who was named one of the preceptors of the year and who has owned and operated Plaza Pharmacy in Ras Beirut since 1980. "I teach them and guide them, but of course, they teach me too! We both learn from each other."
For the Love of Literature
The English Department organized its third-annual Literature Day on November 16 on Beirut campus, with games, a dramatic performance and a competition. Braving the rain, students huddled around booths near the Upper Gate to answer questions about recent novels, match titles to authors, and identify quotes by famous Arab figures in return for prizes. "In literature, though it is fiction, there is also the truth," said Associate Professor of English Studies Luma Balaa, who helped organize the event. The day ended with a poetry slam in which 12 contestants from different majors recited their own works to a crowd of their peers and jury members.
Hack Your Marketing Strategy with Big Data
How can organizations best market to a digital audience? What strategies increase a company's profile in a crowded market? And what on earth is growth hacking? All these questions – and more – were addressed at a November 19 seminar hosted by the Hospitality Management and Marketing Department with special guest speaker Wissam Sammouri, data mining specialist, consultant, university lecturer and co-founder of company Pixis.
Dr. Sammouri spoke about data-driven digital marketing and how to leverage information gleaned from data mining to make strategic choices. He used case studies to "demystify the role of data in driving business and marketing decisions" and taught techniques in growth hacking, which is, incidentally, a process of experimentation across segments to pinpoint the most efficient ways to grow a business.
An LAU Global Influencer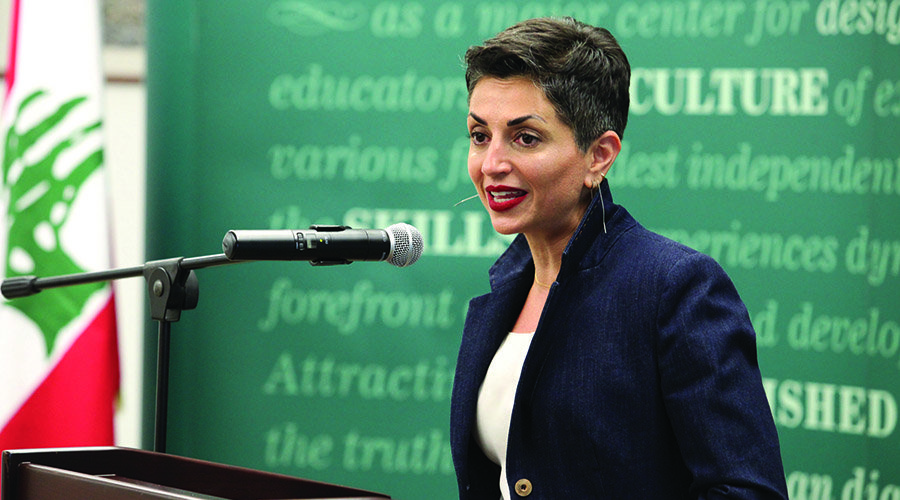 President Jabbra invited members of the LAU community to celebrate Lina Abirafeh, director of the Arab Institute for Women, who made waves when she was included on the world's 100 Most Influential People in Gender Policy in 2018. The event took place at Riyad Nassar Library on November 27.
"Achieving equality for women is the greatest human-rights challenge of our time – and the issue to which I've dedicated my life," Dr. Abirafeh said. "And in the Arab region, our challenge is greater than ever! That's why the institute is so critical – it combines both academic and activist approaches to build a foundation for equality and human rights."
An Alumnus' Generous Donation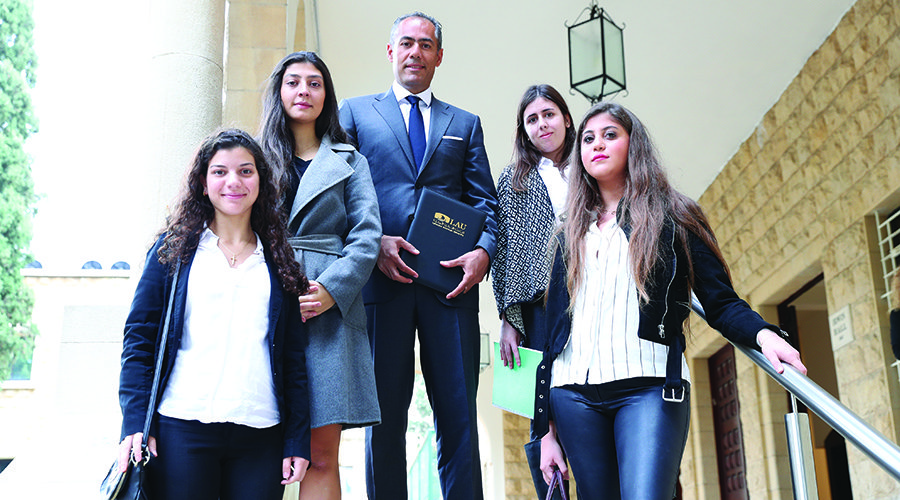 LAU alumnus and Forbes Middle East Top-100 Executive Wissam Moukahal (BS '95) has made a generous first-time donation to the university that is helping four students pursue their academic dreams. Moukahal made a visit to his alma mater's Beirut campus in November 2018 for a gift-signing ceremony, and to meet with students benefitting from his donation. "It took me 22 years, but – I kid you not – every day LAU has been in the back of my mind until the time was right," explained Moukahal, who graduated with a business degree and is now MENA Executive Chairman at Macquairie Group, a Sydney-based financial group.
Contributing through the Z. Moukahal Foundation, a charitable organization he founded, Moukahal has established the Rafeek Program Scholarship at LAU, which will cover 25 percent of the tuition of deserving students who are pursuing degrees at the Adnan Kassar School of Business. Student beneficiaries of the new scholarship program attended the signing ceremony and had a chance to show their appreciation for Moukahal's generosity. They also gained valuable mentorship from the alumnus after the event, something that will continue with other students, as the donor is part of the university's Mentoring Program. LAU's Mentoring Program aims to foster meaningful relationships between alumni and current students. The connections forged in the program help prepare students for a bright future and leave a lasting impact on the campus community.
A Day for Orphans
Hundreds of orphans from across the country gathered in Byblos for LAU's annual Orphan Fair – a day of food, games, music and dancing. Around 170 volunteers from LAU teamed up with Byblos Campus Activities Associate Manager Alan Kairouz and main organizer Rebecca Saab to give the young visitors the best day possible.
Star Comes to Campus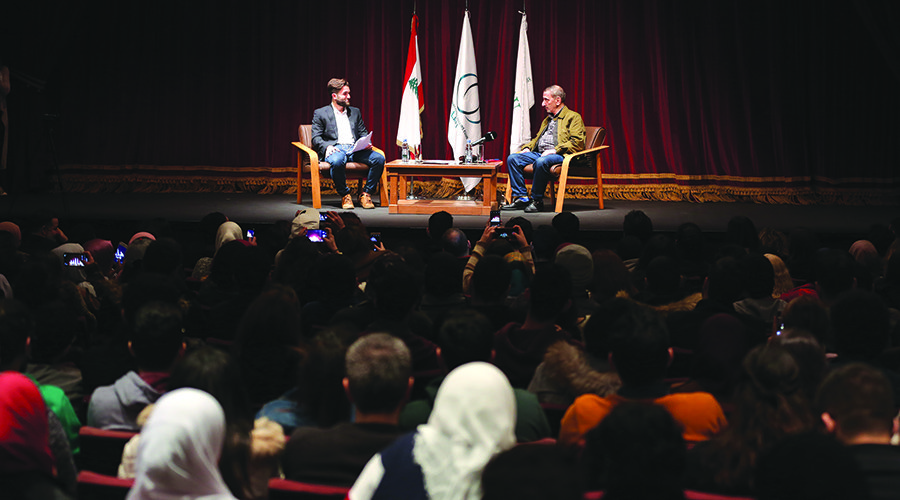 Celebrity musician, playwright, actor and producer Ziad Rahbani visited LAU's Beirut campus on December 5. The legendary artist was invited by the International Affairs Club to speak about the influence of the arts on major social, political and economic issues.