Extraordinary Alumnae: Doha Halawi and Tania Saleh
More in this issue
The LAU graduates speak about how their alma mater set them up for success.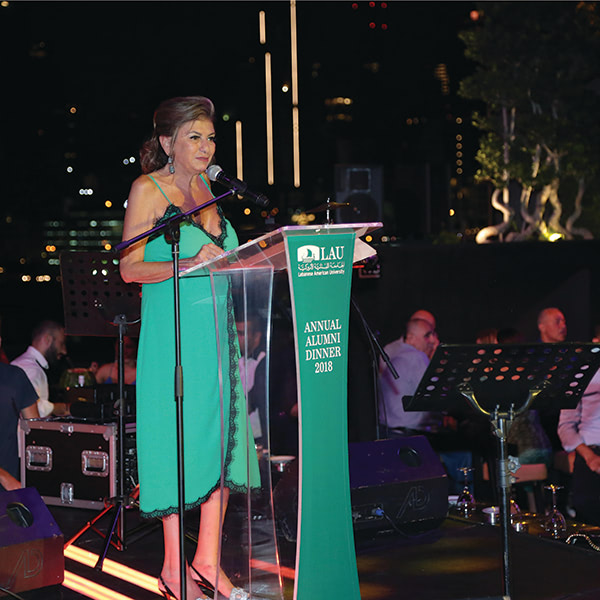 Doha Halawi has been an LAUer for decades. After she graduated in 1981 from what was then called Beirut University College (BUC), she used her degree in communication arts to forge a successful career. She has worked across the region and has held leadership positions in companies and non-profit organizations such as the Beirut Metropolitan Rotary Club, where she acted as president. Halawi, whose three children also studied at LAU, has led two alumni chapters and has sat on a number of boards at her alma mater.
What are some of your career highlights?
I have played a lot of roles in my life. I was an elementary school teacher in Dubai, I worked at Publi-Graphics, and later I began my volunteer work. I have also worked with LAU alumni since the mid-1990s. I was on the Alumni Executive Committee and the Alumni Association Board, first as the vice president, then as president. I am also the executive director of the El Zein Family Alliance, which has thousands of members. But the best times for me were when I was working as a journalist while studying at BUC in the late 1970s. What a time!
How do you believe the university has helped you reach where you are today?
I took a lot from BUC. I had good relationships with the other students and with heads of departments and directors, and I learned so much from them. The courses that I took for sure helped me a lot, especially during my days as a journalist. And of course, the social work. We were active on campus, which taught me about civil engagement. One year, my friends and I reached out to wealthy Beirut residents for donations and established a fund whose interest would go toward tuition aid for poorer students.
How has the university changed since your days?
It has always been a great university, as BUC and as LAU. It is a great place to study and has a great community. In my days, though, we used to spend a lot more time on campus, which created a very strong community. The student body wasn't as large back then, either, so everybody knew everybody – it was like a family. The only time of the day I wasn't on campus was when I was with the scouts. I later became the first woman to be named president of the Lebanese Scout Association.
What do you hope for the future of the university?
LAU is doing so well now, and the rankings really reflect its standing as an institution. I feel that President [Joseph G.] Jabbra and his team and everybody working here are doing a great job. It will be difficult, but I hope they can find a president to match what Dr. Jabbra has done for LAU.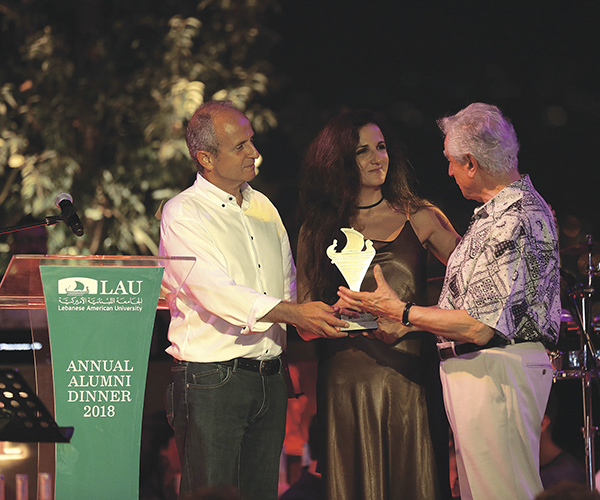 Independent musician and visual artist Tania Saleh is one of the strongest voices of her generation. Her songs, which have gained her international acclaim, go beyond old tropes about love and heartbreak that so much Arabic-language pop music relies on. The Class of '90 graduate has also become a cultural reference in Lebanon and has spoken on a number of panels and news programs about topics of interest for regular people in the region, such as politics, religion and freedom.
How do you feel your education at LAU set you up for your success?
LAU gave me the chance to be in the presence of great professors and some of the best students of the era. I met a lot of people who became lifelong inspirations and friends.
Keep in mind that at the time, there weren't really good art schools in Lebanon besides LAU, which had the best teachers and what I needed to pursue my dreams. I still go to campus to see exhibits, and I am still impressed by the great quality and creativity on display.
Are you feeling optimistic about the future for young artists in Lebanon and the region?
Definitely. When I started studying art, I used to worry that I was making a bad decision, but that was not the case. There are many possibilities to pursue. You don't have to be only a painter if you study painting; people who go into one art often go into lots of other types and become very multifaceted. I worked as an illustrator, calligrapher, graphic designer, art director, creative director, and most recently street artist. There are so many applications. It's about being able to create something that wasn't there before and to appreciate aesthetics and harmony.
How has the music scene changed since your days starting out?
It has transformed completely. When we started, we were so few, the bands doing something not mainstream, not commercialized. During that time in Lebanon and the Arab world, not much was going on musically. But we were the war generation, and we had to convey our experiences.
Now, there are so many things happening artistically in Lebanon and the Arab world. I don't see any of the new generation listening to that over-produced, commercialized type of music. Now, when I see all the great new artists all over the Arab world emerging, it's fantastic. It's so worth it. The mainstream style is changing.
What advice would you give to young LAU students interested in forging a career in the arts?
Explore and experiment. These days, the internet has opened up people's capabilities. The world has become a platform for all to express themselves artistically. Anyone can learn and experiment.
Do what you want to do and be stubborn enough to keep going, even if your parents and friends tell you it's not worth it. If you are a passionate artist, nothing can stop you, and you can manage to live from it.