Alumni Update
More in this issue
January 2019
New Students, Future Alumni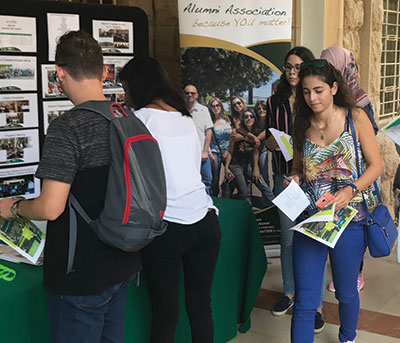 The Alumni Relations Office was on hand to welcome new LAUers on Beirut and Byblos campuses on January 11 at the New Student Orientation event. Students received bracelets engraved with "Welcome to LAU 2019-2020" and handouts detailing the role of the Alumni Relations Office and chapters worldwide.
Talking Health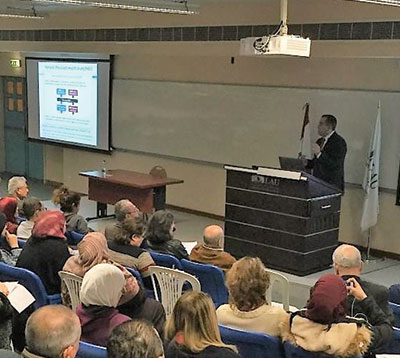 As part of the Stay Aware Alumni Lecture Series, the Alumni Relations Office organized an informative lecture on Habits and Tips for a Long and Healthy Life by interventional cardiologist Dr. Omar Hamoui on LAU Beirut campus. The event on June 24 attracted a full house.
Sponsors Dinner in Dubai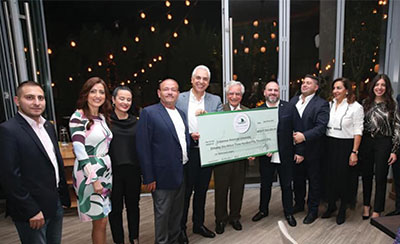 On January 16, LAU President Joseph G. Jabbra and the Dubai & Northern Emirates Alumni Chapter hosted a dinner for the chapter's sponsors in appreciation of their continuous support to LAU and higher education. The dinner was held at Chez Charles restaurant in Dubai.
Sponsors Dinner in Abu Dhabi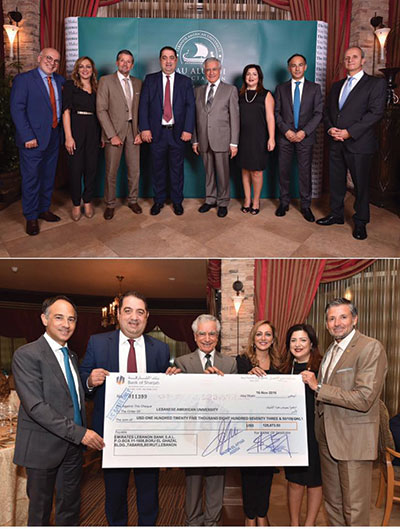 President Jabbra and the Abu Dhabi Alumni Chapter hosted a dinner for the chapter's sponsors in appreciation of their continuous support toward helping LAU students in need of financial aid. The dinner was held at Byblos Sur Mer, Intercontinental Hotel, Abu Dhabi.
February 2019
Weekend Conference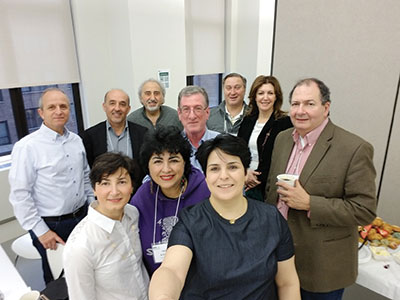 Alumni from several chapters gathered at the LAU New York Academic Center for the first-ever LAU North American Alumni Conference, from February 22 to 24. Chapters represented included New York/New Jersey; Washington, DC; Boston, MA; Detroit, MI; Chicago, IL, and San Francisco, CA.
Kuwait Chapter Open Day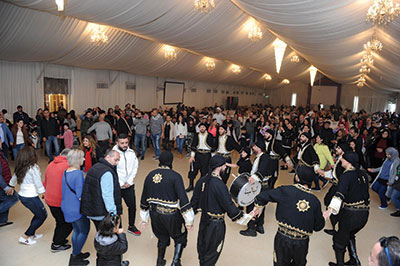 More than 400 alumni of the Kuwait Chapter enjoyed Open Day with their families and friends on February 15 at the Safir Hotel, Fintas. Attending from Beirut was Associate Director of Alumni Relations Ghada Majed, representing the Alumni Relations Office.
March 2019
Toronto Gala Dinner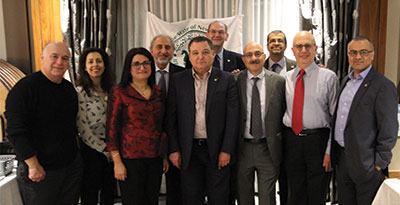 The Toronto Alumni Chapter held their annual dinner at Lara's Restaurant on March 2. More than 70 alumni and friends gathered for an evening of fun, food and dance.
Keep Learning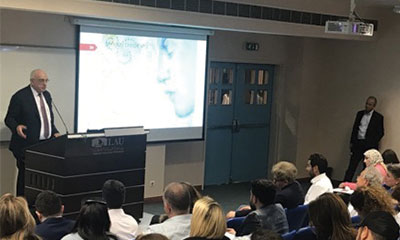 The Alumni Relations Office at LAU invited Dr. David Matta to deliver a two-part lecture on Mindfulness at Work, as part of the Keep Learning Alumni Lecture Series. The first session was held on March 7, and the second – subtitled Team and Organizations – on March 13, both at LAU Beirut campus.
Avant-Première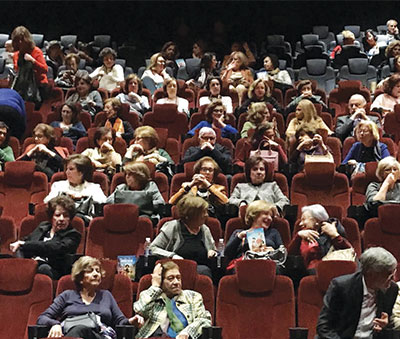 Alumnae of BCW (Beirut College for Women, as LAU was known back then) organized a preview of the movie Aftermath on March 19 at Beirut Souks Theater.
DC Happy Hour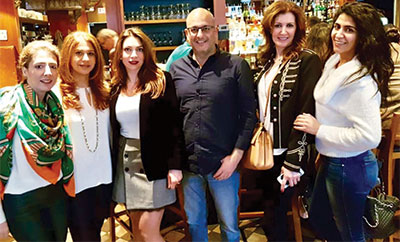 On March 20, the LAU Alumni and Friends – DC Chapter gathered for a casual happy hour at the Lebanese Taverna in Pentagon City to enjoy an evening of socializing and networking.
Spring Has Sprung
The Montreal Chapter celebrated spring and Mother's Day with their families and friends at a cozy brunch on March 24.
A Warm Welcome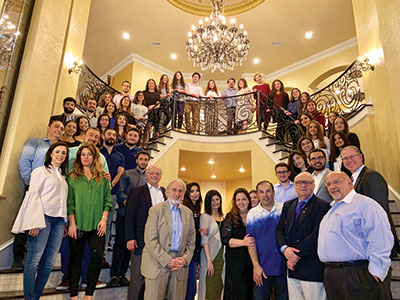 On March 26, friends and members of the Houston Alumni Chapter gathered at the beautiful home of alumna Tania Shaheen Tayssoun and her husband, Wissam, to welcome LAU's PharmD students who are doing their clinical rotations at Methodist Hospital, as well as several graduates of LAU's medical school.
Abu Dhabi Annual Dinner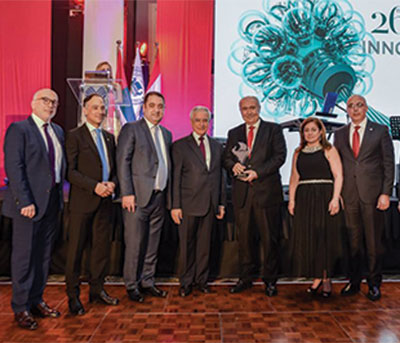 More than 450 guests attended the Abu Dhabi Chapter's 26th Annual Gala Dinner on March 28, at The Beach Rotana, Abu Dhabi. The event turned into a great national gathering during which MP Fouad Makhzoumi was honored for his great contributions to society and the launching of the Fouad Makhzoumi Innovation Center at LAU.
Florida Fanfare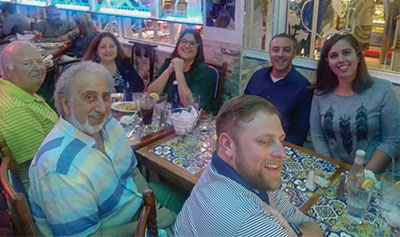 Members of the Florida (Tampa) Alumni Chapter enjoyed a festive dinner at Hellas Restaurant in Tarpon Springs, on March 29.
'Sawa' at Sawa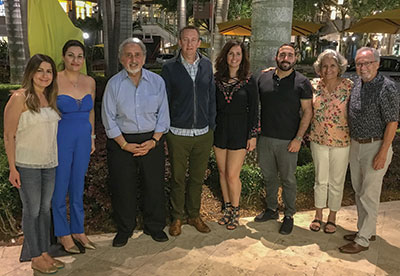 On March 30, members of the South Florida Alumni Chapter gathered for a quick photo after dinner and socializing at the Sawa Restaurant & Lounge in Coral Gables.
April 2019
Ladies' Spring Brunch
The Beirut Chapter held their annual ladies' spring brunch on April 6 at Bebabel, Downtown. Committee members presented the Lebanese actor Badih Abou Chakra with a trophy in recognition of his great talent, in the presence of more than 130 alumni and friends.
Business Networking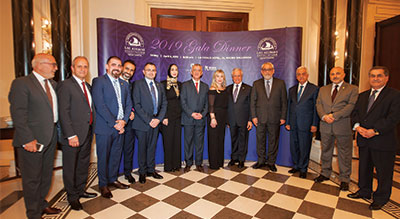 Together with Career Development Services, the Alumni Relations Office hosted its 13th annual business networking reception at Eau de Vie, Intercontinental Phoenicia Hotel on April 9 which drew a total of 350 guests. HR executives, alumni and university leaders socialized and discussed new trends in the marketplace, following a motivational talk by MP Neemat Frem in which he invited attendees to take on a new perspective despite the challenging economic situation in the country.
Telling Tales
The joy of giving was celebrated at A Night of our Tales, the theme of the Oman Chapter's 11th annual ball. The memorable night of One Thousand and One tales took place on April 12 at Kempinski Hotel, Muscat. More than 300 alumni and friends mingled with the Ambassador of Lebanon in Oman Albert Samaha, officials from different countries, and LAU leadership.
Gala Dinner in Qatar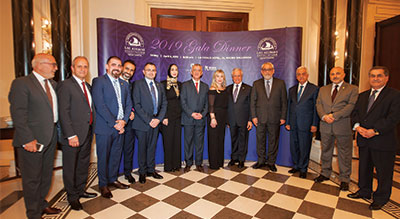 The Qatar Chapter's gala dinner on April 5 at La Cigale Hotel was a huge success in the presence of Lebanon's Ambassador in Qatar Hasan Najm and MPs from Lebanon, Michel Moussa, Rola Tabsh and Hagop Bakradonian, in addition to Secretary General of the Lebanese Parliament Adnan Daher. President Jabbra, Senior Advisor to the President for Public Affairs Christian Oussi, and Assistant Vice President for Alumni Relations Abdallah Al Khal also attended. In his address, the chapter's president Wassim El Dayaa thanked Prince Tamim bin Hamad Al Thani and the Country of Qatar for the great hospitality they have shown to the Lebanese Diaspora and LAU graduates, in particular.
EMBA Gathering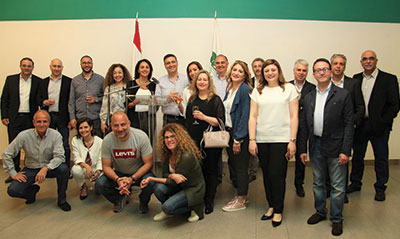 The EMBA Alumni Group held its first group activity, a get-together on April 30 at Wadad Khoury Student Center, Beirut campus. The event was a great opportunity for EMBA graduates of different promotions to reconnect.
For a Good Cause
The Beirut Chapter and Shifaa Junior Club held the musical play "حبّه طريقي" Hubbuhu Tariki – loosely translated as His Love will Show Me the Way – in Irwin Hall, LAU Beirut campus, to raise funds for scholarship grants for underprivileged deserving LAU students and Shifaa NGO. The event which took place at the beginning of the holy month of Ramadan, on April 29, 30 and May 1 drew more than 1200 attendees over the three days. The success of the initiative translated into the substantial amount raised.
Breaking the Cycle of Violence
In support of efforts against domestic violence and representing LAU's athletic team, alumnus and athletics coordinator Mohamad Mawas (BS '16) took part in the SPEAK™ 5K annual run/walk hosted by Safe+Sound Somerset, the lead agency against domestic violence in New Jersey. He won first place in the overall male race.
May 2019
Honoring Salim Sfeir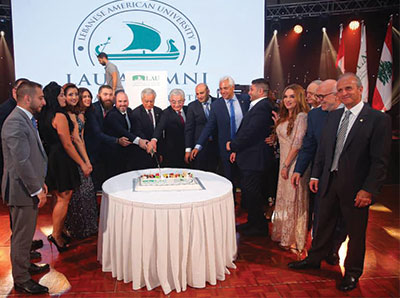 At its 41st annual gala dinner on May 3 at Roda Al Bustan, the Dubai & Northern Emirates Chapter honored Dr. Salim Sfeir, chairman of the Bank of Beirut, in the presence of a large crowd of alumni and friends of LAU.
Bahrain Ramadan Ghabga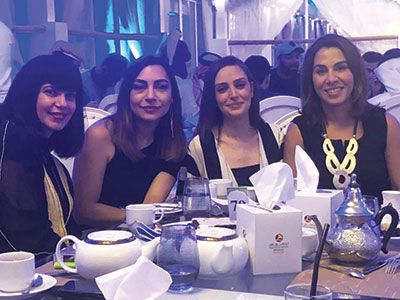 The Bahrain Chapter held its annual Ramadan ghabga – a local term for celebratory gathering – on May 10 at the Gulf Hotel Ramadan tent. The evening was a great success.
Kuwait Chapter Ghabga
Around 200 alumni and friends shared the spirit of Ramadan at the Kuwait Chapter's annual Ramadan ghabga on May 16 at the Marina Hotel, Salmiya.
Joint Suhoor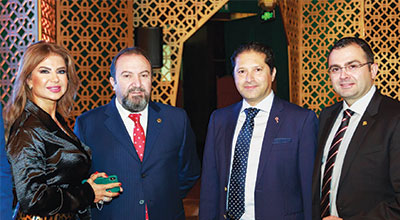 Alumni from a group of private Lebanese universities – including LAU – gathered in Doha, Qatar, for the second joint Ramadan suhoor there on May 16 at St. Regis Hotel Ramadan Tent.
Montreal Iftar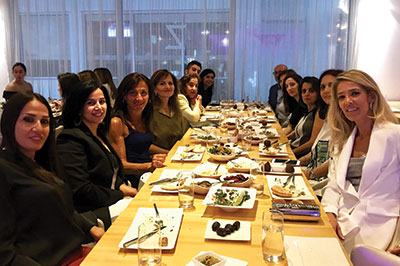 On May 26, the Montreal Chapter celebrated the holy month of Ramadan with an Iftar dinner at the Zyara restaurant, Quartier DIX30.
DC Iftar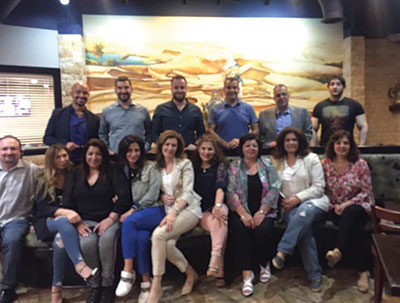 Alumni of the Washington DC Chapter gathered for a Ramadan Iftar with family and friends at the Baladna Restaurant & Lounge in Fairfax, on May 27.
June 2019
Met Visit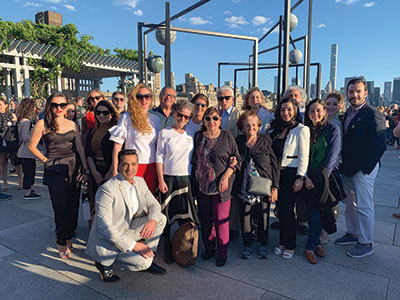 On June 14, friends and members of the New York/New Jersey Chapter took a trip to The Metropolitan Museum of Art, NY, to view the new ParaPivot installation by Polish-German artist Alicja Kwade on the Met's rooftop garden.
Cooling Off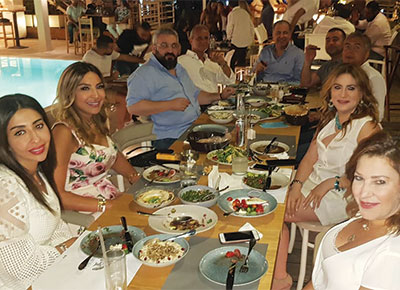 The soaring summer heat drove alumni and friends of the LAU Association – Byblos Chapter to host a party by the pool of Moria Restaurant, Jounieh, on June 22. The gathering dined beneath the palm trees to the strains of a Gypsy band.
Play Ball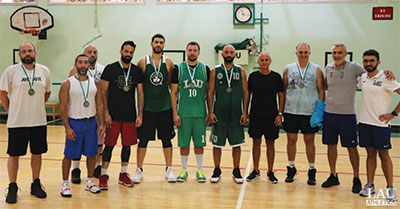 For the second year in a row, the Alumni Relations Office teamed up with the Athletics Department to organize the Alumni Athletics Day, June 29, at LAU Beirut campus. The event is an opportunity for former varsity athletes to return to campus and play against their past classmates as well as current student athletes. Games included basketball, football, futsal, handball, tennis, table tennis and volleyball.