Campus Notes
More in this issue
LAU on the Rise
LAU has been reaping the rewards of its drive for academic excellence. The 2020 edition of the QS World University Rankings has placed it among the top 55 percent universities globally – up from the 70th percentile in 2015 –having moved up twice over the six years considered by QS. This follows its ranking tenth in Times Higher Education (THE) 2019 list of top universities in the Arab World, and its inclusion in the first-ever THE impact rankings based on the 17 United Nations' Sustainable Development Goals (SDGs). On both THE lists, LAU was one of the only two universities in Lebanon to be ranked. It has also ranked second in Lebanon, and 16th in the Arab World out of 123 universities in the QS Regional Rankings of the Arab World 2019.
Zahi Hakim Museum of Antique X-Ray Tubes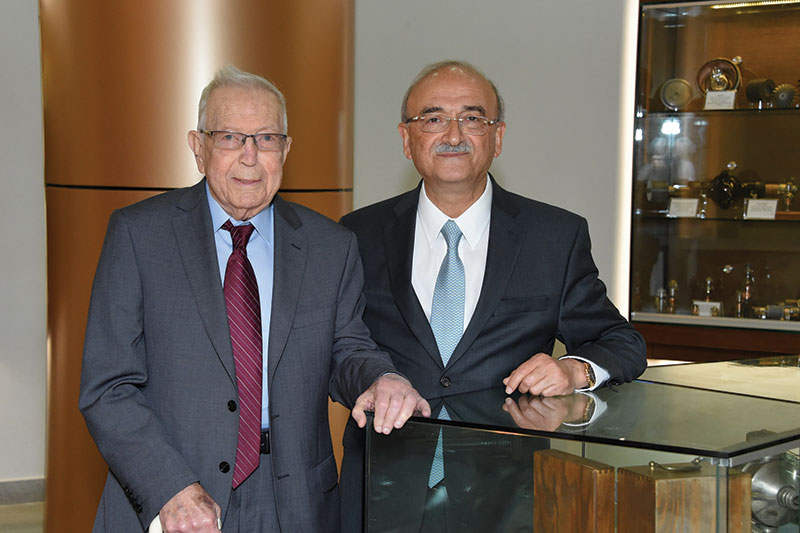 LAU's Gilbert and Rose-Marie Chagoury School of Medicine has been entrusted by eminent radiologist Dr. Zahi Hakim with the custody and care of his extensive collection of antique X-ray tubes – one of the best five in the world and the only one outside Europe and the US. The 185 plus items, housed at the Dr. Zahi Hakim Museum at the Chagoury Health Sciences Center on Byblos campus, include one of the rarest 1896 Crookes tubes, radiology-related accessories, the largest number of X-ray kenetrons, and television camera tubes that Dr. Hakim amassed over 50 years of his career.
Alumnus Makes Forbes' Middle East 30 Under 30 List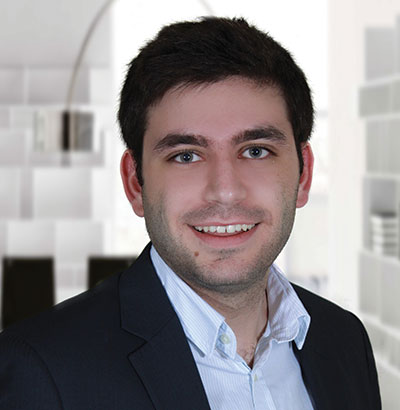 Just four years after graduating from LAU, Charlie el-Khoury has helped turn NAR, the company he co-founded with fellow LAU alumnus Nicolas Zaatar (both BE '15), into a tech leader and made the Forbes' Middle East 30 under 30 list.
El-Khoury and Zaatar produced the first real-time software platform specifically designed for drones to transform images into data. Now el-Khoury, Zaatar and their team have taken NAR overseas, working on a number of high-profile projects in the Middle East and North America, and recently opening an office in the US state of Delaware.
Walid Joumblatt Foundation for University Studies Contributes to LAU Scholarships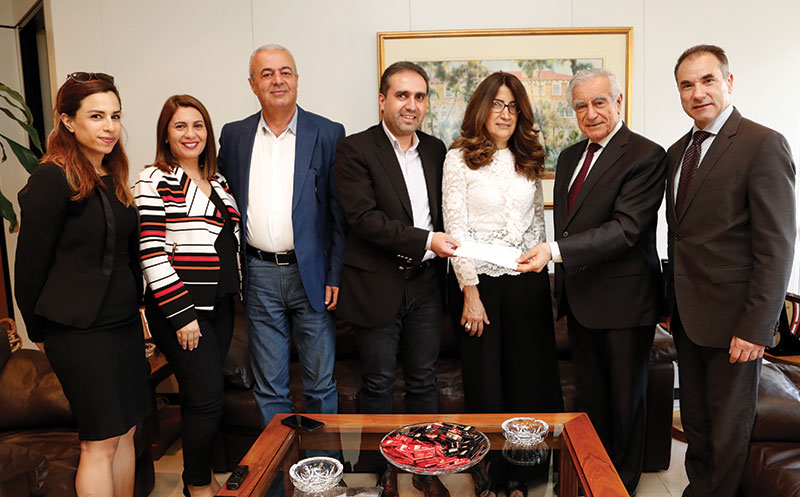 Since 2011, LAU has received over $300,000 in donations from the Walid Joumblatt Foundation for University Studies, which have supported a number of students in their academic journey, including 94 current students. A delegation from the foundation came to campus in May to present its annual contribution, and to reaffirm its commitment to LAU despite challenging economic times.
On behalf of the LAU community, President Joseph G. Jabbra thanked the Joumblatt family for their continuous generosity and for "investing in a key pillar to rebuilding the country."
Apart from the annual scholarship, the foundation assists several other LAU students on top of their financial aid allocations, going as far as helping graduating students settle their loans to the university.
Whatever It Takes for Climate Change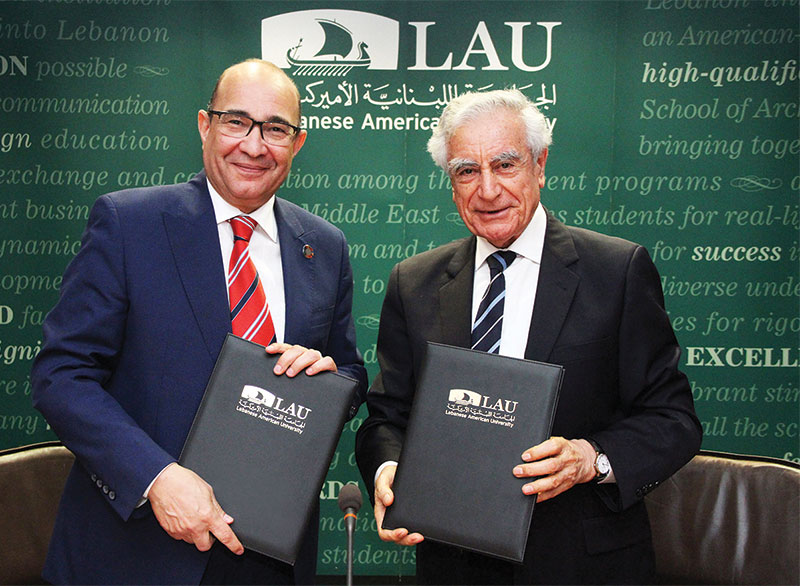 LAU and the Egyptian Al-Ahram Foundation have partnered up to confront the devastating effects of climate change, in their joint support of the Lebanese athlete, Michael Haddad's North Pole Initiative.
Haddad, who lost the use of his legs after a spinal injury at a young age, holds three world records in climbing, snowshoeing, and walking in Lebanon's extreme conditions, and has been named 2016 UNDP Lebanon Climate Change Champion. His next challenge is to walk the 100 km in the Arctic to highlight the threats posed by global warming and melting ice caps – an initiative that he will undertake under the UNDP banner, with the support of LAU and AUB, and aided by an exoskeleton developed by a team of faculty and students at LAU's School of Engineering.
Walid A. Mroueh Conference Room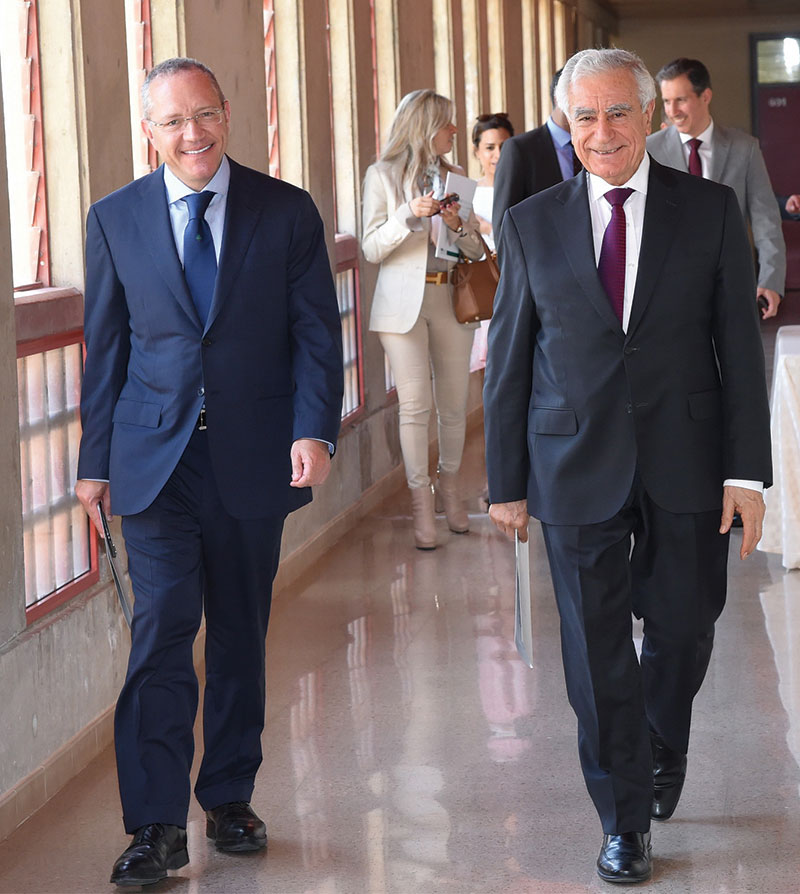 Longtime supporter of LAU, trained pharmacist and businessman Walid A. Mroueh has dedicated a conference room in his name at the Gilbert and Rose-Marie Chagoury Health Sciences Center, following a considerable donation.
A member of the board and executive management of both the Food & Drug Corporation and Mersaco, – a leading healthcare name in distribution and services in Lebanon – Mroueh has made a big impact in the pharma industry and continues to do so today.
"LAU is my second home. We are very proud of our partnership, which is being consolidated year after year," Mroueh said at the dedication ceremony.
IC and LAU Strive to Keep Talent in the Country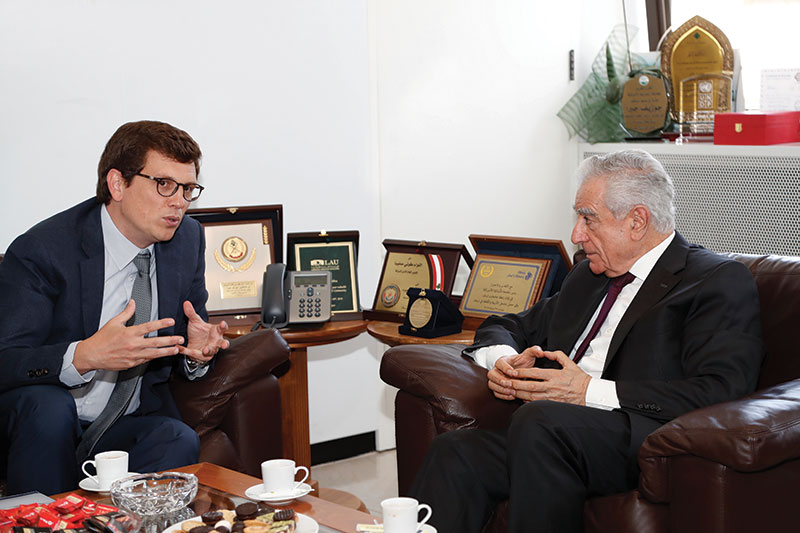 The International College Alumni Association (ICAA) and LAU are joining forces to provide scholarship opportunities to graduates of International College (IC). This new agreement will give selected IC alumni a full scholarship until graduation with ICAA covering 40 percent of the tuition fees, and LAU the remaining 60 percent.
Established in 1980 by a group of alumni, ICAA strives to retain the IC morale among the community by supporting those in need as well as assisting the school's development projects. The partnership agreement was signed by ICAA President Karim Baalbaki and LAU President Joseph G. Jabbra.
Child Marriage in Emergency Contexts
The Arab Institute for Women (AiW) at LAU took on a study which covered Lebanese and Syrian refugee women in South Lebanon to assess the prevalence of child, early and forced marriage in fragile and humanitarian contexts, and to evaluate the effectiveness of child marriage interventions and programming.
The study was part of a larger, multinational study covering Lebanon, Ethiopia and Myanmar. Toward the end of the spring semester, AiW hosted a panel to share key research findings on the state of child marriage in South Lebanon, drawing a full house of local and international organizations, reporters, exchange students as well as LAU faculty, staff and students.
Panelists were LAU's own Clinical Associate Professor of Pharmacy and researcher Ghada El Khoury, Lebanese University Professor of Epidemiology Pascale Salameh, and from the International Rescue Committee: Stefania Chirizzi, women's protection and empowerment coordinator and Farah Salhab, adolescent girls' manager.
SOE Capstone Project Recognized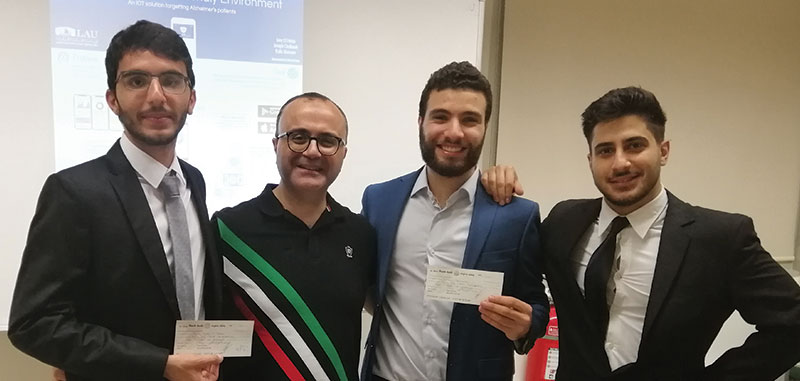 For their capstone project, three electrical and computer engineering students researched and worked closely with the Alzheimer's Association in Lebanon to devise a prototype that aims to improve patients' quality of life. SAFE – Smart Alzheimer Friendly Environment is an Internet-of-Things-based solution that monitors patient behavior and logs and processes data on heart rate, sleep, injury and memory conditions. The information is then delivered to physicians and caregivers to help them monitor the progress.
During late spring, Joey Jules El Helou, Joseph Chalhoub, and Rafic Mansour received a monetary award from software and computer services company CME Offshore, in recognition of their innovative work.
Hands-on Food Safety Inspection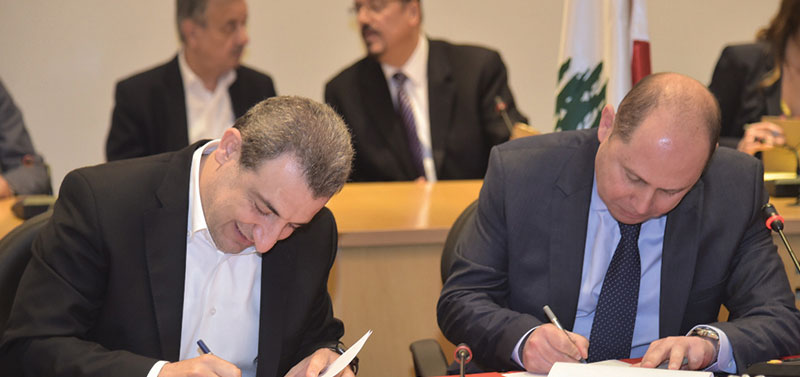 Nutrition students now have the chance to conduct food safety inspections in factories across Lebanon thanks to an agreement signed on May 20 between the Ministry of Industry and eight universities, including LAU. Under this Memorandum of Understanding, the ministry commits to welcoming undergraduate and graduate students interested in food safety-related practical experience, vocational training, or in the framework of preparing for their theses. Interns will also assist in sample collection and will be in charge of their delivery labs for testing. At the end of their internship, they will receive certificates of participation signed by the minister and inspectors.
A Boost for Higher Education

In the interest of education and Lebanon's future, LAU and the Lebanese University (LU) have reached an agreement for Inter-University Cooperation in the areas of humanities, law, science, health, engineering and technology.
The agreement, signed by LAU President Joseph G. Jabbra and LU President Fouad Ayoub on May 13, will allow LU students to earn a dual degree from LAU's Adnan Kassar School of Business and LU upon satisfactory completion of the program. Discussions between LAU and LU had been ongoing in an attempt to arrive at a formula that empowers students to meet challenges and prepares them to build the world of tomorrow.
SArD's Collective Student Exhibition for Accreditation Visit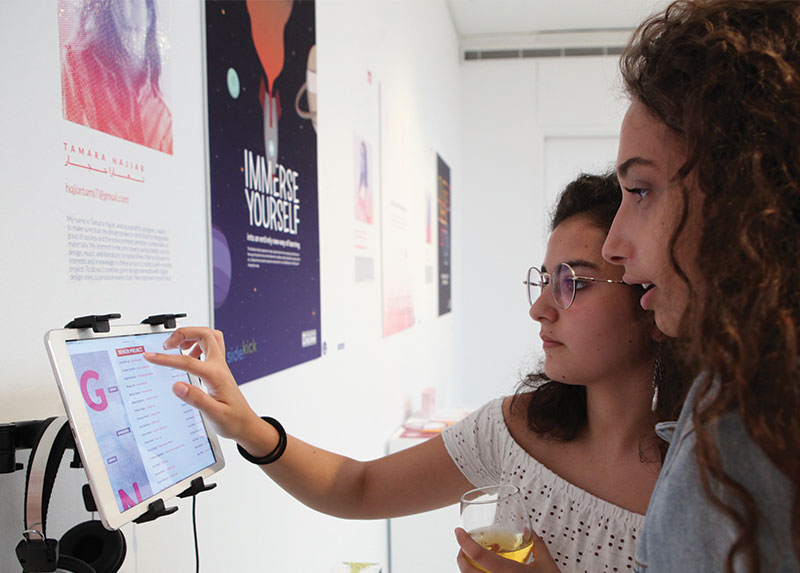 The School of Architecture and Design (SArD) hosted a collective review on the occasion of a visit by a team from the National Association of Schools of Art and Design (NASAD). The exhibition spotlighted students' work from foundation year, Fashion Design, Fine Arts, Graphic Design, Interior Architecture and Interior Design programs.
The review is part of an ongoing process toward the school's accreditation by NASAD, which was established in 1944 "to improve educational practices and maintain high professional standards in art and design education."
Questioning the Absolute

On July 6, LAU hosted the TEDxLAU 2019 on Beirut campus. The theme Unmasked aimed to challenge participants to question their assumptions and the ideas they take for granted. The topics varied from architecture to parenting to astronomy. Pediatric dentist Jad Nasr argued for a need to change how people view the 'professional' mold. LAU Architecture Professor Sulaf Aburas presented on responsive architecture and the ability to learn from nature, while LAU alumna Naila Al Hares (BA '15) unmasked the art of communication to show how language is not limited to words. The event was organized by the TEDxLAU Student Club, with the support of the Student Development and Enrollment Management, the Dean of Students Office, and the School of Arts and Sciences.
Young Biologists Convene at LAU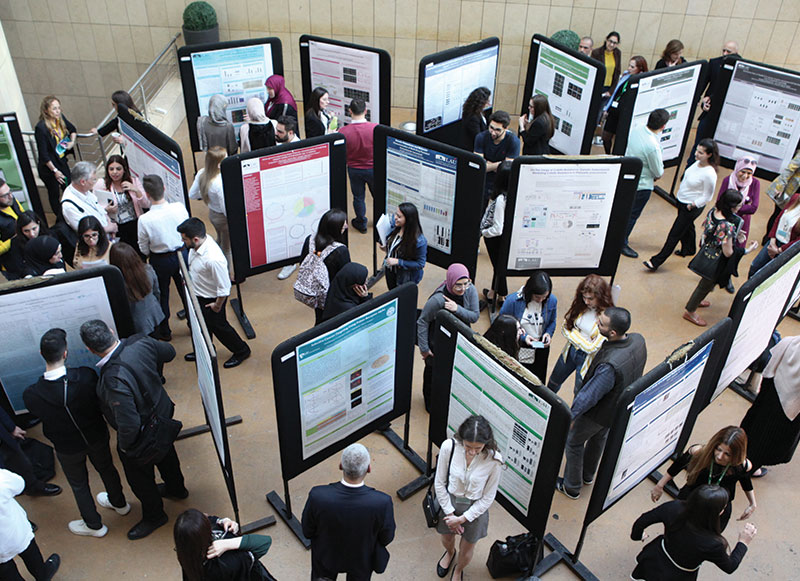 The Department of Natural Sciences organized its annual 2019 Young Biologists Symposium (YBS), exposing students to the latest advances in biological sciences on April 9 on Beirut campus. The symposium – co-sponsored by the National Council for Scientific Research (CNRS) – was attended by around 80 participants from LAU, the American University of Beirut, the University of Balamand and the Arab University of Beirut, in addition to LAU faculty. Speakers covered topics ranging from biochemistry, genetics, neurobiology, microbial genomics, cancer therapeutics, metagenomics, and cell biology. LAU students, post-doc and PhD candidates represented each lab in the Biological Sciences Graduate Program, while students from outside LAU gave presentations about their work.
MDLAB for Social Justice
In its seventh edition, the Media and Digital Literacy Academy of Beirut (MDLAB) focused its training on media literacy for oppressed and marginalized communities. On June 16, some 60 media academics, professionals, graduate students and activists from the Arab region and Europe participated in the week-long program. Lectures and workshops addressed topics such as media framing of conflict, dismantling media bias, feminist mobilization, sustainable financial models for new media and digital security. MDLAB was organized by LAU's Institute of Media Research and Training (IMRT) and sponsored this year by the Canadian Embassy, UNESCO and the German Academic Exchange Service.
Music to Our Ears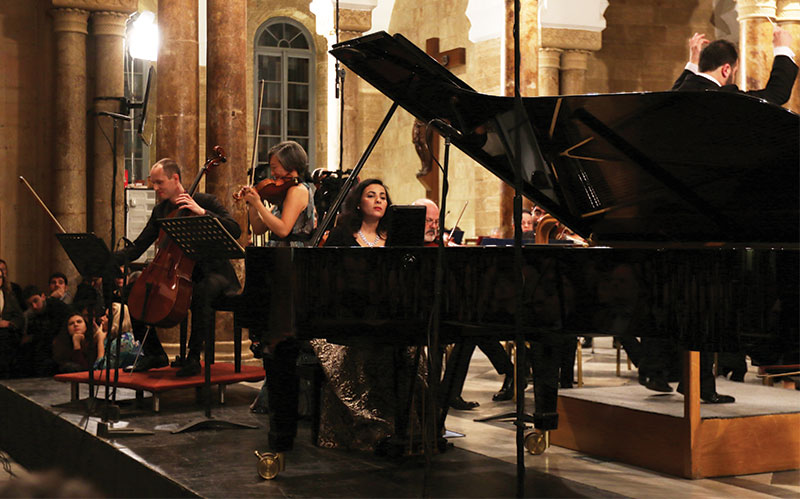 The IMAGINE Workshops and Concerts Series (IWCS) 2019 launched its spring residency with two classical music concerts that further cemented the program's mission to promote and integrate the appreciation of the arts. On March 22, musicians from LAU and the Lebanese Philharmonic Orchestra performed the Triple Concerto, in a first-ever collaboration between the two institutions. Accompanying the orchestra were this IMAGINE residency's guest artists: internationally acclaimed violinist Salley Koo and Juilliard-trained cellist Avery Waite, along with LAU Assistant Professor of Music and IWCS Founder and Director Seba Ali.
Much More than Child's Play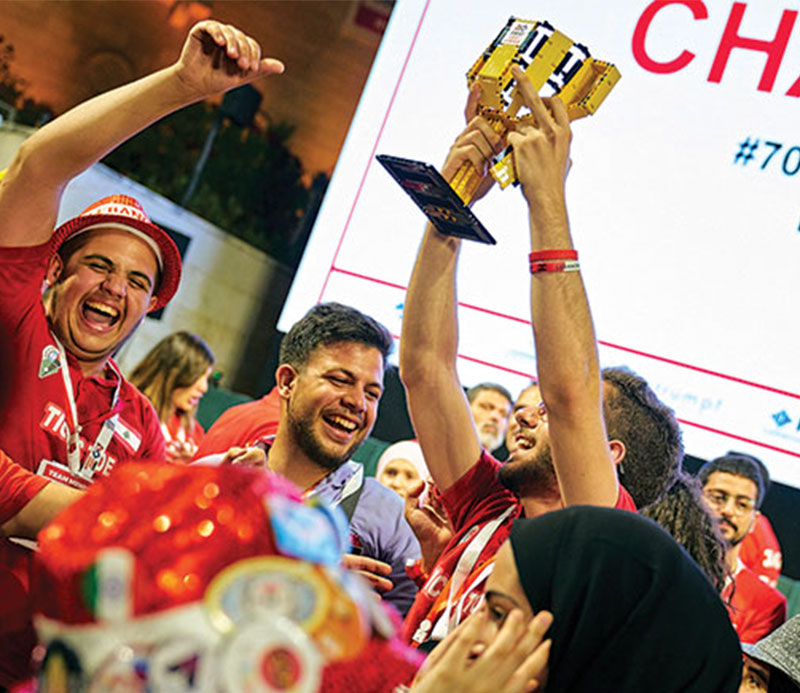 The School of Engineering hosted the first ever FIRST LEGO League 2019 (FLL) Open International Robotics Competition to be held in Lebanon and the MENA region, organized by LAU and the Education and Technology Center (ETC) – the FLL operational partners. Over two days, school students from 46 countries got to design, build, program, and test robots, and enhance their knowledge of Science, Technology, Engineering and Math (STEM). The event was one of the school's many initiatives to help "transform Lebanon into a hub of technology and innovation and strengthen the human talents that are essential for a knowledge and technology-based economy, early on," said SOE Assistant Professor of Computer Engineering and Interim Assistant Dean Joe Tekli.
CEREMONIES
USP Merit Scholars' Graduation

Along with the United States Agency for International Development (USAID), LAU's Outreach and Civic Engagement Department celebrated the graduation of 59 University Scholarship Program (USP) scholars, thanks to the full support of the US Agency. The event took place on May 30, at LAU Beirut campus where the graduates shared their stories, and USAID and university leaders attested to their hard work in a room full of proud families and friends. Since its launch in 2010, the program has provided 542 outstanding, yet disadvantaged, Lebanese students with a world-class university education.
Honors Program Graduates Urged to Give Back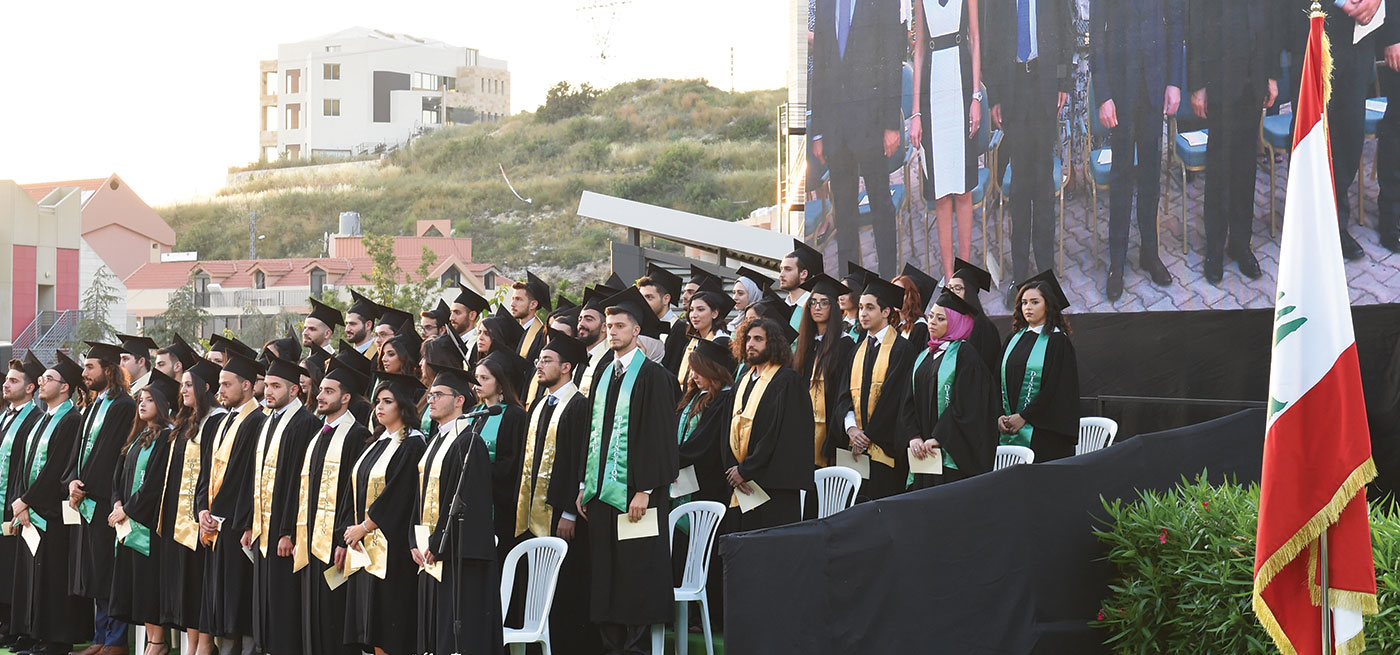 With 192 students enrolled from nine majors this year, the highly selective Honors Program celebrated the graduation of 62 at ceremony on Byblos campus on June 7, attended by HE Lebanese Minister of Defense Elias Bou Saab, LAU President Joseph G. Jabbra, Provost George E. Nasr, deans, faculty, staff and proud parents. Bou Saab urged the distinguished students to persevere in the face of challenges, and to always consider ways to give back to their university, their community and their country. "Lebanon is at a crossroads, and the future is bright despite the difficulties – but it will depend on how you shape it," he said.
Joint Celebration for MEPI-TL Cohort at LAU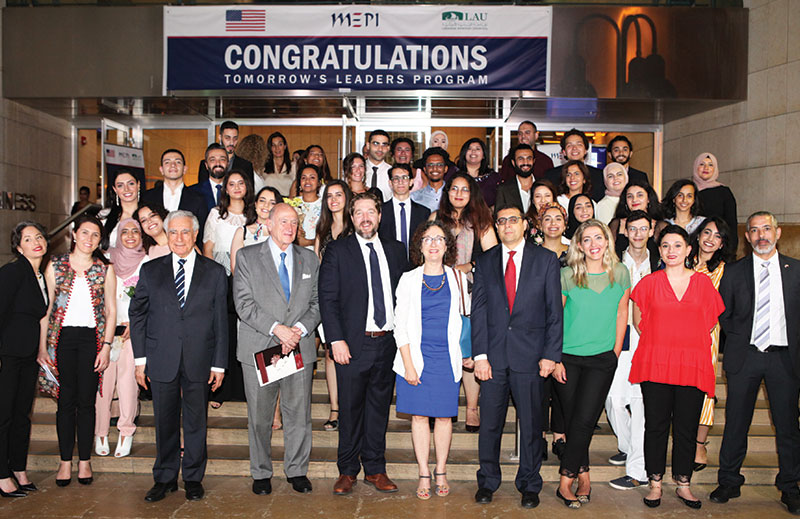 This year, the Middle East Partnership Initiative Tomorrow's Leaders Program (MEPI–TL) graduates from both LAU and the American University of Beirut (AUB) were honored in one ceremony held on Beirut campus, June 13. In its 11th year, the program continues to provide outstanding students from underserved communities across the Arab world with an excellent American education, provided they commit to giving back to their communities. More than just certificates, the 2019 MEPI-TL cohort received words of advice and kudos from LAU President Joseph G. Jabbra, AUB Provost Mohamed Harajli, US Embassy MEPI Coordinator Shawn Tenbrink, and Program Directors at LAU and AUB respectively, Dina Abdul Rahman and Hani Hassan.
Medical Students Don their White Coats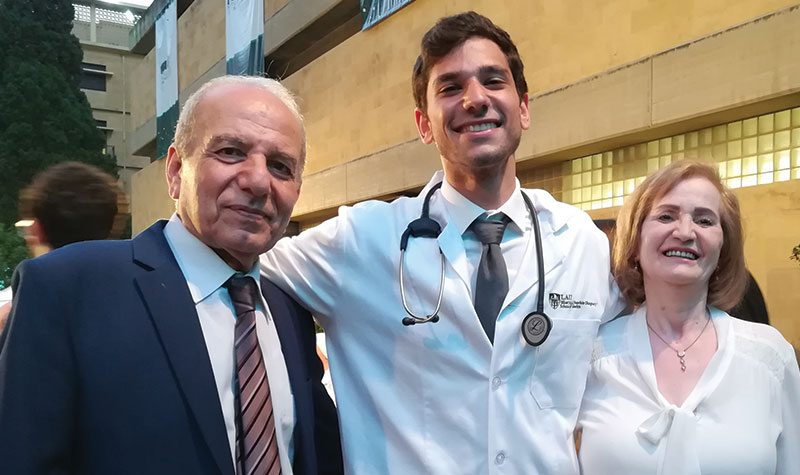 The Gilbert and Rose-Marie Chagoury School of Medicine (SOM) hosted the 9th Annual White Coat Ceremony on June 19, to celebrate a new cohort of 53 medical students who recently completed two years of academically-focused, interprofessional learning and will be transitioning to the clinical wards soon. Dean Michel Mawad urged the students to simply "go out there and help people," because "the best of people are those who serve others."