Saving Lives One EKG Screening at a Time
More in this issue
LAU's Athletics Office is keeping student athletes' heart-healthy through collaboration with the Remy Rebeiz Young Heart Foundation.
Like many young boys, Remy Rebeiz was passionate about football. A skilled basketball player at the age of six, his dream, ultimately, was to become a professional football player, maybe even as good as his idol Cristiano Ronaldo. A leader at heart, he co-founded the Football Club Beirut with his coach so that young Lebanese footballers could compete yearly in the Gothia Cup event in Gothenburg, Sweden. He was 16. Five years later, on his way out to a family dinner, Remy collapsed. He died within four days. The cause: an undetected heart condition.
To save others from suffering the same fate, the Rebeiz family initiated the Remy Rebeiz Young Heart Foundation (RRYHF), an organization dedicated to providing the community's youth with tests that detect hidden signs of heart disease.
Vigilant over its athletes and their wellbeing, and in a bid to ensure they are healthy enough to take part in strenuous physical activity, the LAU Athletics Office decided to take measures to monitor the students' fitness.
The office teamed up with RRYHF, to introduce electrocardiogram (EKG) screenings to campus last fall.
"Because of the Athletics Office's full commitment to our athletes' wellbeing," said LAU Director of Athletics in Beirut Sami Garabedian, "we made it clear to all student athletes that they would not be able to join their respective teams unless they had cleared the EKG with flying colors."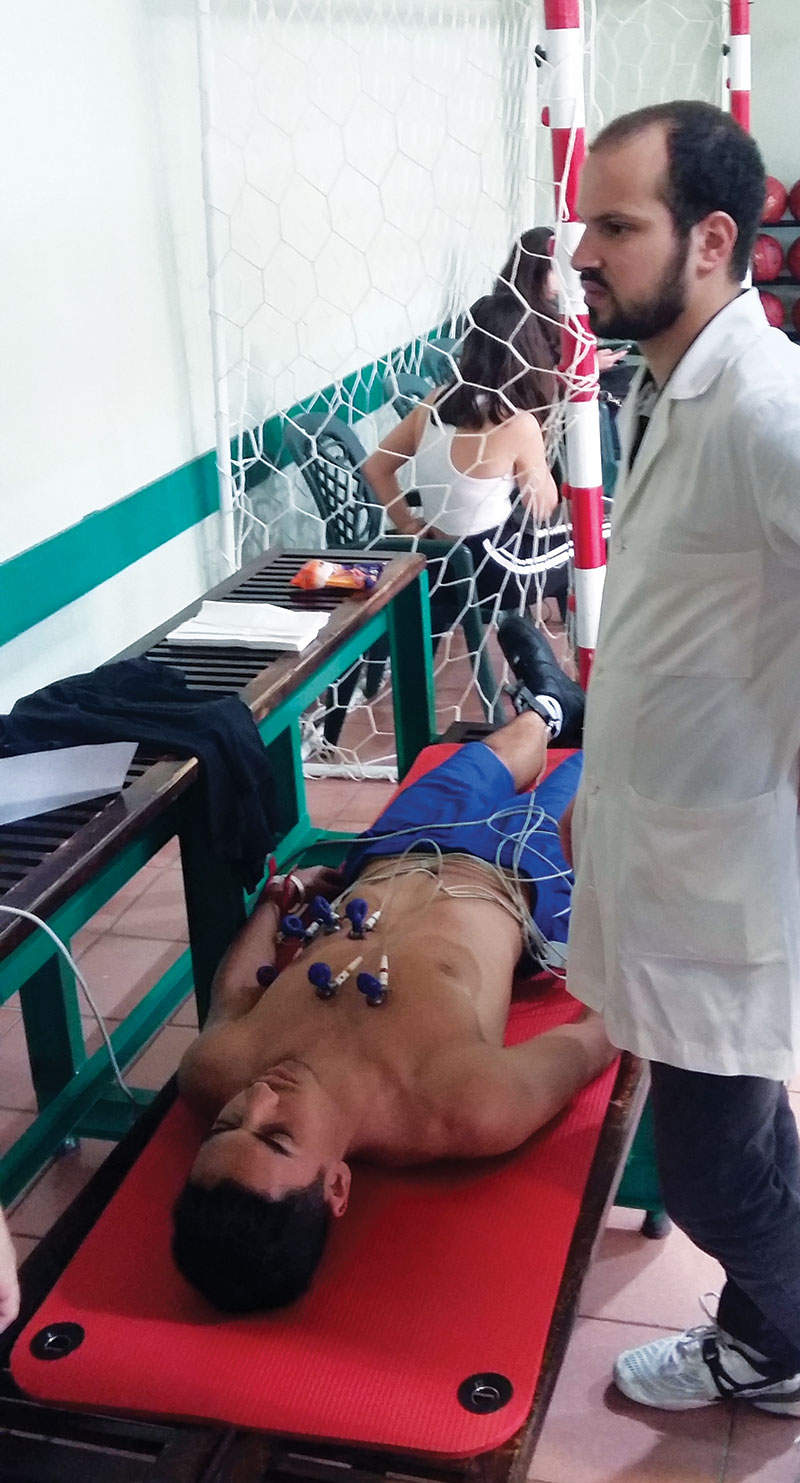 More than 260 students participated in the screenings, which were complimentary from RRYHF.
Among the LAU athletes screened, six required further testing – an echocardiography – due to a suspicious anomaly. Out of those six, Khaled Hibri, a third-year entrepreneurship and family business major, was diagnosed with a cardiac condition that prevents him from playing heavy sports.
"I've always been an athlete and have never shown any symptoms of heart problems until the EKG screenings, when I discovered that I have a condition called hypertrophic cardiomyopathy, which can be fatal," explained Hibri.
Expressing his appreciation for the university's collaboration to bring EKG screenings to campus, Hibri said, "Without the screening I would not have known about this condition, so I am very grateful to the Remy Rebeiz Young Heart Foundation and the LAU Athletics Office for their constant support and care for their athletes."
Helping young athletes like Hibri become aware of a heart condition and take precautionary measures is precisely RRYHF's objective. "Prevention is better than regret, especially when most heart conditions can be treated if detected on time," said Remy's mother and co-founder of RRYHF Sylvia Rebeiz.
Her advice to athletes is simple. "You could be strong and not feeling anything, but please screen your heart as you never know," warned Rebeiz, who was an LAU faculty member for many years.
LAU plans to conduct annual EKG screenings with RRYHF to make sure that all incoming student athletes are heart-healthy to take part in sports.
"Every year we have a number of new athletes joining our teams and these also need to be screened," Garabedian explained. "One automated external defibrillator (AED) – a portable electronic device that automatically diagnoses the heart rhythm and treats life-threatening cardiac conditions through defibrillation – has already been installed at the main gymnasium in collaboration with RRYHF," he added.
The EKG screenings provided by the Remy Rebeiz Young Heart Foundation is one example of gifts-in-kind that LAU encourages and appreciates. Through such gifts, supporters help the university strengthen programs and improve facilities to provide the best possible educational experience to students and Lebanon's youth.