From Lebanon to the World
More in this issue
LAU's Beirut campus was transformed into a glamorous dining area, where more than 300 guests basked in the splendors of the university's first Award Ceremony and Gala Dinner in honor of distinguished leaders in hospitality.
Themed From Lebanon to the World, the event honored 12 of Lebanon's hospitality leaders who have significantly impacted the business, in the presence of hotel and restaurants owners and executives from the entertainment industry alongside LAU's faculty and staff.
The occasion also showcased the skills and high standards of students from LAU's robust 20-year-old hospitality and tourism management program.
"We take pride in recognizing and honoring role models in our society who contribute to the well-being of our culture despite all the problems it's facing," LAU President Joseph G. Jabbra said in his welcome speech. "Through them, we gain optimism and a ray of hope."

In addition to paying tribute to the distinguished guests, the event aimed to engage hospitality and tourism management students at the Adnan Kassar School of Business (AKSOB) with the hospitality community. Hence, and as part of their senior project, they were in charge of the organization, catering and servicing.
"As faculty members, we are being innovative to ensure that our students are active learners rather than passive apprentices in the classroom," Dr. Jabbra remarked. "This helps them create jobs instead of look for ones."
That said, "we decided to call for a revolution in higher education with respect to our curriculum and made sure that we are constantly providing our students with a great degree of creativity."
Underlining the importance of LAU's recently established innovation center on both the academic and entrepreneurial levels, Dr. Jabbra acknowledged Phoenicia's generous donation toward a hospitality lab in Beirut.
Together with the Hospitality and Tourism Management Program, "the school has been greatly thinking of introducing another graduate degree in event management," announced AKSOB's Interim Dean Wassim Shahin in his address.
The program is also in the process of acquiring the Accreditation Commission for Programs in Hospitality Administration (ACPHA). "The work has effectively begun in the presence of the prestigious organization here today," Dr. Shahin said.
For Associate Professor and Associate Chair of Hospitality and Tourism Management Rania El Haddad, the students made all this possible.
"Here at LAU, the students acquired the right knowledge and attitude while building the foundations that will help them become the future leaders of the hospitality industry," she said. "We could not have done it without them."
She also specially thanked AKSOB Instructor Bassem Slim, Hospitality Lab Supervisor Georges Tamer, Chef Ibrahim Haddad, and Senior Executive Assistant Faten Dabboussi.
At the end of the ceremony, the scholars honored Dr. Jabbra in a kind gesture of appreciation and recognition for all his contributions that reshaped LAU into a premiere institution.
"For 15 years, Dr. Jabbra gave all he has learned to our university and country, pushing LAU forward as a spearhead to success and innovation," concluded senior student and president of LAU's Hospitality Club Johnny Salamani.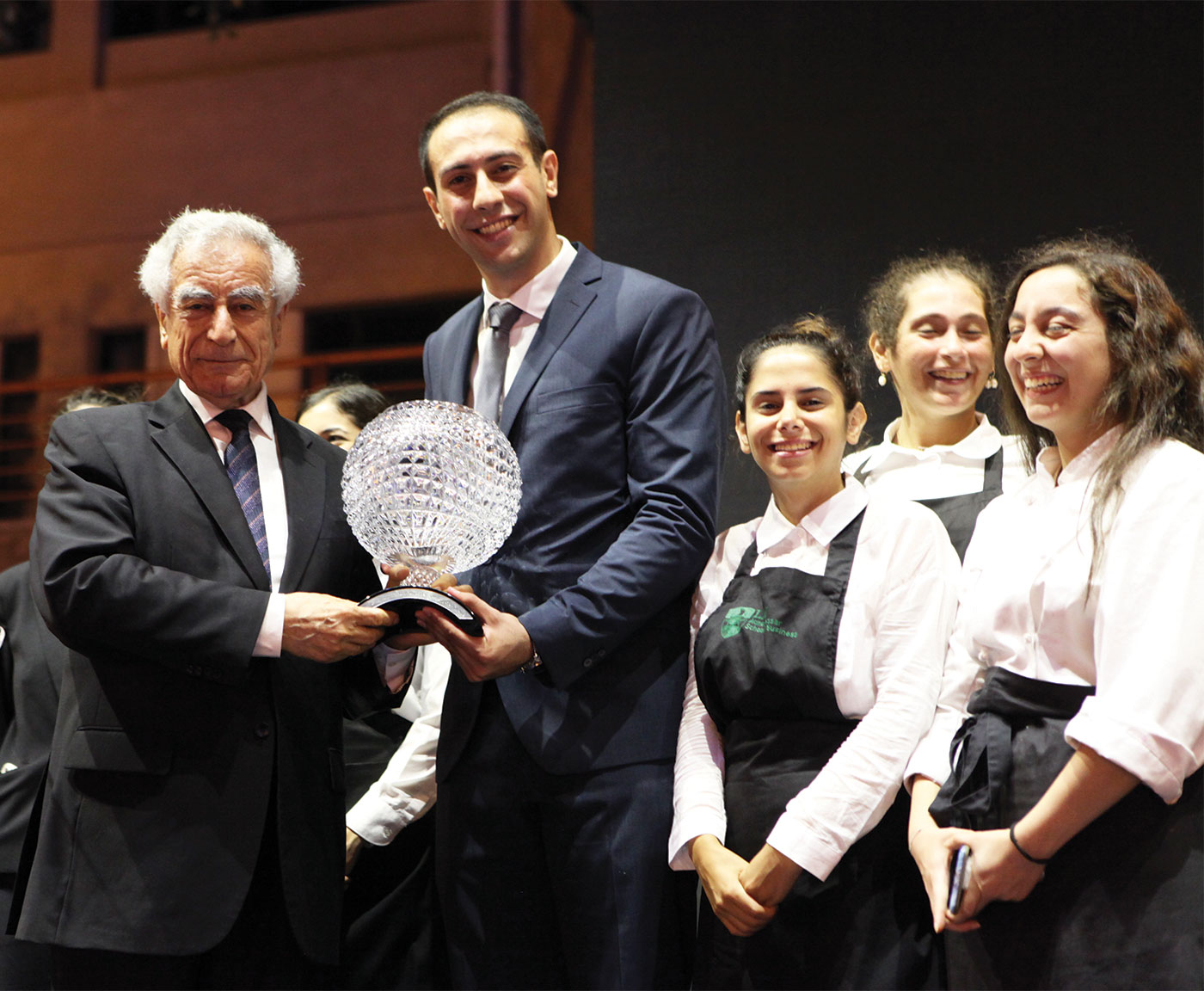 Honorees
President of the Lebanese Hotel Federation for Tourism Industries Pierre Achkar
Founder of Audi Catering Nicolas Audi
CEO and Founder of Patchi Chocolates Nizar Choucair
Owner of Hospitality News Services Nouhad Dammous
President of Jounieh Festival Zena Frem
Owner of The Bridge Andreas Iliovits
Co-owners of MINE Wedding and Events Pamela Mehanna and Ramzi Mattar
CEO of Nakhal Travel Elie Nakhal
President of the Syndicate of Owners of Restaurants, Cafés, Night-Clubs & Pastries, Tony Ramy
Owners of Phoenicia Hotel Mazen Najib Salha and Marwan Najib Salha