Ralph Daher: A Passionate and Multitalented LAU Graduate at a Crossroad
More in this issue
At a turning point in his life with two huge opportunities, Daher embodies the value of resilience, hard work, and ambition that LAU stands for.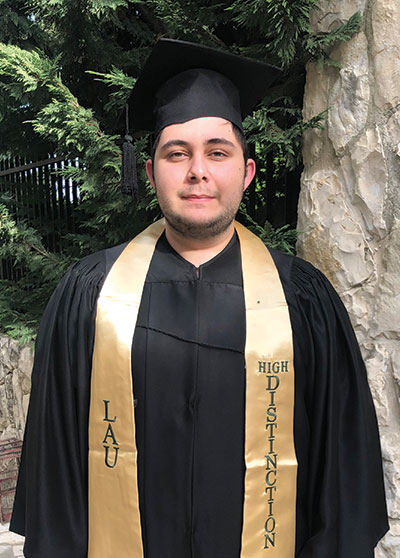 Ralph Daher's interest in the medical field began in an unusual fashion: his elementary school's French class.
"I decided on my major back in fifth grade, surprisingly enough, when my classmates and I were learning about medical jargon in French class, and I fell in love with it right away," explains the recent LAU graduate, who earned his BS in Biology in 2019 with High Distinction.
Fast forward more than a decade and Daher now has his chance at a medical profession, with his recent acceptance into LAU's Gilbert and Rose-Marie Chagoury School of Medicine on a full merit scholarship.
Yet, with his boundless ambition, Daher has worked hard to make sure he has plenty of options after completing his bachelor's degree, just in case medicine is not his true calling.
"I have also been accepted into the University of Oxford's PhD program in chemical biology, a prospect I never even thought I could achieve this soon," he says.
Explaining the life-changing decision he is now faced with, Daher comments, "This opportunity has turned my life around and created two diverging paths – one of which I will be choosing soon."
At LAU, Daher had found the ideal environment to cultivate his talent and work ethic. He had had his sights set on the university since his first piano concert as a high schooler in the Selina Korban Auditorium in 2013. Enabled by the scholarship he received thanks to the generosity of LAU donors, he made sure to make the most of the top-notch rounded education that the university prioritizes, garnering several accolades.
"In my three years at LAU, I have received several awards including Highest GPA in 2018 and Best Capstone Project in 2019. I also received a grant from the American Chemical Society to attend their national meeting in Boston," says Daher, who was also very involved in extracurricular activities on campus. "These, of course, are only rivaled in importance by the amazing friends and connections I have made through my classes, and professors, all of whom I wish to cross paths with in the future."
As he reflects on his experience at the university, the scholarship, Daher notes, was an added incentive to excel, while upholding high moral principles.
"Aside from easing the financial burden, scholarships have a way of propelling you to move forward and keep up the good work, not only to maintain the scholarship's monetary value, but also its moral value. Scholarships truly carry an intrinsic value of excellence."
Whether Daher decides on LAU or Oxford, the character-building education he received in his undergraduate years, he says, will serve him well in both his personal and professional careers.
"LAU, and all those I met there, have instilled in me the values of loyalty, attention to detail, kindness, and helpfulness – all of which I will be carrying into my future whatever and wherever that will be."