Exclusive Interview: ICRC Advisor on Security and Crisis Management Yahya Khalil
More in this issue
Alumnus speaks candidly about his experiences in the field, his career, COVID-19 challenges and opportunities in humanitarian work.
Yahya Khalil (BS '99) has been working with the International Red Cross (ICRC) since 2007. He has occupied several posts starting with delegate, then operations coordinator for the Near and Middle East, before becoming the advisor on security and risk management.
As a student at LAU, he juggled between attending computer science courses, fulfilling his financial aid hours as a student assistant, and volunteering with the Lebanese Red Cross Youth – LAU Chapter.
He also volunteered as a first-responder with the Lebanese Red Cross (LRC) and remained committed to humanitarian work after graduating and teaching computing at a local school. He would cover weekend shifts at the LRC's station on Spears and attend meetings for the club at LAU.
When an opportunity to join the ICRC came his way, Khalil did not think twice about turning his passion for social work into a lifetime career in the humanitarian field.
Now based in Geneva, Khalil is managing and advising on procedures, setup, and physical safety measures for delegations in countries of Asia-Pacific to mitigate the safety and security risks on ICRC missions.
He is also in charge of crisis management in cases of death, kidnapping, attacks, and health crises such as COVID-19, or any situation that has an impact on ICRC's humanitarian operations in the host country. He advises the crisis team on the execution of procedures and crisis management frameworks, such as the setup of a crisis cell, decision taking, mitigation measures, press and media lines, press releases, liaising with HR and forensics, etc.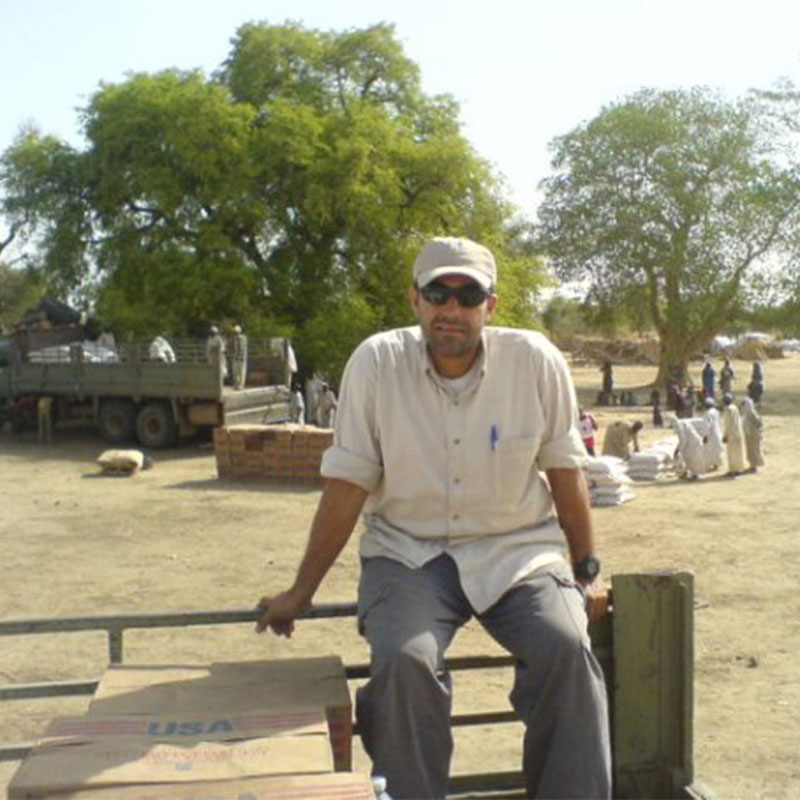 Khalil on a mission to deliver food, cooking utensils and household items for the displaced in Goz Beida, eastern Chad.
Throughout his career, Khalil's fieldwork took him to some of the most dangerous conflict zones including Afghanistan, Iraq, Yemen, and Chad.
In 2019, he complemented his years of experience with a Master of Law in International Humanitarian Law from the Geneva Academy of International Humanitarian Law and Human Rights.
In this wide-ranging interview, Khalil talks about his career path, his most memorable accomplishments, and the challenges of COVID-19. He also advises prospective students and graduates who are interested in pursuing a career in humanitarian work.
How does the COVID-19 pandemic differ from other epidemics, such as Ebola or SARS and, in your opinion, how prepared were humanitarian organizations in their response?
In general, the whole world was taken by surprise. Not so much by the pandemic itself, but more so by its magnitude.
Although this is not the first pandemic that we, as the ICRC, have dealt with in the past decade, and its mortality rate has been relatively lower, none of the other pandemics compare in impact.
For the first time in modern history, we've had confinement worldwide, a total lockdown of airports, logistical freights and lines completely disrupted, and plummeting oil prices because people are not using their cars or taking planes.
These measures and restrictions have impacted every aspect of our lives, from working remotely to collapsing economies. Even the environment was impacted positively for a change.
You said the scale was unpredictable. To what extent was the ICRC able to adapt its missions?
We work in emergency situations all the time, so for us it was just a matter of switching to a crisis with a different name and on a larger scale. Of course, we faced unprecedented restrictions on movements, but we were able to find solutions in regional contexts.
With the outbreak of COVID-19, we injected support and expertise specific to the virus into our services, especially within healthcare in general and in detention centers in particular. We made sure that the required measures and procedures were adopted, that Personal Protective Equipment and other protective equipment were made available, and that our detention medical experts trained staff on managing the current situation.
We have also provided material support such as masks, hydrogel hand sanitizers and sometimes food, in addition to rehabilitating hygiene facilities and isolation wards.
In places such as Afghanistan, or South Sudan, our full makeshift hospitals were immediately adapted to the situation and we created specialized centers incorporating COVID-19, including at Rafik Hariri University Hospital in Beirut.
Before becoming an advisor, you also worked as operations coordinator for the Near and Middle East. Can you tell us more about that position and how it differs from your role now?
Based in Geneva, I was the link between the delegations and offices in Yemen, the GCC and Jordan and the Geneva headquarters, coordinating everything from activities to budgets, humanitarian networking and diplomacy to security incidents' management in specific situations. The key file was Yemen, especially with the start of the war there. This was a very hectic period.
Supporting a school in eastern Chad in 2007.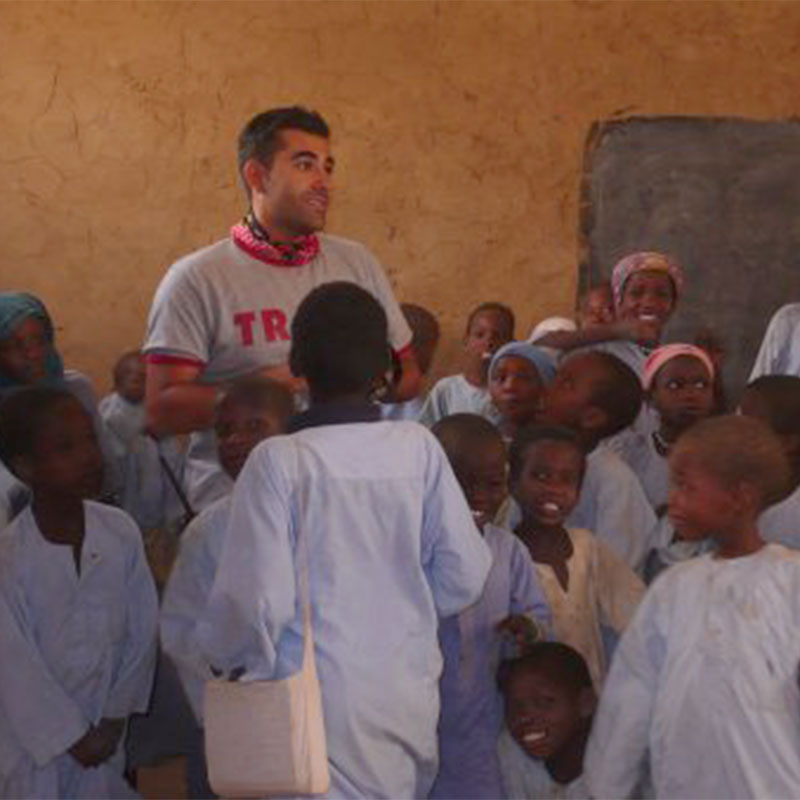 I also worked in Kuwait, and compared with the fieldwork I did before, my role in Kuwait was more centered on humanitarian diplomacy and mobilization, and contacting states, state entities, such as ministries, and regional organizations to work on specific mobilization on global issues with interest to the ICRC and relevance to the GCC. That was in addition to overseeing financial resources and alignment on policies of interest to the ICRC, pertaining to international humanitarian law.
What do you miss most about fieldwork?
The proximity to people, be it my colleagues in the field, beneficiaries, interlocutors, or populations I would interact with. And the action. The satisfaction of physically delivering a service to a population is not something you get from a managerial role, although your role is essential in delivering such a service or support.
Telling a father that you have found his son, years after he'd thought he had died in a prison cell, and reconnecting them. What an emotional roller coaster that is! I miss that.
There was one mission I remember clearly. During the conflict in Darfur, bordering eastern Chad, many children ran away with the fleeing population and crossed the border, losing touch with their families. Part of my work was protecting the civilians and establishing links with these children's families. Nothing gives you that sense of euphoria as reuniting parents with their children.
Have there been missions that impacted your career more than others or an achievement that you still look back on with pride?
Yemen, 2012. It was the mission that impacted me the most, and I'm very proud of my accomplishments there. But it is also where I had the most tragic incident in my work at the ICRC.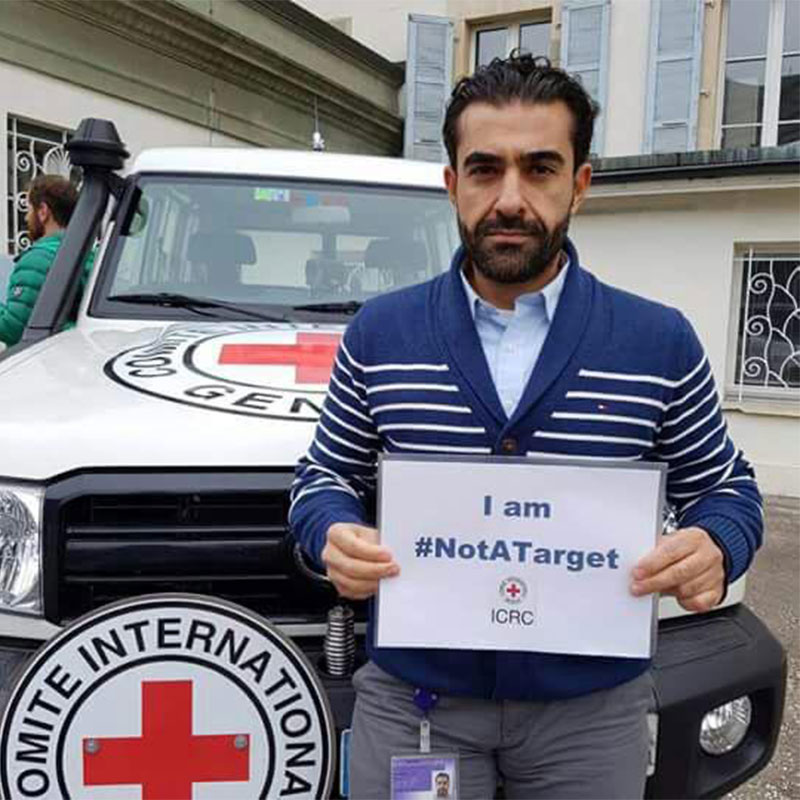 In Geneva: The launch of a campaign in 2017 to stop targeting humanitarian workers, after an alarming increase in the number of attacks.
I led long mediation efforts with an armed faction in Yemen to allow us to deliver humanitarian services to one of the towns under its control. After weeks of talks with tribal leaders, we were allowed to cross the front lines for a meeting with the leader.
During our negotiations with him, I asked him to allow the ICRC to deliver services to the population. One of the arguments was that they were his people and his tribe and – as he controlled the territory – his responsibility, and that we only wanted to help provide for their needs as they had no food, water, or health structures.
They allowed us to conduct small-scale activities at the beginning. However, as we built trust, we were implementing a great number of initiatives in no time, and they were happy that we were helping the population to which that armed group belongs.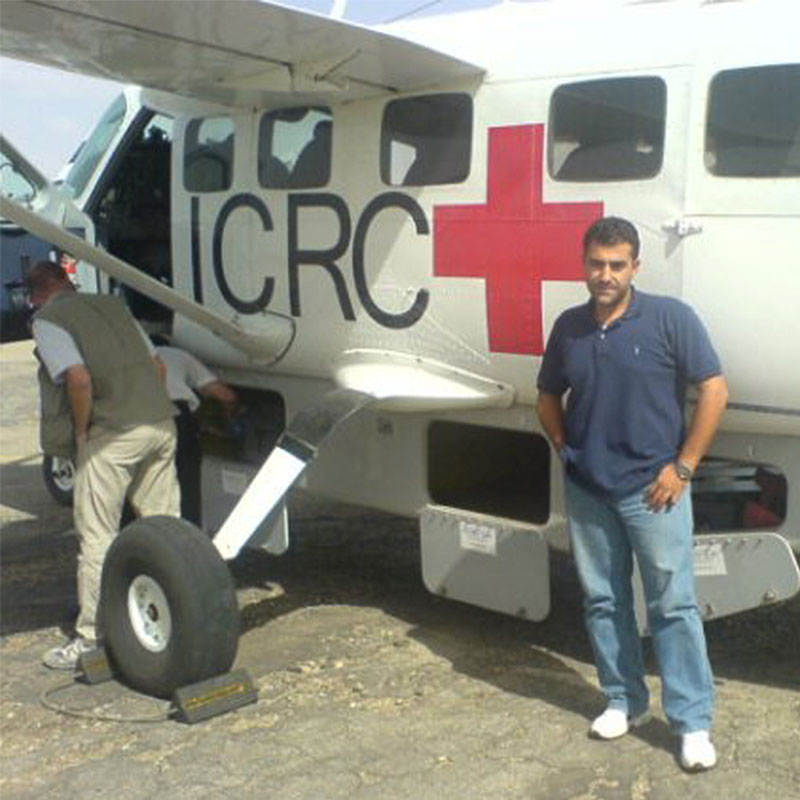 Minutes before boarding a bush plane on a mission to a remote area in eastern Chad.
This also led to the first and last time that the ICRC was given access to detainees in the custody of that armed faction. We were even allowed to bring in a surgeon to treat the wounded prisoners who were members of the Yemeni army.
Globally, our relation never got to the level where we were able to exert that control and ask to visit the detainees. And this is an accomplishment I am very proud of.
The tragedy was that I lost my assistant in a mountainous area of Yemen. We were assessing a situation there when he was hit by a shrapnel from an airstrike nearby. I was standing right next to him. He died in my arms on that day.
This is why Yemen was the best and the worst mission, and it was probably why I needed time out from the field. I needed a warrior's rest.
What added value did having an MA in Humanitarian Law give you, even though you already had years of experience?
Over the last 13 years with the ICRC, I have accumulated a wealth of experience, but I always felt I needed to complement this with academic knowledge. International Humanitarian Law (IHL), or the Law of Armed Conflict (LoAC), and the ICRC are two sides to the same coin. The ICRC is the guardian of IHL and was behind the codification of the Geneva Conventions. It was almost natural to embark on the learning journey to deepen my knowledge of this body of law that embodies what the ICRC movement stands for.
What prospects are there in the field, especially for fresh graduates who are interested in the humanitarian line of work? What should prospective students enroll in and what graduate degrees can they choose?
As a major-specific, we have specialists in healthcare, nutrition, food security, physiotherapy, doctors, nurses, and information and communications technology (for computer science majors). In humanitarian work, there's room for any field of study.
However, you do need a multi-dimensional approach. You need to know how humanitarian work functions and in order to do that you need to adopt a transversal approach to situations and be very adaptable. This is not a bank or a firm, it is not a desk job, it is really about managing humanitarian situations that are very fluid. Diversify your knowledge base beyond your specialty.
The other type of employees are the generalists. There is no specific major that really prepares you to be head of a delegation, or an advisor in security. But there are majors or courses that are an asset such as risk and crisis management, humanitarian operations management, law studies (namely IHL) and international affairs.
What I would recommend above all is exposure. And I cannot stress enough how important it is to garner experience in order to work in humanitarian organizations. Apply for as many internships as possible. Do volunteer work. Going on field missions is better than working from behind a computer.
Even if you have to do it for free, do it, because you are basically investing in your career.
If you are applying specifically to the ICRC, we automatically screen applications for experience. We look at languages as well. Everyone speaks English but not everyone speaks French or Arabic. And this is an advantage.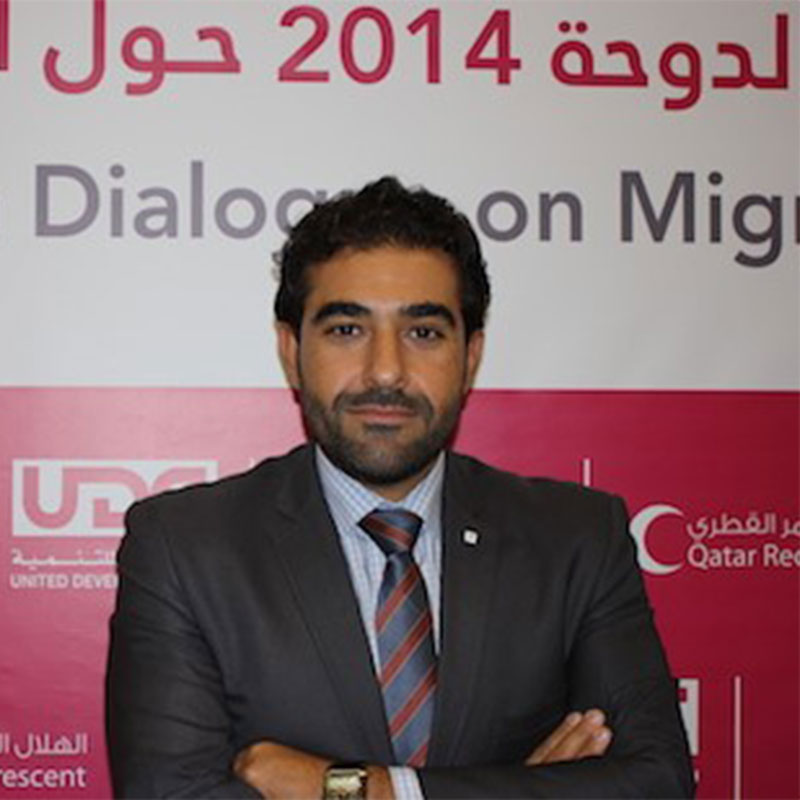 A combination of degrees would also place applicants at an advantage. For example, a BA in International Affairs coupled with a Minor in Legal Studies, a BS in Nutrition would be matched with food security. If you have a combination of social work, psychology and gender studies, then you have great opportunities in humanitarian organizations, especially that gender studies are increasingly becoming an important field of study and work.
What human qualities are essential to a career in humanitarian work?
First and most importantly you need to have empathy: genuinely caring for others. If you do not feel for the pain and suffering of others and have an urge to alleviate that pain or suffering, then humanitarian work is not made for you. You also need integrity and a sense of self responsibility. A key humanitarian principle is "do no harm," where it is better to do nothing than to, even unintentionally, cause harm to the people you are intending to help. And last, is professionalism. The last thing people in suffering need, is someone amateur, albeit with good intentions, messing up further their life out of lack of knowledge or capacity to serve their needs.