Why I Give Back: Arthur Dakessian (PharmD '03)
More in this issue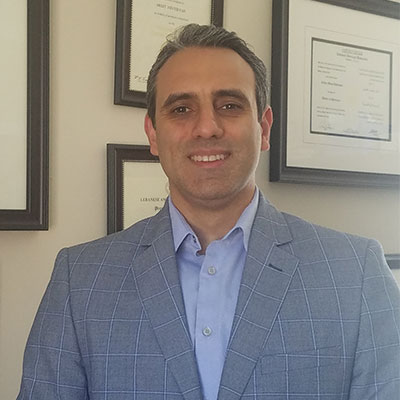 Having earned his Doctor of Pharmacy from LAU in 2003, Arthur Dakessian is pursuing his professional dream in Detroit, Michigan, where he is director of specialty pharmacy at Shields Health Solutions. Working at a world-renowned company that focuses on specialty pharmacy integration, Dakessian puts the skills and knowledge he gained from his alma mater to use every day.
Now, in light of the economic crisis that faces Lebanon, Dakessian has given back to his alma mater for the first time. Wishing that LAU's most promising students can follow the same path to success, Dakessian has recently joined the growing network of first-time donors to the university's Emergency Financial Aid Fund and is one of the institution's alumni donors providing hope for its most vulnerable students.
Why do you give back to LAU, and in particular, why did you recently give toward the Emergency Financial Aid Fund?
What motivated me to give back is the thought that deserving students are unable to continue their studies due to the difficulties resulting from the recent financial crisis in Lebanon.
Also, I know what it is like to need critical support, since my education at LAU would not have been possible without its work-study and merit-based scholarship programs. That definitely played a role in my decision to donate to the Emergency Financial Aid Fund.
What is your fondest memory of LAU?
Some of my fondest memories are the hours spent in the library preparing for tests or working on projects with my fellow classmates. I developed lifelong friendships as a result of those precious moments.
I will also forever cherish the quality of interactions with my professors, their forthcoming guidance and, beyond the courses, their career advice.
What message would you like to convey to your fellow alumni and current students?
For the future of Lebanon, I truly hope that my fellow alumni, current students, and all Lebanese citizens are able to transcend sectarianism both in their daily lives and, subsequently, their politics, and focus on rebuilding the nation and its prosperity.
What would you like to see LAU achieve in the near future?
In addition to continuing to provide a world-class education, I hope that LAU can function as a laboratory for developing the post-sectarian generation through its campus life and student body election process.
Why are you interested in supporting education, especially in Lebanon?
Besides imparting knowledge, education broadens the mind and helps people grow more receptive to diverse ideas and cultures. It helps us overcome dogmatic ways of thinking and tribalism, especially in the Middle East, and paves the way to more societal inclusivity and global citizenship.
Finally, education helps alleviate poverty and facilitates upward mobility. Lebanon, which will always occupy a special place in my heart, has a reputation of being the educational hub for the region. I would like to see it maintain that, and build on it, especially that some of the wealthier nations in the region have been attracting satellite campuses for world-renowned educational institutions.